Writing/Presentation colaboration
AbiWord. TypeFaster Typing Tutor ( free download ) Upload & Share PowerPoint presentations and documents. TypeWith.me: Live Text Document Collaboration! Scrivener.
"The biggest software advance for writers since the word processor."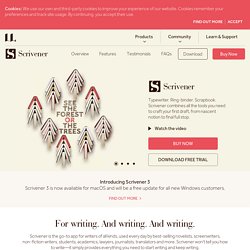 —Michael Marshall Smith Grow your ideas in style Scrivener is a powerful content-generation tool for writers that allows you to concentrate on composing and structuring long and difficult documents. While it gives you complete control of the formatting, its focus is on helping you get to the end of that awkward first draft. Rscsw's Home. LiveLoop - *really* real-time collaboration inside PowerPoint. FlipSnack | PDF to Flash page flip - flipping book software.
PBworks: Online Collaboration. Timeglider: web-based timeline software. Show - Online Presentation Tool. Cost-Effective You don't have to install or maintain hardware and software and reasonably priced subscription plans lead to more cost savings.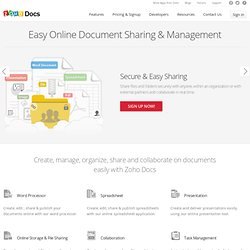 Anytime Anywhere Access Being a web-based document management solution you can take all your documents with you wherever you go with access to them anytime, anywhere. Reduced IT burden Scalability, security, reliability or software upgrades, we have them all covered, so you can focus on enhancing business productivity. Empressr - The Best Online Rich Media Presentation Application.
Scribd. Lino - Sticky and Photo Sharing for you. 7 Excellent Tools to Publish Students Work. There is nothing much rewarding for students than to see their accomplished work being published and celebrated with others.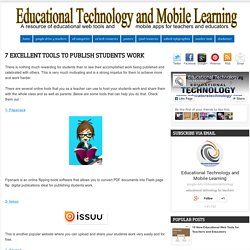 This is very much motivating and is a strong impetus for them to achieve more and work harder. Can you imagine how happy a student would be to share his classroom work with his parents in a neat and clean online platform that they access anywhere and anytime ? There are several online tools that you as a teacher can use to host your students work and share them with the whole class and as well as parents .Below are some tools that can help you do that. Check them out : 1- Flipsnack. Apache OpenOffice - The Free and Open Productivity Suite. New Stixyboard. Your prezis | Prezi. Stypi. Online Free Flash Pageflipper.
MOS Solo. MOS Solo is simple yet powerful: it requires none or minimal training but offers the power of a sophisticated multimedia tool.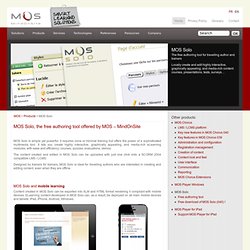 It lets you create highly interactive, graphically appealing, and media-rich eLearning modules, with ease and efficiency: courses, quizzes, evaluations, demos. The content created and edited in MOS Solo can be uploaded with just one click onto a SCORM 2004 compatible LMS / LCMS. Designed by trainers for trainers, MOS Solo is ideal for travelling authors who are interested in creating and editing content, even when they are offline. MOS Solo and mobile learning Content created in MOS Solo can be exported into XLM and HTML format rendering it compliant with mobile devices.
Scribus.net. Writer's Café fiction writing software - novels - screenwriting - short stories - creative fun. Primary Pad › Superfunky Collaborative Writing For Schools. Save web articles as PDF for reading later: Joliprint. TypingTest.com - Free Typing Test & Typing Games Online.
Free English thesaurus dictionary download. TitanPad. Organize your resources in an online binder - LiveBinders. Wink - [Homepage] Here is a sample Flash tutorial created by Wink.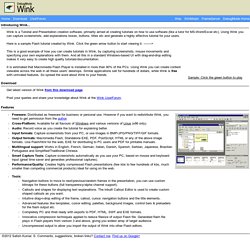 Click the green arrow button to start viewing it. -------->
---