Podcasting
Stephgray.mp3 (audio/mpeg Object) Podcasting in Plain English. E-Learning Stuff Podcast #083: Read This! Podcasting Tools and Resource Article. Podcasting Tools Podcasting is increasing in popularity and, realizing that many are interested in providing audio content in a podcast, we have assembled a collection of tools that make creation, promotion and listening to podcasts a little easier. 1.)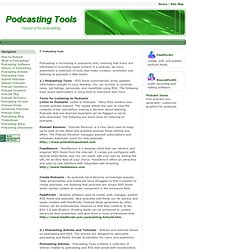 Audio: Creating an Audio Podcast. An introductory guide to recording an audio podcast on a computer with a microphone and free open-source software.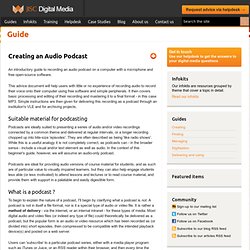 This advice document will help users with little or no experience of recording audio to record their voice onto their computer using free software and simple peripherals. It then covers basic processing and editing of their recording and mastering it to a final format - in this case MP3. Simple instructions are then given for delivering this recording as a podcast through an institution's VLE and for archiving projects. Suitable material for podcasting. How Podcasting is Used. How Pocasting is Used Although podcasting is new, it is well on its way to becoming a mainstream communication medium.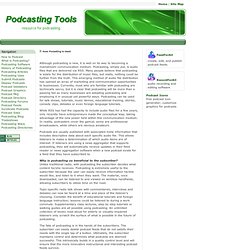 Podcasting, simply put, is audio files that are delivered via RSS. Many people believe that podcasting is solely for the distribution of music files, but really, nothing could be further from the truth. This emerging method of audio file distribution has opened an array of marketing and communication opportunities to businesses. Currently, most who are familiar with podcasting are technically savvy, but it is clear that podcasting will be more than a passing fad as many businesses are adopting podcasting and employing it in unusual yet powerful ways. Internet for Video and Moving Image Resources | Welcome | Podcast Workflow. I have been asked about my podcasting workflow.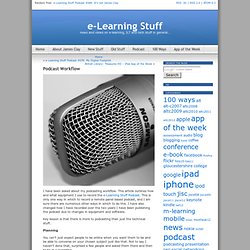 This article outlines how and what equipment I use to record the e-Learning Stuff Podcast. This is only one way in which to record a remote panel based podcast, and I am sure there are numerous other ways in which to do this. I have also changed how I have recorded over the two years I have been publishing the podcast due to changes in equipment and software. Online Tutorial - Audio. #3 Online Surgery - Screencasting. Explaining camtasia and audacity to create audio podcasts. Creating open educational resources. Paper : Palitha Edirisingha. Abstract This session shares findings from IMPALA (Informal Mobile Podcasting and Learning Adaptation), a research programme on pedagogical podcasting running since 2006 at the Beyond Distance Research Alliance at Leicester in collaboration with ten universities in the UK.
IMPALA examines how student learning can be supported by podcasts and how academic institutions can address issues emerging from developing and integrating podcasts at institutional levels. In this session we will provide an overview of the IMPALA podcasting approaches and key findings on the impact of podcasting on student learning. Paper : Jesse Martin. Abstract In recent years, a number of educational innovators have been experimenting with providing students with feedback on their work using audio podcasts.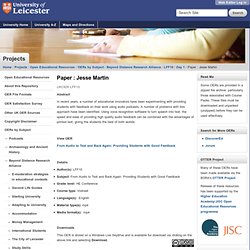 A number of problems with this approach have been identified. Using voice recognition software to turn speech into text, the speed and ease of providing high quality audio feedback can be combined with the advantages of printed text, giving the students the best of both worlds. View OER From Audio to Text and Back Again: Providing Students with Good Feedback. Creating podcasts. A lively way of broadcasting information to technologically savvy students, podcasts can be created with a minimum of equipment and skills A podcast is an audio file that contains what you want to broadcast – think of it as a kind of personal radio programme – created in an MP3 format and uploaded to your website so that others, such as students, can download it onto an MP3 player and listen to it whenever they want.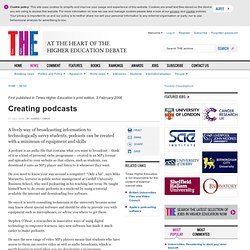 Do you need to know your way around a computer? "Only a bit", says Mike Marinetto, lecturer in public sector management at Cardiff University Business School, who used podcasting in his teaching last term. He taught himself how to do create podcasts in a weekend by using a tutorial available the internet and downloading free software. IMPALA. IMPALA started in May 2006.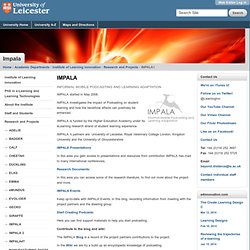 IMPALA investigates the impact of Podcasting on student learning and how the beneficial effects can positively be enhanced. IMPALA is funded by the Higher Education Academy under its eLearning research strand of student learning experience. IMPALA 's partners are: University of Leicester, Royal Veterinary College London, Kingston University and the University of Gloucestershire. IMPALA Presentations. A teacher's guide to using audio and podcasting in the classroom. Audio recordings and podcasts serve a variety purposes in the classroom.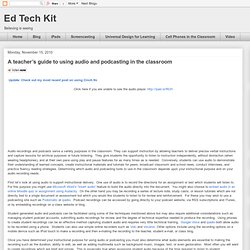 They can support instruction by allowing teachers to deliver precise verbal instructions and capture lessons for archival purposes or future listening. They give students the opportunity to listen to instruction independently, without distraction (when wearing headphones), and at their own pace using play and pause features for as many times as is needed. Conversely, students can use audio to demonstrate their understanding of learned concepts, create instructional materials and tutorials for peers, broadcast classroom and school news, conduct interviews, and practice fluency reading strategies. Determining which audio and podcasting tools to use in the classroom depends upon your instructional purpose and on your audio recording needs. First let's look at using audio to support instructional delivery.
10 Great ways to use Audacity with your Students | Tip of the Iceberg. Audacity is a great audio editor for use in the classroom.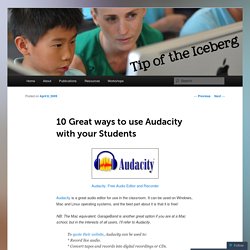 It can be used on Windows, Mac and Linux operating systems, and the best part about it is that it is free! NB: The Mac equivalent, GarageBand is another great option if you are at a Mac school, but in the interests of all users, I'll refer to Audacity. To quote their website, Audacity can be used to: * Record live audio. * Convert tapes and records into digital recordings or CDs. * Edit Ogg Vorbis, MP3, WAV or AIFF sound files. * Cut, copy, splice or mix sounds together. * Change the speed or pitch of a recording. * And more Here are 10 great ways you could use Audacity with your students. Make an audio/radio advertisement - My Grade 3 students are using Audacity to advertise products the school produces to support service learning for their Advertising unit.Promote language learning – record kids speaking in one of their language classes then upload to Voki to create speaking Avatars.
80 Excellent Podcasts for Every Kind of Classroom. Podcasting Toolbox: 70+ Podcasting Tools and Resources. Podcasting may not have lived up to the early hype, but with iPods and other MP3 players still selling like crazy, the potential audience for these audio shows is huge. We've compiled a monster list of 70+ tools and resources for podcasters and wannabes. Podcast Creation Guides. Moving Images: Finding Videos for Academic Purposes Using Web-based Video Hosting Sites. This advice document deals with the potential of using web-based services for finding videos suitable to support academic work and business and community engagement (BCE). Introduction It is strongly recommended that this advice document be read in conjunction with the overview to this research: Using Web-based Services for Finding and Hosting Videos for Academic Purposes.
How To Create A Podcast. What is a podcast?
---