Other types of software
Sunbird® The Best Free Software of 2012. Looking for the best free programs to run on your desktop with Windows, MacOS, or even over the Web in your browser?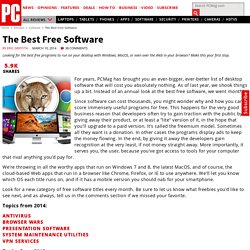 Make this your first stop. For years, PCMag has brought you an ever-bigger, ever-better list of desktop software that will cost you absolutely nothing. As of last year, we shook things up a bit. Instead of an annual look at the best free software, we went monthly. Pivot Stickfigure Animator - Download. Hott notes - the free desktop sticky notes. StatusNet. PhpBB • Free and Open Source Forum Software. MediaWiki. Open Dyslexic - Dyslexia Fonts. Infographics & Data Visualization | Visual.ly. Embedly | Embed any URL through one powerful API.
BigBlueButton -- Open Source Web Conferencing | www.bigbluebutton.org. Discover Yourself! Voki Home. Alice.org. Easel.ly | create and share visual ideas online. Home. Make Your Own Video Games and Software. Using a computer isn't always about playing video games and chatting with friends.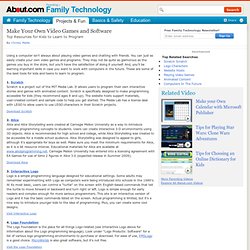 You can just as easily create your own video games and programs. They may not be quite as glamorous as the games you buy in the store, but you'll have the satisfaction of doing it yourself. And, you'll be learning important skills in case you want to work with computers in the future. These are some of the best tools for kids and teens to learn to program. 1. Graph - Free software downloads and software reviews. Mightybell. Make space for your passions.
E-book management. About ClassDojo. Plagiarism Checker | Viper - The Free Plagiarism Checker and Scanner Software Online. Webfon: phonetic transcription self-study programme. OER Glue. Xmarks | Bookmark Sync and Search. Infographics and charts - interactive data visualization | Infogr.am.
---