OER
Open Learning Design Studio (OLDS) - Massive Open Online Course (MOOC) The project will design, deliver and evaluate an 8-10 week Open Learning Design Studio MOOC (Massive Open Online Course) focusing on the theme of curriculum design with OERs, to be held in early 2013.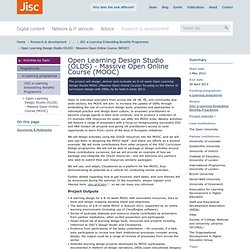 Open to individual educators from across the UK HE, FE, and community and skills sectors, the MOOC will aim: to increase the uptake of OERs through embedding the use of curriculum design tools, practices and approaches in individual practice and design team culture; to empower practitioners to become change agents in their local contexts; and to produce a collection of CC-licensed OER resources for wider use after the MOOC ends. Weekly activities will feature a range of presenters with a focus on foregrounding successful JISC and HEA funded UK projects and giving UK practitioners access to (and opportunity to learn from) some of the best of European initiatives.
Turning a Resource into an Open Educational Resource (OER) Open Education: becoming mainstream? "We live in a world where there is more and more information, and less and less meaning."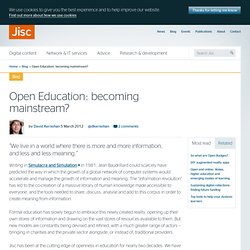 Writing in Simulacra and Simulation in 1981, Jean Baudrillard could scarcely have predicted the way in which the growth of a global network of computer systems would accelerate and manage the growth of information and meaning. The "information revolution" has led to the co-creation of a massive library of human knowledge made accessible to everyone, and the tools needed to share, discuss, analyse and add to this corpus in order to create meaning from information. Formal education has slowly begun to embrace this newly created reality, opening up their own stores of information and drawing on the vast stores of resources available to them.
But new models are constantly being devised and refined, with a much greater range of actors – bringing in charities and the private sector alongside, or instead of, traditional providers. 10 Open Education Resources You May Not Know About (But Should) Digital Tools Horla Varlan This week, the OCW Consortium is holding its annual meeting, celebrating 10 years of OpenCourseWare.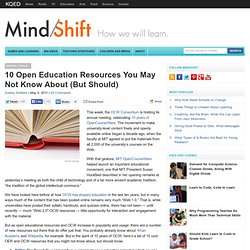 The movement to make university-level content freely and openly available online began a decade ago, when the faculty at MIT agreed to put the materials from all 2,000 of the university's courses on the Web. With that gesture, MIT OpenCourseWare helped launch an important educational movement, one that MIT President Susan Hockfield described in her opening remarks at yesterday's meeting as both the child of technology and of a far more ancient academic tradition: "the tradition of the global intellectual commons." JISC RSC South West eLearning Gems. OER Visualisation Project: What I know about #UKOER records on Jorum and OER Phase 1 & 2 [day 18] *viewed doesn't necessarily viewed by a human.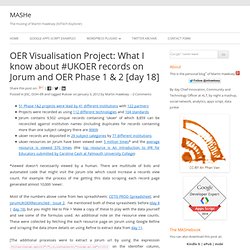 There are multitude of bots and automated code that might visit the jorum site which could increase a records view count. For example the process of me getting this data scraping each record page generated almost 10,000 'views'. Most of the numbers above come from two spreadsheets: CETIS PROD Spreadsheet; and jorumUKOERReconciled - Issue 2.
I've mentioned both of these spreasheets before (day 8 | day 16), but you might like to File > Make a copy of these to play with the data yourself and see some of the formulas used. An additional note on the resource view counts. Open educational resources. Open Educational Resources (OER) are freely accessible, openly licensed documents and media that are useful for teaching, learning, educational, assessment and research purposes.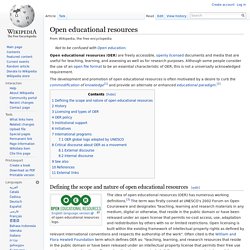 Although some people consider the use of an open format to be an essential characteristic of OER, this is not a universally acknowledged requirement. The development and promotion of open educational resources is often motivated by a desire to curb the commodification of knowledge[1] and provide an alternate or enhanced educational paradigm.[2] Defining the Scope and Nature of Open Educational Resources[edit]
---