Mobile lessons/tutorials/guides
Digital Tools Teaching Strategies Erin Scott By Jennifer Carey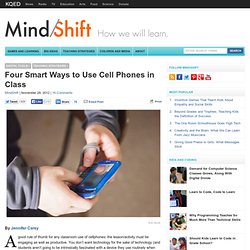 Edutopia has recently featured a great guide on the use of mobile gadgets to improve learning in the classroom. This is basically a 10- page PDF downloadable for free and that can help you learn more about how mobile technology devices such as tablets, smartphones, and e-readers are transforming education and how you can use them to create a healthy interactive environment inside your classroom and get your students engaged on multiple levels. Let me quote for you an abstract from the guide : " CELL PHONES IN THE CL A SSROOM: A BOON OR BLIGHT? It's a question many educators are facing these days.
Teachers Guide on The Use of Mobile Devices in The Classroom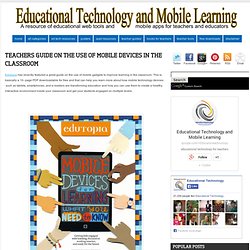 The use of mobile technology has opened up a whole new world in education. Terms like BYOD (bring your own device) is a common place occurrence. These devices has allowed educators and students to learn, teach, and study in a whole new way. Learning is no longer limited to the classroom and can occur in real-time almost anywhere.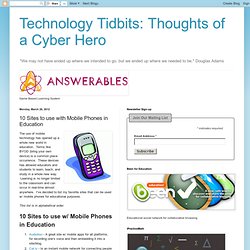 10 Sites to use with Mobile Phones in Education
JISC RSC South West eLearning Gems
Effective Mobile Learning.pdf - Powered by Google Docs
How To Control Keynote Presentations on Your iPad From Your iPhone — Apple News, Tips and Reviews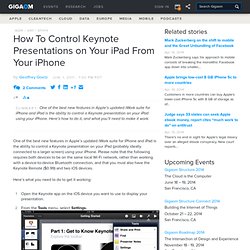 One of the best new features in Apple's updated iWork suite for iPhone and iPad is the ability to control a Keynote presentation on your iPad (probably ideally connected to a larger screen) using your iPhone. Please note that the following requires both devices to be on the same local Wi-Fi network, rather than working with a device-to-device Bluetooth connection, and that you must also have the Keynote Remote ($0.99) and two iOS devices. Here's what you need to do to get it working: Open the Keynote app on the iOS device you want to use to display your presentation.From the Tools menu, select Settings. Tap on the Remote setting and turn Enable Remotes on. Open the Keynote Remote app on the iOS device you want to use to control your presentation.Tap on New Keynote Link to display a passcode.
Mobile Mouse Pro 2.0 Demo
Martial demonstrating using an ipad with RSS feeds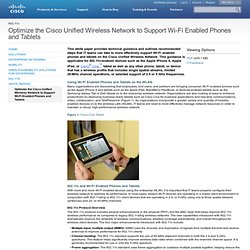 Optimize the Cisco Unified Wireless Network to Support Wi-Fi Enabled Phones and Tablets  [Unified Communications over WLAN
This white paper provides technical guidance and outlines recommended steps that IT teams can take to more effectively support Wi-Fi enabled phones and tablets on the Cisco Unified Wireless Network. This guidance is applicable for 802.11n-enabled devices such as the Apple iPhone 4, Apple iPad, or Cisco® Cius™ tablet as well as any other phone, tablet, or device that has a wireless profile that includes single spatial streams, limited 20-MHz channel operations, or selected support of 2.4 or 5 GHz frequencies. Using Wi-Fi Enabled Phones and Tablets on the WLAN Many organizations are discovering that employees, end users, and partners are bringing consumer Wi-Fi enabled phones such as the Apple iPhone 4 and tablets such as the Apple iPad, BlackBerry PlayBook, or Android-enabled tablets such as the Samsung Galaxy Tab or Dell Streak on to the enterprise wireless network.
LearnTech Bits
Planning is imperative for any technology initiative - iPad or otherwise. You need to ensure that you clearly understand and communicate how the technology integrates with your overall pedagogical objectives. Too many institutions purchase technology and then search for ways to utilize it ... or leave it collecting dust on the shelf. Planning needs to consider both infrastructure needs and the educational applications of the new technology. Without the proper preparation, technology initiatives are liable to become expensive failures. Campus Infrastructure Considerations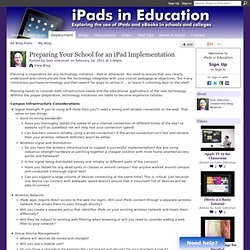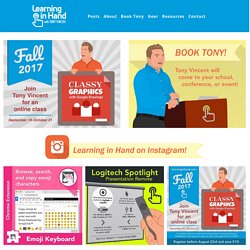 It is time for my yearly post about the technology I've purchased during the past year. You can view my previous posts for 2012, 2011, 2010, and 2009 Since I make presentations and facilitate workshops about all sorts of different technologies, I try to get my hands on devices and gadgets that I think might be helpful to teachers. Some of these items I highly recommend. Others are ones I wish I didn't waste my money on.
Guardian Teacher Network | guardian.co.uk