Mobile device reviews
News + Articles. Google 7-inch tablet imminent, says report | Business Tech. The Google 7-inch tablet is on the way, according to a fresh report -- the latest in a long line of reports dating back to the beginning of the year.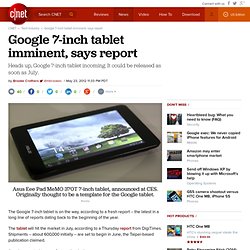 The tablet will hit the market in July, according to a Thursday report from DigiTimes. Shipments -- about 600,000 initially -- are set to begin in June, the Taipei-based publication claimed. Asus is expected to manufacture the device. NPD DisplaySearch analyst Richard Shim told CNET previously that a 7-inch Goggle tablet was in the works, though a June shipment date means that an original projection of an April production run was apparently premature.
That said, total production for 2012 of about two million units, cited in today's report, is in keeping with NPD DisplaySearch's original estimate. Samsung Galaxy S3 smartphone unveiled. 3 May 2012Last updated at 17:23 ET Samsung has opted to launch the new handset in Europe ahead of other markets Samsung has unveiled its latest flagship smartphone - the Galaxy S3.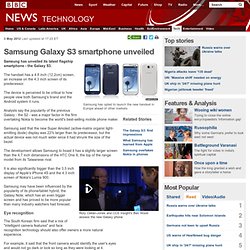 The handset has a 4.8 inch (12.2cm) screen, an increase on the 4.3 inch screen of its predecessor. The device is perceived to be critical to how people view both Samsung's brand and the Android system it runs. Smartphone news. iPhone 4S review. It's because Apple sets the bar so very high that expectations can run away even higher.
Like Pavlov's dogs, the worldwide tech audience has been conditioned to start salivating around June-time, every year since 2007, anticipating the next incarnation of the iPhone . So when Apple missed its own notional summer deadline this year, rumours refocused on an Autumn launch – pushing that bar up even higher. All eyes were now on a brand-new super-slim iPhone 5 . Hardly surprising then that when iPhone 5 proved a no-show, hearts sank. HTC Sensation XL review.
(This is a preview of the HTC Sensation XL, a full review of the device will be put online in the near future) Smartphones seem to be getting bigger and bigger — Samsung's Galaxy Note has a whopping 5.3in screen that blurs the line between smartphone and tablet , while the recently announced Galaxy Nexus pushes the limits with a 4.65 in display.
HTC has joined the bigger is better party with the Sensation XL, an Android phone with a giant 4.7in screen. The HTC Sensation XL is the third variation of the Sensation smartphone. Acer Iconia Tab A501 review. The Acer Iconia Tab A501 is a massive 10.1-in tablet that's powered by Android 3.0 (well, 3.0.1 to be exact) AKA Honeycomb.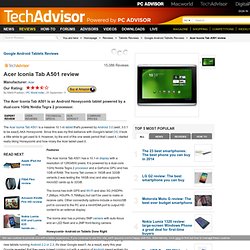 Since this was my first dalliance with Google's tablet OS, it took a little while to get used to it. However, by the end of the one week period that I used it, I started really liking Honeycomb and how nicely the Acer tablet used it. Review: Google Nexus S. For the last few days we've been using the Google Nexus S, manufactured by Samsung, with the new Android 2.3 "Gingerbread" operating system.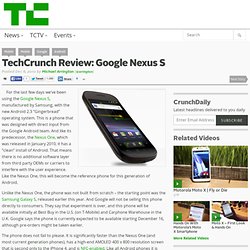 This is a phone that was designed with direct input from the Google Android team. And like its predecessor, the Nexus One, which was released in January 2010, it has a "clean" install of Android. That means there is no additional software layer from third party OEMs or carriers to interfere with the user experience. HTC Sensation review. The HTC Sensation is not a small phone.
Carrying it around in an unusually uncluttered handbag this week, we were very conscious of its bulk. It's crafted from slabs of metal and weighs an above-average but not unreasonable 148g. However, it's broad as well as wide, at 126mm long and 65mm across (but only 5mm thick). It occupies almost exactly the same space as the Samsung Galaxy S II , in other words, but is almost half as chunky. The inclusion of a 1.2GHz CPU certainly doesn't harm the Sensation's case either. Samsung Galaxy Tab 10.1 Arrives at New York City Best Buy Store on June 8. After Samsung's recent announcement that the new version of its tablet, the Galaxy Tab 10.1, is coming "in a few days," the company has now given us an exact date: June 8.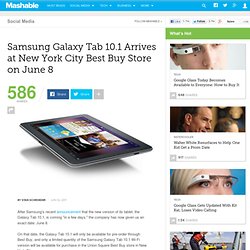 On that date, the Galaxy Tab 10.1 will only be available for pre-order through Best Buy, and only a limited quantity of the Samsung Galaxy Tab 10.1 Wi-Fi version will be available for purchase in the Union Square Best Buy store in New York City. The new Galaxy Tab 10.1 is a remake of the original device with the same name, which Samsung deemed unworthy of competing with the iPad. I-FlashDrive lets you quickly share files between PC and iPhone. Our sister site Engadget has discovered a must have accessory if you're constantly finding yourself wanting to share files between your iPhone and PCs.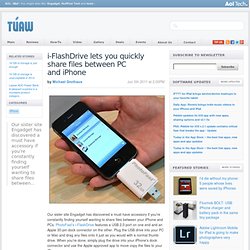 PhotoFast's i-FlashDrive features a USB 2.0 port on one end and an Apple 30-pin dock connector on the other. Plug the USB drive into your PC or Mac and drag any files onto it just as you would with a normal thumb drive. When you're done, simply plug the drive into your iPhone's dock connector and use the Apple-approved app to move copy the files to your iPhone. iPad 2.0: Can Faster, Thinner, Lighter Compete with Android Tablets? The shocking details have been unearthed.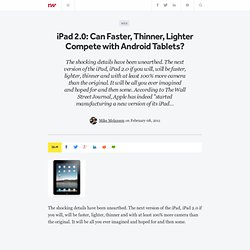 The next version of the iPad, iPad 2.0 if you will, will be faster, lighter, thinner and with at least 100% more camera than the original. It will be all you ever imagined and hoped for and then some. According to The Wall Street Journal, Apple has indeed "started manufacturing a new version of its iPad tablet computer with a built-in camera and faster processor. "
---