Mobile blogs
5 DNS security risks that keep you up at night CES 2013 Upstart wireless data-transfer tech NFC is finally coming to some interesting devices.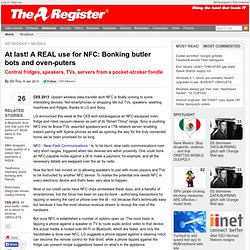 At last! A REAL use for NFC: Bonking butler bots and oven-puters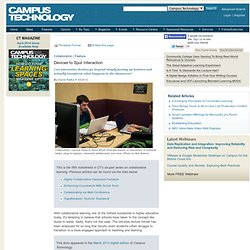 Collaboration | Feature
Devices to Spur Interaction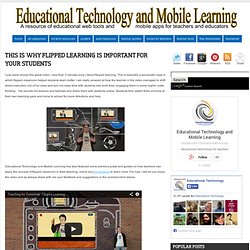 I just came across this great video ( less than 3 minutes long ) about flipped learning. This is basically a successful case in which flipped classroom helped students learn better. I am really amazed at how the teacher in the video managed to shift direct instruction out of his class and turn his class time with students into work time, engaging them in some higher order thinking . He records his lessons and tutorials and share them with students online.
This is Why Flipped Learning is Important for your Students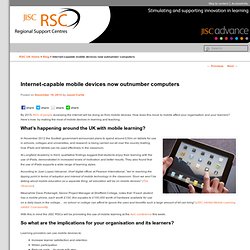 share By 2015, 80% of people accessing the internet will be doing so from mobile devices. How does this move to mobile affect your organisation and your learners? Here's how: by making the most of mobile devices in learning and teaching. What's happening around the UK with mobile learning?
Internet-capable mobile devices now outnumber computers - RSC Blog
thahk for sharing such a nice and loving thing i like its very interesting and nice one... keep sharing this type off nice thing... visit this site you can get a lot of informative thing about the technology, mobile, android, gadget and many more ... http://www.technologyexplores.com by muhammadlal Aug 21
One to one devices aren't eclipsing traditional methods of learning but adding variety and new experiences. Photograph: www.alamy.com
Tablets, laptops and mobiles in the classroom: top tips from teachers | Teacher Network | Guardian Professional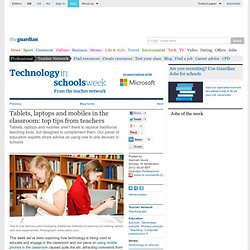 acljohn's Muzy Posts
Infographic: How Are Students Using Smart Phones? - Getting Smart by Sarah Cargill -
Did you know that 53 percent of college students own smart phones?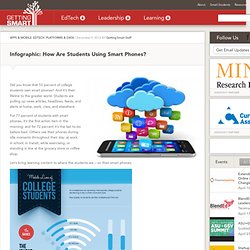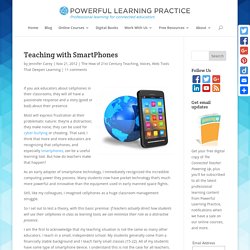 Some Ideas about Teaching with SmartPhones
If you ask educators about cellphones in their classrooms, they will all have a passionate response and a story (good or bad) about their presence. Most will express frustration at their problematic nature: they're a distraction; they make noise; they can be used for cyber-bullying or cheating. That said, I think that more and more educators are recognizing that cellphones, and especially smartphones, can be a useful learning tool.
Show what you know [Infographic]
Quite like this Infographic from Tony Vincent on apps that can be used for different activities. Click image for a larger version. Nowadays teachers and students have a variety of ways to show what they know and to express themselves.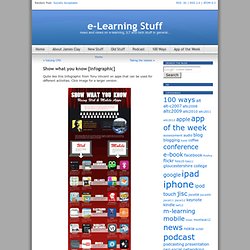 Which devices use Wi-Fi hotspots the most? Not laptops… — Mobile Technology News
Added by Katie Lepi on 2012-10-13 Your students have smartphones. If you're looking for some simple and straightforward ways to easily integrate these powerful little devices into your classroom, look no further. The following 50 tips are simply that: tips. So use a few and toss the rest. However, be sure to try out at least one or two of them!
6 ways to use mobile learning in your class today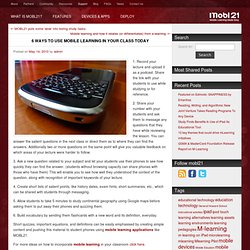 1. Record your lecture and upload it as a podcast. Share the link with your students to use while studying or for reference. 2.
Smartphones and apps are the pinnacle of buzzwords when it comes to education. You can't swing an app without hitting a smartphone…or something. So what's all the buzz about? Are smartphones really that big a deal in education? Let's examine the facts: - Ownership of smartphones continues to rise at a brisk pace
Useful Resources to Convert Websites for Mobile Devices
Internet access has taken a new turn with the introduction of Smartphones in the industry. With a Smartphone in your hand, you don't need to seat in front of a desktop or to carry the laptop with you wherever you go. Actually, this tech savvy generation keeps in touch with the internet through their handy, high class mobile devices.
I previously wrote about the importance of beginning a class focusing on the learners in the room as opposed to the content to be covered in Beginning the School Year: It's About Connections Not Content. Most classes, starting with about middle school, begin the school year with reviewing the content to be covered, expectations regarding grades, and other academic information provided by the teacher or instructor. The human or social element is often disregarded.What is interesting is that most learners enter the classroom wondering who is in the course. They want to know about the teacher and the people in the class not what material is to be covered.
First Class Ice Breakers Using Mobile Devices
Give Students Mobile Devices to Maximize Their Learning Time
The Education Department's 2010 National Educational Technology Plan (NETP) presents a transformational vision for 21st century education, depicting how new technologies can help people learn lifelong and "life-wide" - in libraries and museums and their homes, and through interactions with people in their neighborhood and community. In particular, mobile devices enable learning anywhere and anytime, moving education beyond the industrial era model, where classrooms are the primary place of learning, the school day is the primary educational time, and the teacher is the primary source of information. We know that students' lives outside school are filled with technology, giving them 24/7 mobile access to information and allowing them to participate in online social networks and communities where people worldwide share ideas, collaborate, and learn new things.
Dropbox is an oft-covered program here at Make Use Of, and for good reason. It's an incredibly useful app for moving files between computers, or keeping a copy of your most important files in the cloud. However, that isn't all Dropbox is great for; it is also great for helping students keep their files as mobile as they are. There are a myriad of reasons why every student should have Dropbox in their arsenal of study tools. Read on for just a few of them! 1.
3 Reasons Why Students Should Be Using Dropbox
Font identification on the iPhone
iPads headed into operating rooms along with surgeons
Could Alabama school board's move to iPad tablets signal a paperless classroom future?
New iPhone app aimed at getting help to troubled teens - Monday, Nov. 22, 2010 | 2:05 a
Mobile Learning Innovation: Lookup To Healthcare For Inspiration
Using Tablet Devices in Learning, Teaching and Education « David Massey's / DPM.me.uk Blog
Programmes | Click | Gadgets and guides
Summify - New Classroom Tool Uses Laptops & Phones for Instant Assessment
AudioBoo – iPhone App of the Week
BBC World Service Programmes - Click, 29/03/2011
Is This The Next Red Hot iPhone AddOn? — Apple News, Tips and Reviews
16 Top Learning, Technology & Media Links: Weekly Digest – 17
Considerations for Mobile Design (Part 1): Speed