Lists of apps
29 Apps For Teachers: The Educator's Essential iPad Toolkit. At TeachThought, we often provide lists of digital resources, and many of them are apps.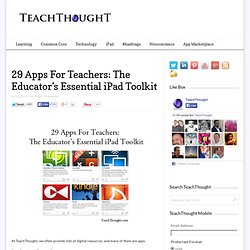 Apps for struggling readers. Apps for struggling writers. Apps for project-based learning. Any while many of these apps are for students, the following list of apps from Sam Gliksman can be considered for both teachers and students, and an excellent foundation slew of apps for any 21st century teacher. From GoodReader and Slide Shark to Printopia and Air Display, all fill different niches of 21st century learning, and the many possibilities the iPad affords. ScreenChomp. Description Share a great idea...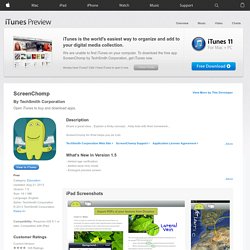 Explain a tricky concept... Help kids with their homework... ScreenChomp for iPad helps you do it all. About. Notability - Take Notes & Annotate PDFs with Dropbox & Google Drive Sync. Description Apple Editors' Choice ***ON SALE 40% OFF*** Welcome to Notability, a powerful note-taker on iPad and iPhone: sketch ideas, annotate documents, sign contracts, complete worksheets, keep a journal, record a lecture, jot travel notes, or teach a class.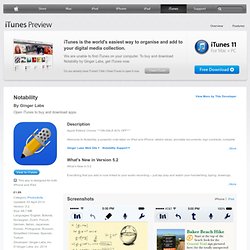 With iCloud support, your notes always travel with you! Write, illustrate and annotate using gorgeous ink. Apptastic | Apps for use in Education. 100 Mobile Tools for Teachers. By Cherrye Moore It is a common-known fact that teaching is a labor of love for most educators.
They are overworked and under-appreciated and many of them spend their own money, time and energy to improve their students' education. With all of the new mobile tools on the market today, teachers can more easily work from satellite locations, share educational resources and access school-related data directly from their cell phones. Readability | Apptastic. PDF Annotation Apps: iPad/iPhone Apps AppGuide. Overview PDFs have become the default format for sharing formatted documents across platforms.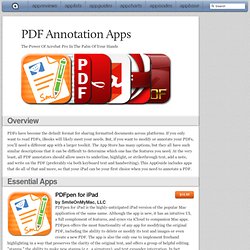 If you only want to read PDFs, iBooks will likely meet your needs. But, if you want to modify or annotate your PDFs, you'll need a different app with a larger toolkit. Inkflow | Apptastic. Inkflow: The Visual Thinking App for iPad, iPhone, and iPod Touch Available for the iPad, iPhone, and iPod Touch running iOS5.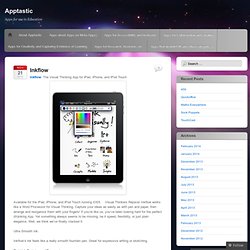 Visual Thinkers Rejoice! Inkflow works like a Word Processor for Visual Thinking. Capture your ideas as easily as with pen and paper, then arrange and reorganize them with your fingers! If you're like us, you've been looking hard for the perfect (th)inking App. The 25 Most Used Mobile Apps In Education. Apps, smartphones, and tablets are storming into classrooms around the world.
But how do you figure out which apps are being used by teachers, admins, students, and parents ? It's not an easy task, to be sure. But you can rest assured there are definitely some apps that are being used a bit more than others. For example, we've seen Dropbox and Edmodo used by just about every school district around Cambridge. 20 Time-Saving Grading Apps That Teachers Love. No doubt all our readers in the education field are well aware of the explosion of iPads and tablets in the classroom and their ability to make learning easier and more interactive.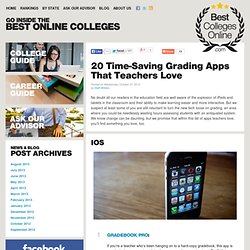 But we suspect at least some of you are still reluctant to turn the new tech loose on grading, an area where you could be needlessly wasting hours assessing students with an antiquated system. We know change can be daunting, but we promise that within this list of apps teachers love, you'll find something you love, too. GradeBook Pro: If you're a teacher who's been hanging on to a hard-copy gradebook, this app is your invitation to see what all the fuss over grading apps is about. 50 Apps Students Will Be Using In Your Classroom. 5 Useful iPhone Apps For Student Bloggers 9.43K Views 0 Likes Student blogging is a wonderful way to get into the world of online writing and learning.
These iPhone apps for student bloggers will enhance their skills. 6 Interactive Storytelling Apps For Younger Students. Top 25 Mobile Apps in Academia. Everyone seems to talk endlessly about the role smartphones and other mobile technologies play in today's classroom, especially when it comes to the best apps to get teachers organized and keep students learning.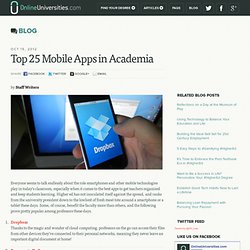 Higher ed has not inoculated itself against the spread, and ranks from the university president down to the lowliest of fresh meat tote around a smartphone or a tablet these days. Some, of course, benefit the faculty more than others, and the following prove pretty popular among professors these days. Dropbox:Thanks to the magic and wonder of cloud computing, professors on the go can access their files from other devices they've connected to their personal networks, meaning they never leave an important digital document at home! Documents To Go:Available for nearly all smartphone and PDA platforms, Documents To Go offers up the full suite of Microsoft Office programs, and saving a file on one device makes changes to all connected ones as well!
Add Subtitles to your Movies. Subtitles is a great mobile app for iOS devices. It allows its users to have easy access to a plethora of movie subtitles in more than 20 languages. Subtitles can work great for people who suffer from hearing disabilities and also for those who are monolingual.If you are a movie buff and do not speak English good enough to carry out a conversation or at least understand one then you will have trouble understanding movies in English.
Excellent iPad Apps to Create eBooks. What amazing things technology is bringing into our life. What is even more amazing in technology is its unpredictability. We never know what will come next and in the same time we are alwasy looking for innovations. At first we started with technology, then things advanced to give birth to mobile technology and now we are living in an age of nanotechnology. Isn't it amazing how human life is developing into the unknown ? 100 Incredibly Useful & Free iPad Apps. If you just dropped a few hundred dollars on an iPad, you might not have much left in your budget to fill it up with apps. Fortunately, app developers have already stepped up and created a huge collection of completely free iPad apps. Below you'll find over 100 free iPad apps to help you get started.
Many of them are only free for a limited time as an introductory special so you'd better grab them fast! If you like this roundup, it's definitely worth taking a look at our all-new roundup of The Top 100 iPad Apps, in addition to our collections of 100 free iPhone apps, and 100 free Mac apps, both of which contain some brilliant software that doesn't cost a dime!
Utilities. Apptivities. 50 Must-Download Apps For Lifelong Learners. Added by Jeff Dunn on 2012-08-13 Long after degrees have been conferred and careers have been launched, many folks just can't seem to quit school. For them, life provides an overstuffed cornucopia of educational opportunities that don't necessarily require hefty loans and navigating different professorial strategies. Those with a lust for learning who happen to also enjoy testing the limits of what the iPad offers definitely don't have to worry about finding resources to pique their fancy. Hundreds, if not thousands, of apps are out there just twitching for users to fire them up and absorb a mental nugget or two. 50 Smartphone Apps Every Teacher Should Know About.
7 Mobile Apps Students Can Use to Never Lose Handwritten Notes Again. A couple of weeks ago on my Android blog I wrote about using the Google Drive app to create digital archives of handwritten notes. That post was prompted by a conversation that I had with a young lady entering her senior year at a high school in Rockingham County, North Carolina. That young lady explained to me that she preferred the act of handwriting her notes and outlines to typing them out on a keyboard. In a lot of ways I agreed with her because when I plan my keynote talks I always use pencil and scratch paper before creating and arranging slides. App for That. I Education Apps Review - I Education Apps Review.
Photosynth - Capture your world in 3D. Introducing the Google Translate app for iPhone. mTouch-U. 50 Must-Have Educational Apps. Top 20 Must-Have Educational iPhone & iPad Apps Used By Real Teachers in the Classroom - iPhone app article - Shara Karasic. Super Round-Up - iPads in Music Education. iPads in Schools. 10 Incredible iPad Apps for Education. Apps & Iphone/iTouch website and/or article resources. Quick List Of iPad Resources For The Classroom. 6 Free Presentation Apps for your iPad. Learning and Teaching Enhancement Wiki / iPad Apps Resource Area. 30 Excellent iPad App Interfaces. 100 Apps for Tech-Savvy Teachers.
5 Best Apps for iPad to help you with your studies / education. Karl D.D. Willis. 15 Favorite iPad Apps As Selected By Teachers. The 40 Best iPad Apps for Young Learners. 7 Apps That Will Help You Use Your iPad For Writing Projects.
Khan Academy: A Classroom In Your Pocket. Math Scramble free download for Android. World Geography Flashcards. Free Graphing Calculator. Era of Dino Lite. SkyView Free - Explore the Universe for iPhone 3GS, iPhone 4, iPod touch (4th generation), iPad 2 Wi-Fi and iPad 2 Wi-Fi + 3G on the iTunes App Store.
Word A Day Apps: iPad/iPhone Apps AppGuide. Facebook Apps for eLearning. iPodsibilities. Writing Apps for iPad | Best Useful iPad Apps for Writers. News. WhatsApp Messenger. Wolfram|Alpha: Computational Knowledge Engine. SmartVoicemail™ by HulloMail™ RSCSW. PDF Reader Pro. My Moodle. Main product page for Splashtop Remote Desktop. Vocabology. Periodic Table of the Elements. Molecules. World Explorer. 7notes for iPad Lets You Take Notes On-Screen with Your Finger. Flipboard.
Thomas Sheppard's blog: Education Apps for iPod Touch. iPad Apps. Apps for Literacy Support. List of iPod Touch applications useful for Key Skills Learners. Summify - The 106 Best iPhone Apps. Top 8 Android Apps for Education. Home.
---