iPad Educational Resources
iPad/iPod Resources. How To Overcome The iPad Learning Curve. By Dave Wingler How To Overcome The iPad Learning Curve: Technology can make life a lot easier in the classroom.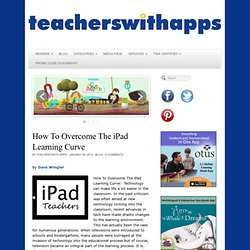 In the past criticism was often aimed at new technology coming into the classroom, recent advances in tech have made drastic changes to the learning environment. This has actually been the case for numerous generations. When televisions were introduced to schools and kindergartens, many people were outraged at the invasion of technology into the educational process but of course, television became an integral part of the learning process. It is therefore fair to say that when used properly, tablets such as the iPad can be used effectively in the classroom. SmartBoard, Make Way for Educreations. Digital Tools Julia Hum/Educreations One of the biggest, fastest shifts in ed tech the last couple years has been the evolution from the use of large interactive whiteboards to the use of mobile, agile multi-purpose apps.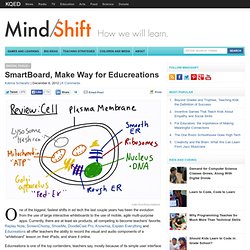 Currently, there are at least six products, all competing to become teachers' favorite. Replay Note, ScreenChomp, ShowMe, DoodleCast Pro, Knowmia, Explain Everything and Educreations all offer teachers the ability to record the visual and audio components of a "whiteboard" lesson on their iPads, and share it online. The 60-Second Guide To Teaching With Tablets. ANSWERED: The 10 Biggest Questions About iPads In Classrooms. The following is part of a recent interview I did with students from Ursuline Academy of Dedham, Massachusetts about iPads in classrooms.
They proposed a few questions that they thought were the most important and I replied with some initial thoughts for them. I figured these answers my help others out there too. Agree? Disagree? iPads, tablets and learning. I've seen a lot of great practice with iPads and other tablets in schools.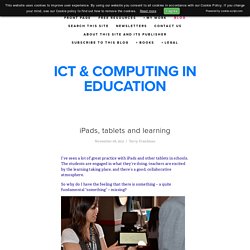 The students are engaged in what they're doing, teachers are excited by the learning taking place, and there's a good, collaborative atmosphere. So why do I have the feeling that there is something – a quite fundamental "something" – missing? How do mobile devices change learning? Photo by Mike Avila I've been thinking about this for a while. I think the problem, in a nutshell, is that when I've seen students using their tablets, they haven't been doing anything they wouldn't have been doing anyway. Best iPad mini apps. The iPad mini has an unfair advantage.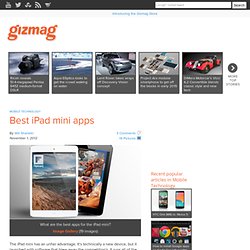 It's technically a new device, but it launched with software that blew away the competition's. It runs all of the 275,000 iPad apps in the App Store. Though all of these applications are usable, some are especially well-suited to the iPad mini's size and portability. 5 Recommended iPad Screensharing Apps. The iPad is supposed to make teaching and learning easier, right?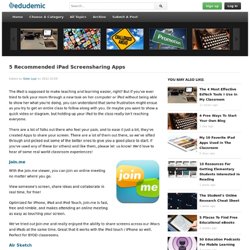 But if you've ever tried to talk your mom through a new task on her computer or iPad without being able to show her what you're doing, you can understand that some frustration might ensue as you try to get an entire class to follow along with you. Or maybe you want to show a quick video or diagram, but holding up your iPad to the class really isn't reaching everyone. There are a lot of folks out there who feel your pain, and to ease it just a bit, they've created Apps to share your screen.
There are a lot of them out there, so we've sifted through and picked out some of the better ones to give you a good place to start. TogetherJustice for iPad 2 Wi-Fi, iPad 2 Wi-Fi + 3G, iPad (3rd generation), and iPad Wi-Fi + 4G on the iTunes App Store. iPad Classroom Next Term? – 10 Things to Consider. If the iPad is making a 'move' on your classroom this year then these ten points are worth considering: Check your wireless network for everything from capacity to 'dead-zones'.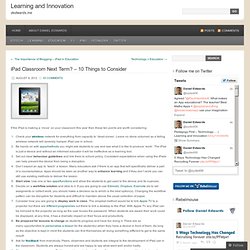 Leave no stone unturned as a failing wireless network will severely hamper iPad use in school.Be hands on with apps/methods you might ask students to use and see what it is like to produce 'work'. The iPad is just a device and without an informed educator it will be ineffective as a learning tool.Set out clear behaviour guidelines and link them to school policy. Consistent expectations when using the iPads can help prevent the device from being a disruption.Don't expect an app to 'teach' a lesson.
Many educators ask if there is an app that will specifically deliver a part of a course/syllabus. 5 Critical Mistakes Schools Make With iPads (And How To Correct Them) – From Tom on Edudemic. At EdtechTeacher we strongly believe that successful technology integration in schools requires ongoing, sustained professional development.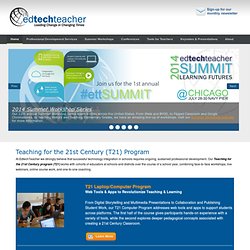 Our Teaching for the 21st Century program (T21) works with cohorts of educators at schools and districts over the course of a school year, combining face-to-face workshops, live webinars, online course work, and one-to-one coaching. Our core programs focus on either computer/laptop integration or iPad integration. 9 Surprising Ways Schools Are Using iPads Around The World.
10 Ways To Become A Better Online Learner 7.76K Views 0 Likes There are some quick and easy ways to become a better online learner.
100 iPads in a single classroom at University of Ottawa. iPads at University of Chicago Medical Center. Top 20 Must-Have Educational iPhone & iPad Apps Used By Real Teachers in the Classroom - iPhone app article - Shara Karasic. With the advent of the 2011/2012 school year, teachers who have access to mobile technology are scrambling to find the best education apps for the iPod Touch, iPad and iPhone.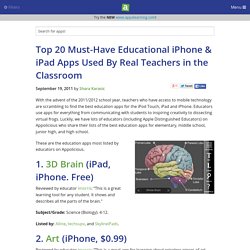 Educators use apps for everything from communicating with students to inspiring creativity to dissecting virtual frogs. Luckily, we have lots of educators (including Apple Distinguished Educators) on Appolicious who share their lists of the best education apps for elementary, middle school, junior high, and high school. These are the education apps most listed by educators on Appolicious. 1. 3D Brain (iPad, iPhone. E-Learning Stuff » ipad.
These are technologies that I actually use, they exclude web tools and services which I do a separate top ten for. They are generally tools that make my life easier, more efficient and more productive. Having changed jobs in 2013, this has made the list a little more interesting as the technologies I used over the year did change quite a bit. Missing from this list is BT Infinity FTTC which made the list for the last three years, not that it doesn't exist anymore, I moved in 2012 and am now connected to the only cabinet on my exchange that won't be upgraded to FTTC. As a result I am stuck on a very slow 1-2Mb ADSL connection. The Ultimate Guide to Using iPads in the Classroom - Edgalaxy - Cool Stuff For Nerdy Teachers. There is no doubt to anyone who has used an iPad or any tablet for that matter that they show a clear alternative to teaching learning in the classroom beyond laptops, screens and monitors.
The iPads simplicity of use and massive range of apps give it a great deal of appeal as a teaching and learning tool and the future looks bright for this trend to continue. Yes it does have a number of shortfalls in some areas - like any early technology so I am going to share some great resources with you that I have come across which highlight the benefits of iPads in the class room and hopefully they will be of use to you. The DEECD located in Victoria Australia has some brilliant resources located at their iPads in the classroom trial website including. The 21 Steps to iPad success which is a document created to assist schools to smoothly implementing their iPads in the classroom, and have provided each school with some support materials.
iPad Resources iCan Use. An Incredible Way To Teach Music Using iPads In The Classroom [Video] What happens when you take a classroom of students, add 24 iPads as well as sound recording gear and then throw in a live band? A pretty catchy song that gives you hope for the future of music in the digital age.
Sounding like a professionally recorded and mixed track, Neil Johnston of Store Van Music (UK), created the song in a british classroom as you can see in the video below. The song has gotten so much acclaim that it's actually now on sale at iTunes ( iTunes link ). Digital Storytelling with the iPad. Digital Storytelling can transform your students' writing into a visual masterpiece that is filled with voice and emotion, while enhancing critical thinking skills. The iPad takes digital storytelling to a new level by making the process easier, and even more engaging for students of all grade levels as well as for their teachers.
This site will help guide you in what you need for success in the iPad Digital Storytelling classroom. A Day in the Life of the iPad Classroom. 50+ iPad apps by a Geography Teacher « The Six Sides of Steve. iPads and iPods in Education - @Ideas_Factory The blog of Julian S. Wood. iPads/iPods in Education | Embracing Technology: Are iPads the Future of Learning? iPad Tips: Getting Started with the iPad.
Erin Palmer. iPads in Schools. TEL Tutorials and Guides Repository / iPad Apps Resource Area. iPad Multimedia Tools. Ipad Apps for Physical Education | The Physical Education Teacher. Learning and Teaching with iPads.
103 Interesting Ways to use an iPad in the Classroom- Apple education learning with ipad us. Ten Sites Supporting iPads In Education… A Post Of Resources. Martial demonstrating using an ipad with RSS feeds. NotesyncforIPads_UK_2.pdf (application/pdf Object) First iPad University Course. iPads for Education | Victoria, Australia. iPad: Configuring accessibility features (including VoiceOver and Zoom) Internet Catalogue.
Horsing Around with iPads. iPad Academy - Learn How to Use the iPad | Tutorials, Tips & Training. Ultimate music applications for the iPad. How You're Using Your iPad [INFOGRAPHIC] iPads in Education - Exploring the use of iPads and mobile devices in education. Apps For Education by matt ewens on Prezi. 12 Characteristics Of An iPad-friendly Classroom. iPadagogy. Edmodo. 5 Must-Know Tips For Deploying iPads In Your Classroom. Interactive Magazine - Classroom Ideas for iPads. Quick List Of iPad Resources For The Classroom. 10 Real-World Tips For Using iPads In Education. iPad Resources for Teachers.
Screencasting Apps for the iPad  iPad Apps that work with Smartboards. 50 resources for iPad use in the classroom. 30 Cool Educational iPad Apps for Science Lovers - Creative Can Creative Can. iPad on Campus - What to do with the iPad?
iPad Lessons. Creative Uses for iPad in the Classroom - Summify. iPads in Education- Examples from the Classroom | iPad Adoption. An Open-Source, HTML5 Framework for iPad E-books. iPads in Education. iOS Musician - Learn, Create, Record, and Perform with your iPhone or iPad… ELI7069.pdf (application/pdf Object) 250 best iPad apps: education. 10 Great Ways to Get More From Your iPad. An encyclopedia on your iPad. 40 iPad Apps For Language Learners. 10 creative iPad apps for aspiring artists.
iPad 2.0: Can Faster, Thinner, Lighter Compete with Android Tablets? 10 iPad Apps for Web Curation. Innovative Music Apps for the iPad.
More educational ipad pearls
Case studies. Tips and tricks. 2011-12 iPad Project - RSCWMWiki. Educreations. James Clay, Gloucestershire College: My favourite iPad Apps. Breaking News: Today - Educreations Launches New iPad App and Turns Your iPad Into an Interactive Whiteboard. Classroom iPod touches & iPads: Dos and Don'ts. A few of my favourite things... iPads in the Classroom. Using iPads in Education: Resources for teachers using iPads in the classroom.
WritePad for iPad Demo. iPads In Education- Part 1. The Ultimate Guide To Using iPads In The Classroom | Education Technology and Teacher Tools – Edudemic. 40 Most Awesome iPad Apps for Science Students | Best Colleges Online. 5 iPad Tips!! Top Best APPS! (April 2010) Prezi for iPad.
---