Information/Digital Literacy
What do you mean by 'digital literacy'? By digital literacy we mean the ability to live, learn and work effectively in a digital society. Being digitally literate implies different capabilities at different stages of education and even in different subject areas and professions.
JISC Inform / Issue 35, Winter 2012 | #jiscinform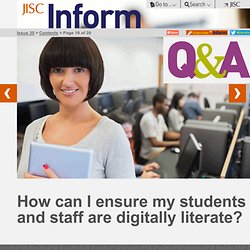 Researchers as data managers Sarah discusses researchers as data managers (2:23) With data at the heart of their activities, researchers will have to be more involved in its management.
JISC Inform / Issue 35, Winter 2012 | #jiscinform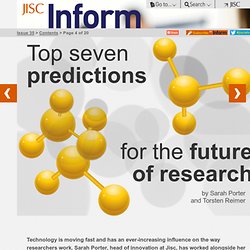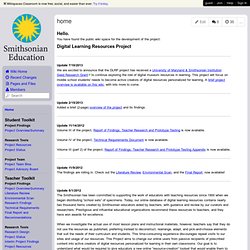 smithsonian-digital-learning - home
Hello. You have found the public wiki space for the development of the project: Update 7/10/2013 We are excited to announce that the DLRP project has received a University of Maryland & Smithsonian Institution Seed Research Grant to continue exploring the role of digital museum resources in learning. This project will focus on middle school students' needs to become active creators of digital resources personalized for learning.
How To Search For Open Educational Resources
Is embedding digital literacy in your curriculum working for you?
I believe that developing digital literacies within your organization is key to providing a dynamic and engaging experience for every learner, but we all know that co-ordinating this across the whole college can sometimes be a challenge, so what's the answer? Part of my role at Jisc's Regional Support Centre in Yorkshire & Humber has been to work in partnership with RSC colleagues and learning providers nationally, and together we have developed the Digital Literacies Organisational Review tool. This empowers you to take an approach which encompasses every department and allows you to review how digital literacies are embedded across the organisation, from strategy to practice. Although this may sound like another job for the to-do list, the benefits of placing digital literacies at the heart of your organisation, in my opinion, far outweigh the effort. Benefits include: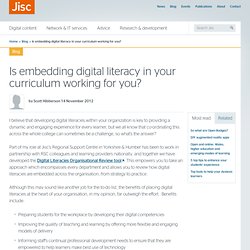 Web Search Techniques in Plain English
Lefever is one of the few guys out there who really create high quality educational videos. He started the In-Plain-English video series on YouTube and he made videos about different web tools. The way he uses animations, cartoons, drawings, and handwriting in his videos is just amazing. In fact I just ordered one of his new books from Amazon called " Art of Explanation: Making your Ideas, Products, and Services Easier to Understand " hoping to learn some of his secrets.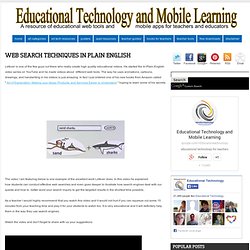 Developing the digital literacy of art & design educators by Lindsay Jordan on Prezi
Developing digitial literacies for working in a digital world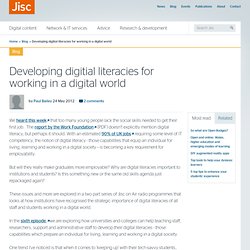 We heard this week that too many young people lack the social skills needed to get their first job. The report by the Work Foundation (PDF) doesn't explicitly mention digital literacy, but perhaps it should. With an estimated 90% of UK jobs requiring some level of IT competency, the notion of digital literacy - those capabilities that equip an individual for living, learning and working in a digital society – is becoming a key requirement for employability. But will they really make graduates more employable? Why are digital literacies important to institutions and students?
Information Literacy Tool
Digital Literacy – delivering the agenda within colleges and universities at JISC On Air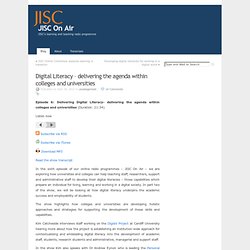 Episode 6: Delivering Digital Literacy- delivering the agenda within colleges and universities (Duration: 21:34) Listen now Subscribe via RSS Subscribe via iTunes Download MP3
Information Literacy Website
The Information Literacy website has been designed and developed by information professionals from key UK organisations actively involved in the field of information literacy. The website aims to support practitioners and researchers from around the world with an interest in information and digital literacy by providing news, case studies, examples of best practice and freely available tool kits. Our aim is to provide a practical resource that information professionals regularly visit to discover the latest developments in information literacy.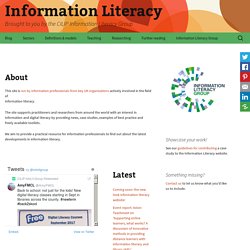 Information Literacy Toolkit Tutorial - Regional Support Centre South West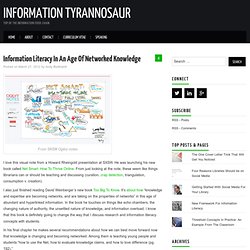 Information Literacy In An Age Of Networked Knowledge
From SXSW Ogilvy notes I love this visual note from a Howard Rheingold presentation at SXSW. He was launching his new book called Net Smart: How To Thrive Online. From just looking at the note, these seem like things librarians can or should be teaching and discussing (curation, crap detection, triangulation, consumption v. creation).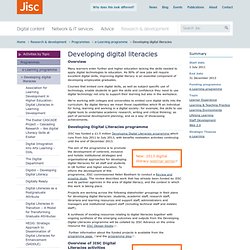 Overview Many learners enter further and higher education lacking the skills needed to apply digital technologies to education. As 90% of new jobs will require excellent digital skills, improving digital literacy is an essential component of developing employable graduates.
Developing digital literacies
The importance of librarians in supporting local communities and pe...
The JISC Developing Digital Literacies programme is now well underway. As I reported from the programme start up meeting last October , the aim of this 2 year programme is too " . . .promote the development of coherent, inclusive and holistic institutional strategies and organisational approaches for developing digital literacies for all staff and students in UK further and higher education." with projects: " . . .working across the following stakeholder groupings in their plans for developing digital literacies: students, academic staff, research staff, librarians and learning resources and support staff, administrators and managers and institutional support staff . . ."
Summary of technologies in use in the JISC Developing Digital Literacies Programme
Update 6/13/2012: We finally finished our book on this topic. It is available in print here, and in Kindle format here. You can also download a sample chapter here: here (601k PDF) Literacy and fluency* have to do with our ability to use a technology to achieve a desired outcome in a situation using the technologies that are available to us.
The Difference Between Digital Literacy and Digital Fluency | SociaLens Blog
Visual Literacy Competency Standards for Higher Education
Last week saw the announcement of the new Visual Literacy Competency Standards for Higher Education by the (US) Association of College & Research Libraries (ACRL). They define Visual Literacy (VL) as "a set of abilities that enables an individual to effectively find, interpret, evaluate, use, and create images and visual media". The VL Standards include: an introduction & definition; brief discussions of VL as it relates to higher education and to information literacy; "suggestions for implementing the Standards"; a bibliography, and, obviously, the standards themselves.
Digital literacy campaign – best of your comments and ideas | Education
Children studying the workings of a computer. Photograph: Frank Baron Last week the Guardian launched a campaign to improve the teaching of computer science and IT in schools. Businesses had complained that poor quality courses in schools, colleges and universities had led to a shortage of workers with programming skills, even as these skills become more and more relevant for a wider variety of jobs. Michael Gove, the education secretary, agreed, and last Wednesday made a speech in which he scrapped the existing ICT curriculum – which he felt left children "bored out of their minds being taught how to use Word and Excel by bored teachers" – in favour of allowing schools to write their own, with input from businesses and universities. On Friday the Royal Society published a report echoing the points made by our campaign and by Gove.
The issue of digital literacy | Let us Buzz
Digital Literacies for Writing in Social Media
Doug Belshaw's Ed.D. Thesis
Google reader and RSS
Information Skills Toolkit
Digital Literacies Pilot Materials
Introduction to Information Technology Training Course
What do new Social Networks tell us about Digital Literacies?
Information Literacy Toolkit Tutorial on Vimeo
Information Literacy Tool