Information/Digital Literacy
What do you mean by 'digital literacy'? By digital literacy we mean the ability to live, learn and work effectively in a digital society. Being digitally literate implies different capabilities at different stages of education and even in different subject areas and professions.
JISC Inform / Issue 35, Winter 2012 | #jiscinform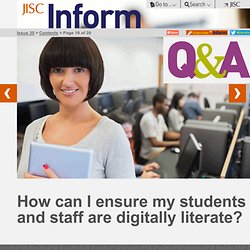 Researchers as data managers Sarah discusses researchers as data managers (2:23) With data at the heart of their activities, researchers will have to be more involved in its management.
JISC Inform / Issue 35, Winter 2012 | #jiscinform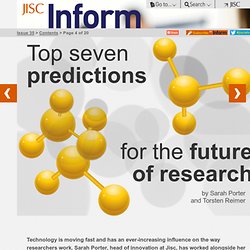 smithsonian-digital-learning - home
How To Search For Open Educational Resources
Is embedding digital literacy in your curriculum working for you?
I believe that developing digital literacies within your organization is key to providing a dynamic and engaging experience for every learner, but we all know that co-ordinating this across the whole college can sometimes be a challenge, so what's the answer?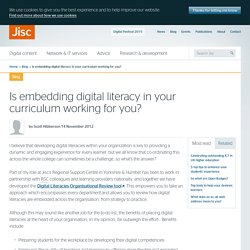 Web Search Techniques in Plain English
Lefever is one of the few guys out there who really create high quality educational videos.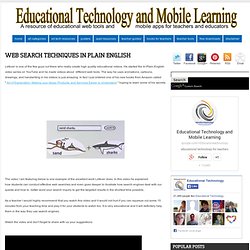 Developing the digital literacy of art & design educators by Lindsay Jordan on Prezi
Developing digitial literacies for working in a digital world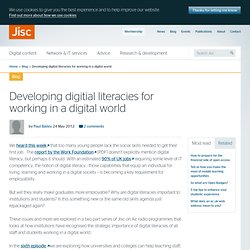 image from BPSUSF on Flickr We heard this week that too many young people lack the social skills needed to get their first job.
Information Literacy Tool
Digital Literacy – delivering the agenda within colleges and universities at JISC On Air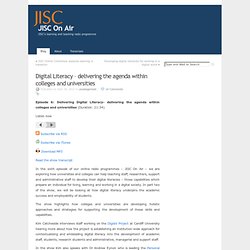 Episode 6: Delivering Digital Literacy- delivering the agenda within colleges and universities (Duration: 21:34)
Information Literacy Toolkit Tutorial - Regional Support Centre South West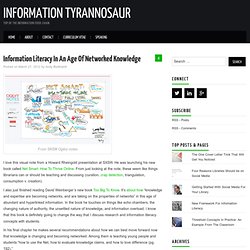 Information Literacy In An Age Of Networked Knowledge
From SXSW Ogilvy notes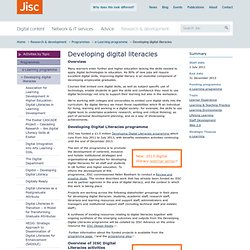 Overview Many learners enter further and higher education lacking the skills needed to apply digital technologies to education. As 90% of new jobs will require excellent digital skills, improving digital literacy is an essential component of developing employable graduates.
The importance of librarians in supporting local communities and pe...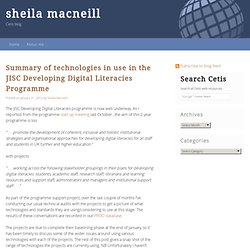 The JISC Developing Digital Literacies programme is now well underway.
Summary of technologies in use in the JISC Developing Digital Literacies Programme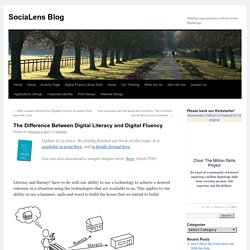 Update 6/13/2012: We finally finished our book on this topic.
Visual Literacy Competency Standards for Higher Education
Last week saw the announcement of the new Visual Literacy Competency Standards for Higher Education by the (US) Association of College & Research Libraries (ACRL). They define Visual Literacy (VL) as "a set of abilities that enables an individual to effectively find, interpret, evaluate, use, and create images and visual media". The VL Standards include: an introduction & definition; brief discussions of VL as it relates to higher education and to information literacy; "suggestions for implementing the Standards"; a bibliography, and, obviously, the standards themselves.
Digital literacy campaign – best of your comments and ideas | Education
Children studying the workings of a computer. Photograph: Frank Baron Last week the Guardian launched a campaign to improve the teaching of computer science and IT in schools .
When social media became popular among students, many educators immediately labeled it as a distraction: sites like Facebook and Twitter were viewed as high-tech alternatives to passing notes in class.
The issue of digital literacy | Let us Buzz
The following is a shortened version of a talk I gave at the " Engaging the Public " symposium held at Washington & Jefferson College on Oct. 1.
Doug Belshaw's Ed.D. Thesis
Google reader and RSS
Information Skills Toolkit
Digital Literacies Pilot Materials
Introduction to Information Technology Training Course
Digital Literacy Tour
What do new Social Networks tell us about Digital Literacies?
Information Literacy Toolkit Tutorial on Vimeo
Information Literacy Tool