Google
CourseBuilderChecklist - course-builder - Checklist of all steps to create a course using Course Builder. - Course Builder. Costs When you use Course Builder, you create your course as an App Engine application.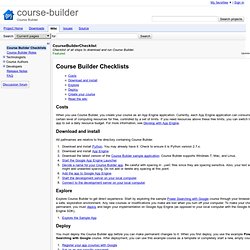 Currently, each App Engine application can consume a certain level of computing resources for free, controlled by a set of limits. If you need resources above these free limits, you can switch to a paid app to set a daily resource budget.
Google URL Shortener
5 ways to use Google Voice in your classroom. I recently spent the afternoon with some enthusiastic teachers at the Mercer Island School District who are prepping for the start to the school year.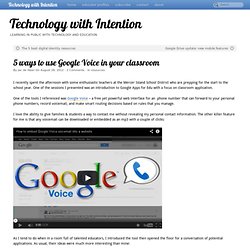 One of the sessions I presented was an introduction to Google Apps for Edu with a focus on classroom application. One of the tools I referenced was Google Voice – a free yet powerful web interface for an phone number that can forward to your personal phone numbers, record voicemail, and make smart routing decisions based on rules that you manage. I love the ability to give families & students a way to contact me without revealing my personal contact information.
The other killer feature for me is that any voicemail can be downloaded or embedded as an mp3 with a couple of clicks:
Teachers Definitive Guide To Google Search Skills. The 21st century education is all about cultivating such important skills as critical thinking and digital skills.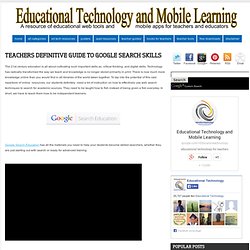 Technology has radically transformed the way we teach and knowledge is no longer stored primarily in print. There is now much more knowledge online than you would find in all libraries of the world taken together. Google currents. Google Augments Mobile Search With Handwriting Recognition. Web search has evolved from traditional query typing to voice search, to auto-complete and even image searches.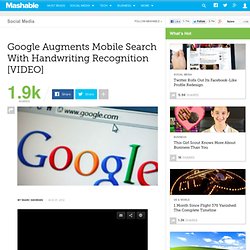 Now search giant Google is taking the next step in making finding stuff on the web easier by augmenting its mobile search offerings with handwriting recognition. The new feature, Google Handwrite, will run on Android phones and tablets, and on iOS devices running iOS 5, with support for 27 different languages. For now, the handwritng recognition is experimental so users will need to enable it in their settings to take advantage of the new feature. On your mobile device, login at google.com, tap on "Settings" at the bottom of the screen and enable the "Handwrite" feature.
Google Translate
Google in Education. Google sites. How to Use Google Search More Effectively [INFOGRAPHIC] - Summify. Among certain circles (my family, some of my coworkers, etc.)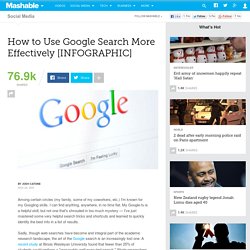 I'm known for my Googling skills. I can find anything, anywhere, in no time flat. My Google-fu is a helpful skill, but not one that's shrouded in too much mystery — I've just mastered some very helpful search tricks and shortcuts and learned to quickly identify the best info in a list of results. Sadly, though web searches have become and integral part of the academic research landscape, the art of the Google search is an increasingly lost one. A recent study at Illinois Wesleyan University found that fewer than 25% of students could perform a "reasonably well-executed search. "
Google apps
Google Mail. Google help tutorials. Google News. Other Google stuff. Google Reader. iGoogle. Google Cloud. Google Chart.
---