Google Docs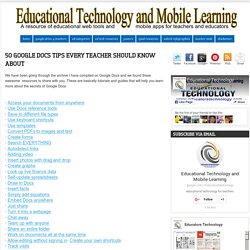 37inShare Google Docs ( Drive ) is an important component of your digital toolbox as a teacher and educator. I have been posting a lot on the importance of this service in education and Google Docs section here in Educational Technology and Mobile Learning has some great resources to help you start leveraging the potential of Docs in your teaching. I have been going through the archive I have compiled on Google Docs and I found these awesome resources to share with you.
Google Forms is a great tool and I hope to use it more throughout this year. Take a look here for a more detailed introduction and guide to using and creating a Google Form – this was written prior to Google bringing forms into the NEW menu. I have created example forms for each of the different topics, follow the links in each of the ten sections. With help from a Googler I have included a link so that you can get your own copy of the form – click on the appropriate link and it should open in your docs home.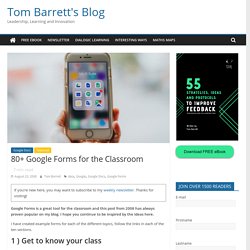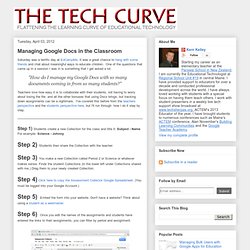 Saturday was a terrific day at EdCampMe. It was a great chance to hang with some friends and chat about meaningful ways to educate children. One of the questions that came up in a session I was in is something that I get asked a lot. "How do I manage my Google Docs with so many documents coming in from so many students?"
5 Ways To Be A Better Public Speaker 7.16K Views 0 Likes If you've been asked to speak at a conference or host a seminar, you may be shaking in your boots. Not only is the thought of speaking in public nerve-wracking, but being in charge of a seminar that no one wants to at... My 10 Favorite Learnist Boards Of The Year
Docs for teachers - Google Docs Help
docs's Channel
Google Docs - Tipsheet and Resource Guide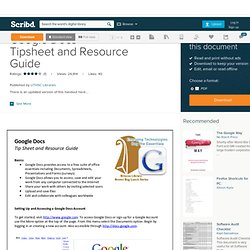 Getting Started Once you have set up an account you can begin to explore Document, Spreadsheet, Presentationand Form creation through Google Documents.You can create a new project by clicking on the New option then selecting the type of project youwant to begin. Or you can select the Upload button and upload an existing Word, Excel, PowerPointor PDF document to begin editing in Google Docs. At this time Google Docs does not support thePowerPoint 2007 file extension pptx.
Mobile Editing in Google Docs
Mobile Editing in Google Docs - Regional Support Centre South West
65 Interesting Ways* to Use Google Forms in the... - "Google Docs"
How to Use Google Documents: Video Series | eHow Videos
Learn how to use Google documents to organize personal and business documents and spreadsheets in this free software demonstration from our internet program expert. Google Documents is a free web-based program which includes word processing, as well as spreadsheet and presentation software capabilities. One of the biggest advantages of this software is that uses can collaborate on-line, creating and editing documents in real time.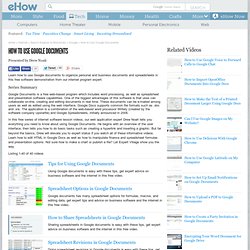 googletools.barrow.wikispaces
65 Interesting Ways* to Use Google Forms in the... - "Google?Documents"