Bibliographical/research/citation
The "Harvard Style" is a standard format to create your bibliography references in for your essays and reports. Just put in the raw details - like author, title and year of publication - and out pops the reference. [Go...] Many students don't realize that copying someone else's work without giving credit is wrong - and that includes material you find online. Use this tool to check sections of your text to test if you are liable to get accused of plagiarism.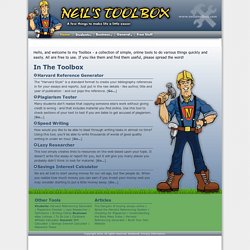 resourceshare.ac.uk
Bookends version 12.1.2The reference manager you've been looking for We didn't stop at 11. Mavericks-ready and Retina-enabled Bookends 12 has been rewritten from the ground up. It includes configurable spell checking, database journaling, integration of the built-in browser with the library window, enhanced formatting options, PDF watch folders, Attachment Flow (think Cover Flow for PDFs), and much more. Here is a list of what's new in this version. Download and use the introductory version of Bookends for free.
Reference management and bibliography generation software for Macintosh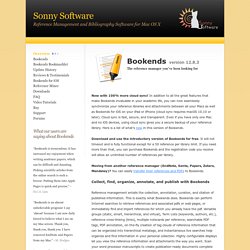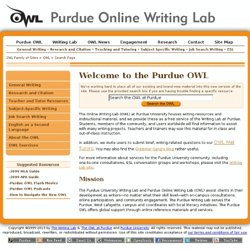 We're working hard to place all of our existing and brand-new material into this new version of the site. Please use the provided search box if you are having trouble finding a specific resource. The Online Writing Lab (OWL) at Purdue University houses writing resources and instructional material, and we provide these as a free service of the Writing Lab at Purdue. Students, members of the community, and users worldwide will find information to assist with many writing projects. Teachers and trainers may use this material for in-class and out-of-class instruction. In addition, we invite users to submit brief, writing-related questions to our OWL Mail Tutors .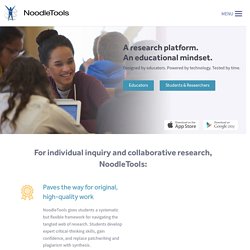 We love Noodletools and what it does to prepare students for college. It is a real resource for Common Core Standards. It helps students attain college ready skills.– A. Weber, High School Librarian NoodleTools is the most reasonable and most useful library subscription that contributes to student success.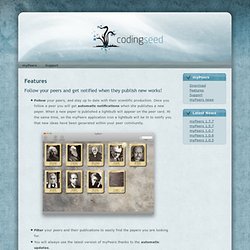 myPeers - features
Follow your peers and get notified when they publish new works! Follow your peers, and stay up to date with their scientific production. Once you follow a peer you will get automatic notifications when she publishes a new paper. When a new paper is published a lightbulb will appear on the peer card. At the same time, on the myPeers application icon a lightbulb will be lit to notify you that new ideas have been generated within your peer community. Filter your peers and their publications to easily find the papers you are looking for.You will always use the latest version of myPeers thanks to the automatic updates.
About JabRef is an open source bibliography reference manager. The native file format used by JabRef is BibTeX, the standard LaTeX bibliography format. JabRef runs on the Java VM (version 1.6 or newer), and should work equally well on Windows, Linux and Mac OS X.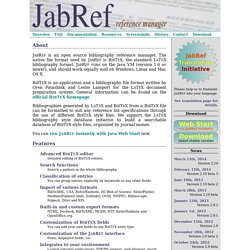 Citeline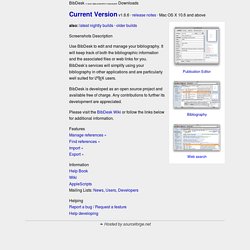 BibDesk ❧ Mac Bibliography Manager Downloads Current Version v1.6.2 · release notes · Mac OS X 10.6 and above
Cite perfectly. Whether you need to create footnotes, endnotes, in-text citations, or bibliographies, Zotero will do all the dirty work for you, leaving you free to focus on your writing. Create citations in Word and OpenOffice without ever leaving your word processor and add references to an email, a Google Doc, or some other editor simply by dragging one or more references out of Zotero.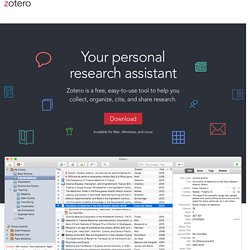 From Bibus Bibus Bibliographic software Summary on sourceforge.net Bibus is a bibliographic and reference management software. As with other such tools, Bibus allows one to search, edit, and sort bibliographic records.