Presentation
Quelle: Foto von Martin Zinzigi in der Zeitschrift TERZ .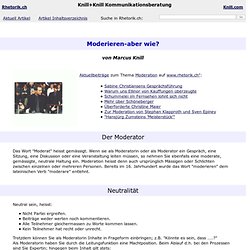 Moderieren - aber wie?
Wie Sie einen Redner anmoderieren – 20 Tipps (Erfolgreich Wirken)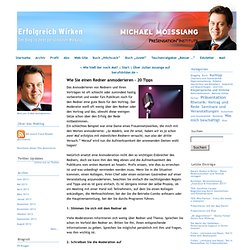 Ein schlechtes Beispiel war eine Dame eines Frauennetzwerkes, die mich mit den Worten anmoderierte: "So Mädels, wie Ihr wisst, haben wir es ja schon zwei Mal erfolglos mit männlichen Rednern versucht, nun also der dritte Versuch." Worauf wird nun die Aufmerksamkeit der anwesenden Damen wohl liegen? Natürlich ersetzt eine Anmoderation nicht den so wichtigen Eisbrecher des Redners, doch sie kann ihm den Weg ebnen und die Aufmerksamkeit des Publikums vom ersten Moment an fesseln.
The time has come to rise up against the tyranny of Powerpoint; to say goodbye to 15MB .ppt files that you can't email to anyone.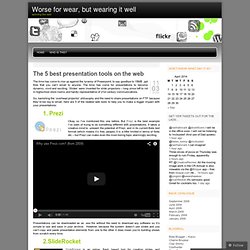 prezi « Worse for wear, but wearing it well
Online Video Presentations Made Easy | PowerPoint + Webcam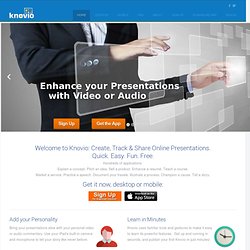 Knovio is a trademark of KnowledgeVision Systems, Inc. All other trademarks and copyrights are property of their respective owners. Whether for business, education or individual use, Knovio adds your personality and improves the effectiveness of any presentation. Create : bring "flat" PowerPoint® slides to life with your webcam, microphone
Design presentations automatically - VisualBee PowerPoint plugin
Ihre Fotogeschichte, individuell erzählt Urlaub, Familie, Geburtstag, Hochzeit, Verein…täglich halten Sie fotografisch Momente fest. Mit der AquaSoft DiaShow werden diese Momente zu Ihrer Geschichte - bewegend gestaltet und für immer bewahrt. Ihre Reisen - Für immer in Erinnerung
Diashow für DVD-Player und PC erstellen - HD-Diashows mit Musik und Effekten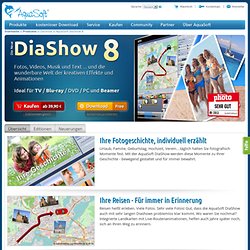 Slideshow: Easily create and share a slideshow.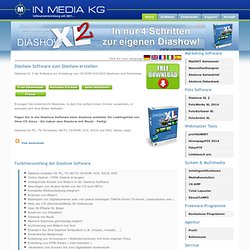 Diashow Programm Diashow Software Fotoalbum Photoalbum Bildschirmschoner TV VCD SVCD DVD Online Galerie HTML Galerie
Diashow XL die Software zur Erstellung von CD-ROM VCD DVD Diashows und Fotoshows Erzeugen Sie kinderleicht Diashows, in dem Sie einfach einen Ordner auswählen, in welchem sich Ihre Bilder befinden. Fügen Sie anschließend beim Diashow erstellen Ihr Lieblingslied von Ihrer CD hinzu - Sie haben eine Diashow mit Musik - Fertig! Diashow für PC, TV, Fernseher, HD-TV, CD-ROM, VCD, SVCD und DVD, Handy, Ipad free download