Musik
Good Ear - Online Ear Training Site. Relaxing ambient sounds, listen, create and download. Online Music Notation Software. Your music, everywhere.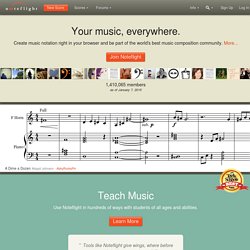 Create music notation right in your browser and be part of the world's best music composition community. More... Noteflight® is an online music writing application that lets you create, view, print and hear professional quality music notation right in your web browser. Write music on your computer, tablet or smartphone, share with other users, or embed in your own pages. Sign up for a free account, or purchase a Noteflight Crescendo subscription to take your creativity to the next level.Try the demo. Musik-Noten-Software Forte Free - Freeware Musiknoten-Programm. "Mir ist die Nutzung vom ersten Moment an sehr leicht gefallen!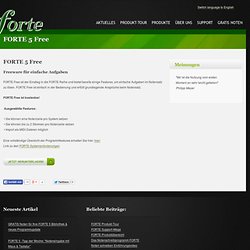 "Philipp Meyer "Das Programm machtvoll viel Spass! "Schüler aus Menden "Top Support. Vielen Dank. " Produkte & Download - Obtiv Musiksoftware. Online Karaoke Gaming | MIKESTAR.com. Thounds - What music are you thinking? Karaoke - Dancing & Shows Games at Miniclip. Rockstarter - Dancing & Shows Games at Miniclip. Radio 3 World on Your Street - Bata Player. Mr. Fastfinger's Guitar Shred Show.
---