ESL
Get flash to fully experience Pearltrees
"Your reading comprehension materials are the best I've found on the web. They are so thorough and comprehensive! My students and I have learned a lot from them." -- Susan B., Carter, KY. 03/21/12 On this page you will find our complete list of high quality reading comprehension worksheets created specially by our team for students in grade levels K-12. Our worksheets elicit the use of critical thinking skills at every level.
About This Series With contemporary themes and exciting stories, the Orca Soundings for reluctant teen readers are books that teens want to read. The Orca Soundings Resource Guide , now available on CD, provides information on using the books in this popular series as part of a literacy program. Orca Soundings can be purchased individually or as a collection, with paperback or reinforced library bindings. Discounts availalble for schools, libraries, retailers, wholesalers and non-profits. View the complete title list of Orca Soundings .
an extensive cast of text to speech talents! Experience and enjoy an exciting and wide range of voices, very different from each other: voices that interpret and read content with meaning and emotion, voices with accents, voices of celebrities,... Read more
Home > Teachers > ESL/EFL/ESOL Handouts ESL Teacher Handouts, Grammar Worksheets & Printables Free English grammar and vocabulary worksheets and printable handouts, for English language and English as a Second Language (ESL) teachers and instructors to use in the classroom or other teaching environment. Get our ESL handouts newsfeed:
Before a unit of study, teachers can have students fill in the K and W columns by asking them what they know about the topic and what they would like to know by the end of the unit. This helps to keep students focused and interested during the unit and gives them a sense of accomplishment when they fill in the L column following the unit and realize that they have learned something. Back to the Table of Contents Oral Performances Or Presentations Performance-based assessments include interviews, oral reports, role plays, describing, explaining, summarizing, retelling, paraphrasing stories or text material, and so on.
There are 100+ sets of that I used to design curriculums for children ages 3-9 and 6-10. However, I use most of them up through to high school students and many with adults. See the left-hand menu for the current list of sets available. READ ME FIRST: These cards are excellent image quality and as such some of the files are quite large (1mb~4mb.)
I'm not a big supporter of coloring in classes, but it can be a nice break and can make for good homework activities. They're also good for waiting rooms and parents. Here are some to choose from.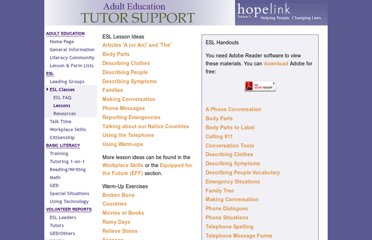 If your browser does not support current web standards you will not be able to view this page as it was designed. Please consider upgrading to a standards-compliant version. adult education Home Page General Information Literacy Community Lesson & Form Lists esl Leading Groups Small Groups FAQ Leadership Tips Lesson Planning ESL Classes ESL FAQ Lessons Resources Talk Time Workplace Skills Lessons Resources Citizenship Tips Resources basic literacy Training Tutoring 1-on-1 FAQ Lesson Planning Resources Reading/Writing Tips Lessons Resources Math Tips Lessons Resources GED FAQ Lessons Resources Special Situations Learning Disabilities Second-Language Learners Lessons Resources Using Technology Tips Resources volunteer reports ESL Leaders Tutors GED/Others library General Information Online Catalog ESL Handouts You need Adobe Reader software to view these materials.