Tutorials
MattyDeCesare's Channel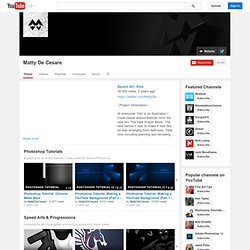 Welcome to YouTube! The location filter shows you popular videos from the selected country or region on lists like Most Viewed and in search results.To change your location filter, please use the links in the footer at the bottom of the page. Click "OK" to accept this setting, or click "Cancel" to set your location filter to "Worldwide". The location filter shows you popular videos from the selected country or region on lists like Most Viewed and in search results.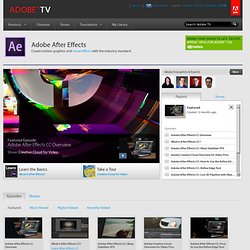 Adobe After Effects Create motion graphics and visual effects with the industry standard. To view this content, you need the latest version of the Flash Player. Adobe TV uses the Open Source Media Framework (OSMF) to deliver a superior video experience. Please upgrade your Flash Player to version 10.2 to benefit from this technology. Gain unprecedented creative control with new expressive features and visual performance improvements in Adobe Flash Player 10.2.
TV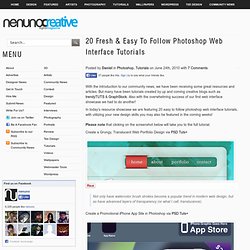 Posted by Daniel in Photoshop , Tutorials on June 24th, 2010 with 17 Comments With the introduction to our community news, we have been receiving some great resources and articles. But many have been tutorials created by up and coming creative blogs such as trendyTUTS & GraphStock .
Best of 2010: Illustrator Tutorials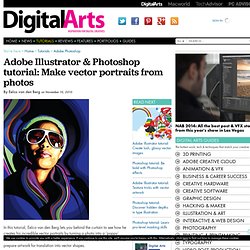 In this tutorial, Eelco van den Berg lets you behind the curtain to see how he creates his incredible vector portraits by turning a photo into a 'poppy' vector illustration.
Make vector portraits from photos - Photoshop & Illustrator Tutorial
WordPress Theme Frameworks & Blank WordPress Themes
When building WordPress themes there is a lot of repetitive code that needs to be added to every project before you can get on with the task of creating the unique theme. It helps to have a set of files and css styles to use as a base, you can either create this yourself or you can use one of the many theme frameworks that other people have kindly created. These can range from the powerfull, feature-laden frameworks like Carrington or Thematic down to simple blank themes that you can customize to your liking. In this post I will be examining what options are open to modern WordPress theme creators. Theme Frameworks Thematic WordPress Framework
Design a graffiti-style screenprint artwork - Classic Photoshop & Illustrator Tutorial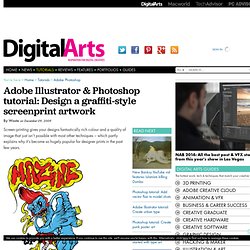 Screen-printing gives your designs fantastically rich colour and a quality of image that just isn't possible with most other techniques – which partly explains why it's become so hugely popular for designer prints in the past few years.
Flash CS3 tutorial : Using Flash for the first time – Part 1: Building a banner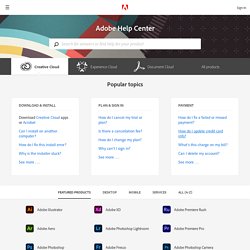 Adobe® Flash® can seem like a complex program to learn.
Page Title
Tutorials – Inspect Element
Today we'll be looking at how to add keyboard navigation to a website using a few simple lines of JavaScript. First we'll create a simple site theme in Photoshop and then transform it into a working website that uses keyboard functions to switch pages. Here's a screenshot of what we'll be building.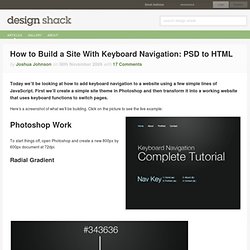 How to Build a Site With Keyboard Navigation: PSD to HTML
In this beginner-level web design tutorial, I'll show you how to construct a portfolio web layout that has a fixed wooden background with Photoshop. We'll also use some brushes to accent the design. Preview You can see the final result below.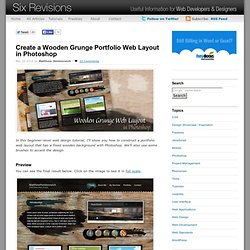 Create a Wooden Grunge Portfolio Web Layout in Photoshop
Tron Legacy Tutorial
Since the very first time I saw the trailer of Tron Legacy I decided that I would have to try to do something inspired on that, all those light effects were exactly what I always love to do in Photoshop. Then I saw the James White design inspired by Tron and I was damn it, James nailed it. So I postponed my little experiment, however this week I decided that the time had come and so, I decided to recreate the logo effect we see in the trailer. For this tutorial I used Adobe Illustrator, Adobe Photoshop and Cinema 4D.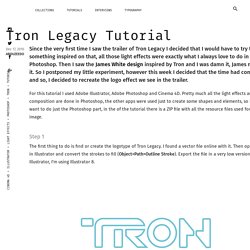 Someone emailed me and asked how did I do the illustration background on Next2Friends. It inspired me to write this article. He asked "Did I do it in Photoshop or Illustrator?" Well, it is a mixture of both. First I created the artwork in Illustrator, then polished it in Photoshop. Here I will unveil all my secret techniques.
Poetry, Writings, Art, Design - Home page
Computer training & tutorials-online videos & DVDs
Learn the latest tools and techniques with access to 1357 online courses and counting! Get unbiased, clear, and comprehensive training in 3D, audio, video, photography, graphic design, web and interactive design, business, and development from expert instructors, 24/7. learn more | benefits
Photoshop CS4 Tutorials | Blend Mode Magic
Not only have watercolor brush strokes become a popular trend in modern web design, but so have advanced layers of transparency (or what I call, translucence). The new Envato design has received a lot of kudos for using this effect, and this tutorial will show you how to create a similar effect, while combining it with other popular web trends. Final Image Preview Take a look at the image we'll be creating.
Create a Grungy, Translucent Web Portfolio Design