Social Web Drama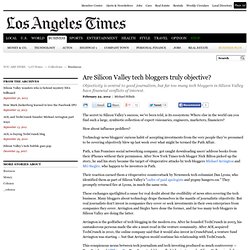 The secret to Silicon Valley's success, we've been told, is its ecosystem: Where else in the world can you find such a large, symbiotic collection of expert visionaries, engineers, marketers, financiers?
Credibility of Silicon Valley tech bloggers is at issue
Look, This Is What It Comes Down To
The old press is still having the same conversation about the new press: objectivity! Here's the latest by the L.A.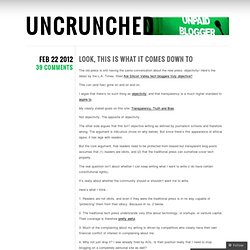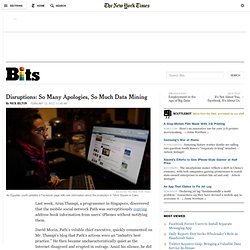 Anger for Path Social Network After Privacy Breach
Ed Ou for The New York Times An Egyptian youth updates a Facebook page with new information about the protesters in Tahrir Square in Cairo.
This morning, I woke up and read Nick Bilton's weekly New York Times' column .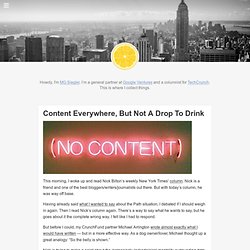 Content Everywhere, But Not A Drop To Drink
Don't get mad at companies because they apologize so quickly.
I'm So, So Sorry. Here's My Belly. Now Please Move On.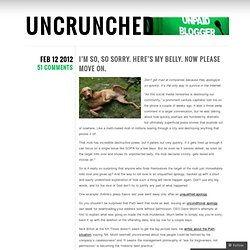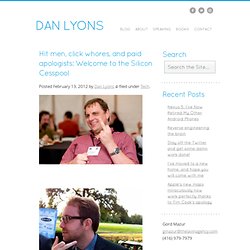 It's tough being a journalist, especially if you're covering technology and living in Silicon Valley, because it seems as if everyone around you is getting fabulously rich while you're stuck in a job that will never, ever make you wealthy. What's worse is that all these people who are getting rich don't seem to be any brighter than you are and in fact many of them don't seem very bright at all.
Real Dan Lyons Web Site » Blog Archive » Hit men, click whores, and paid apologists: Welcome to the Silicon Cesspool » Real Dan Lyons Web Site
Newsweek's "Real" Dan Lyons Pans Robert Scoble's Social ...
Trend alert: In Silicon Valley, popular bloggers are realizing that instead of trying to make a living by selling ads, they can instead hit up venture capitalists for money.
Ethical or Not, Silicon Valley Bloggers Hit Up VCs for Angel Funds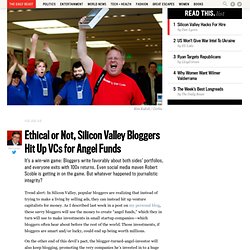 EmTech inanity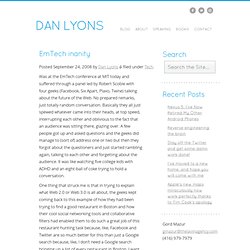 September 24th, 2008 // 70 Comments Filed: Tech
Today a "journalist" (Dan Lyons) says I have been hitting up VCs to start my own fund . Really? I didn't know that!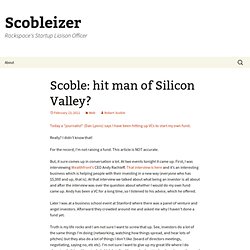 Scoble: hit man of Silicon Valley?
Journalists Still Don't Understand Silicon Valley - Business
As yet another jousting match goes down between a member of the New York City media elite and a Silicon Valley-based blogger dude, we're starting to get concerned that journalists covering the tech industry have no idea what they're doing.
We have written a number of times about how social media and the "democratization of distribution" has compressed the news cycle to the point where the half-life of a scoop is measured in minutes rather than hours or days . And judging by a survey of media attitudes that Craigslist founder Craig Newmark has just released, the number of people who care about who reported something first is rapidly diminishing — if it was ever that big to begin with.
People don't care about scoops, they care about trust
Looks like someone woke up from his nap of the last three years and is hungry .
Bat. Shit. Crazy.
I'm rarely surprised by the things I read from the tech press any more, but this ongoing Path story has definitely surprised me.
We Are Better Than This
What You Should Think of the Controversy Over Silicon Valley's "Journalism"
To Read, Or Not To Read
Yesterday, Christopher Mims of MIT's Technology Review took on the challenge of taking a step back from the screaming to look into what's really going on behind the latest Bitchmeme . Reading his take , it occurs to me that Mims, and probably many others, are completely missing something very fundamental going on here. Mims argues that investments make us unreasonably biased and conflicted, yadda yadda.