Wolves & Wild Dogs
Foxes, jackals, wolves, dingos, coyotes and several other species including our domesticated dogs are called a "canid". All canids walk on their toes but not all are purely carnivorous. Canids have strong muscular necks which enables them to carry their necks with little exertion during long hunts. Almost all canids have long legs, excluding the racoon dog and the bush dog. What the bush dog lacks for in legs, it makes up for in webbing between its toes to better swim through the Amazon with. Oct 3
10 Stunning Photographs Of Wolves And The Man Who Lives Among Them
A Fox Steals A Man's Golf Ball
I just realized I haven't posted much in the way of OH-MY-GOD-THAT'S-SO-FREAKIN'-CUTE animals in quite a while, so to make up for that here's the Bat-Eared Fox ( Otocyon megalotis ). Those giant ears are to hear you better, my dear. The ears of bat-eared foxes can grow up to 5.3 inches long and for a creature that stands 11.8-15.7 inches at the shoulder, that's super huge! These guys have insanely great hearing; they can hear larvae chewing their way out of an underground dung beetle ball or detect the faint chewing sounds of harvesting termites. Insects make up the majority of the Bat-Eared Fox's diet so it also has specialized teeth to chew up them buggies and a jaw built in such a way that it can open and close quite rapidly, so nothing escapes. Thank goodness for Bat-Eared foxes, because they are quite the pest controllers for termites.
Bat-Eared Fox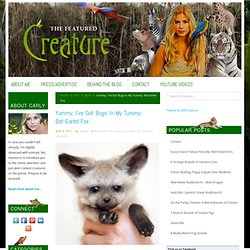 The Dhole
Sneaky Fox
Howl of the Mexican Wolf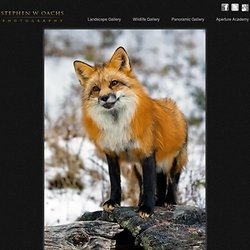 "Curious Fox" This friendly-looking Red Fox (Vulpes vulpes) is one of the most recognizable species of foxes. Identified by the red-colored fur, the red fox can be found in almost every habitat in the northern hemisphere. This hardy and prolific species is amazingly adaptive, and has been immortalized by many cultures as a sly, cunning creature. In this award-winning image, the camera angle was kept low, below the animal's eye level, in order to remain non-threatening, which also provided a lively, unusual perspective. The curious expression on its face echoes the canid's playful and curious nature.
Curious Red Fox
Grizly Bear Cub & Wolf Cub Playing
The dingo is originally from southern China
By:Natalie Muller | September-13-2011 The dingo came to Australia via southern China, and much earlier than previously thought, says new research. The dingo ( Canis lupus dingo ) arrived possibly 18,000 years ago in Australia, via China. (Credit: Wikimedia)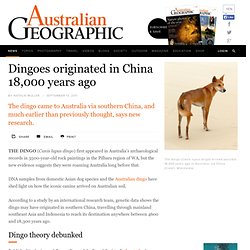 Arctic Fox
Yellowstone Before and After Wolves
Snow Fall
Maned Wolf
sahara desert fox
Stretching fox." by Igor Shpilenok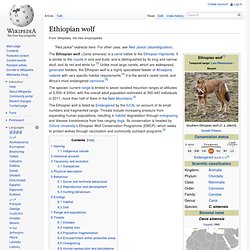 Ethiopian Wolf
The Ethiopian wolf ( Canis simensis ) is a canid native to the Ethiopian Highlands . It is similar to the coyote in size and build, and is distinguished by its long and narrow skull, and its red and white fur. [ 3 ] Unlike most large canids, which are widespread, generalist feeders, the Ethiopian wolf is a highly specialised feeder of Afroalpine rodents with very specific habitat requirements. [ 4 ] It is the world's rarest canid, and Africa's most endangered carnivore . [ 5 ] The species' current range is limited to seven isolated mountain ranges at altitudes of 3,000–4,500m, with the overall adult population having been estimated at 360-440 specimens, more than half of which occur in the Bale Mountains . [ 2 ] The Ethiopian wolf is listed as Endangered by the IUCN , on account of its small numbers and fragmented range.
Young Jackal
Maned Wolf
By Mail Foreign Service UPDATED: 14:21 GMT, 14 May 2010 In the wild, a chance meeting between a wolf and a tiger would not be this adorable. But, seeing as they were friends since being two weeks old, these litters of wolves and tigers share a unique bond.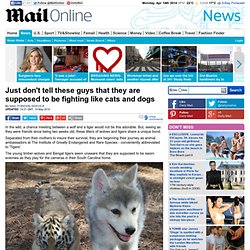 Arctic Fox (Paul Nicklin)
Beyond The Trees" by Scott Denny
The seldom heard roar-bark of the Maned Wolf
Fox in the Grass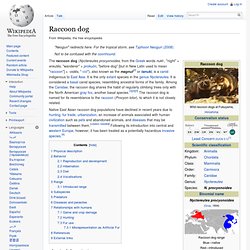 Raccoon dog
Not to be confused with the coonhound . The raccoon dog ( Nyctereutes procyonoides , from the Greek words nukt- , "night" + ereutēs , "wanderer" + prokuōn , "before-dog" [but in New Latin used to mean " raccoon "] + -oidēs , " -oid "), also known as the magnut [ 2 ] or tanuki , is a canid indigenous to East Asia . It is the only extant species in the genus Nyctereutes . It is considered a basal canid species, resembling ancestral forms of the family. Among the Canidae , the raccoon dog shares the habit of regularly climbing trees only with the North American gray fox , another basal species. [ 3 ] [ 4 ] [ 5 ] The raccoon dog is named for its resemblance to the raccoon ( Procyon lotor ), to which it is not closely related.
Black Wolf in Snow
Bush Dog
African Wild Dog & her pups