Flowers & Trees
"If we could see the miracle of a single flower clearly, our whole life would change" -The Buddha
The world's 10 oldest living trees. Flower Skeleton. In the terrifying wake of 2011 the Tōhoku earthquake and tsunami in Japan, funerals become a commonplace ordeal as the nation dealt with unprecedented loss.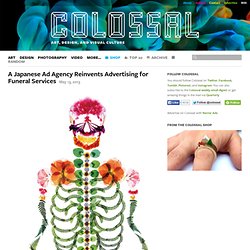 Like most cultures, Japanese funerals are somber affairs punctuated with black and white with any deviation considered taboo or inappropriate. Reflecting on the enormity of recent events, funeral home Nishinihon Tenrei approached Tokyo-based ad agency I&S BBDO to create an ad for a trade show that would buck the trend of muted colors so prevalent in the industry.
Ginkgo female reproduction organs. Sunlight. Strange plants of Socotra Island. Imagine waking up on the Socotra Island < > and taking a good look around you.
After a yelp of disbelief, you'd be inclined to think you were transported to another planet - or traveled to another era of Earth's history. The second would be closer to the truth for this island, which is part of a group of four islands, has been geographically isolated from mainland Africa for the last 6 or 7 million years. Like the Galapagos Islands, this island is teeming with 700 extremely rare species of flora and fauna, a full 1/3 of which are endemic, i.e. found nowhere else on Earth. Cherry Blossom & Kite Festival in DC. Cherry blossoms frame the Jefferson Memorial in Washington, DC.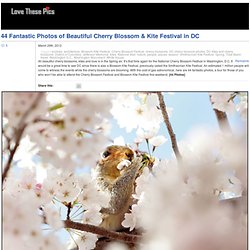 Wikipedia states, "By chance, Jokichi Takamine, the Japanese chemist who discovered adrenaline, was in Washington with Mr. Midzuno, the Japanese consul to New York City, on April 8. Informed of a plan to plant Japanese cherry trees along the Speedway, Takamine asked if Mrs. Extinct tree grows anew from ancient jar of seeds. For thousands of years, Judean date palm trees were one of the most recognizable and welcome sights for people living in the Middle East -- widely cultivated throughout the region for their sweet fruit, and for the cool shade they offered from the blazing desert sun.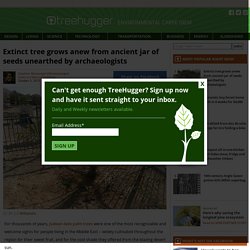 From its founding some 3,000 years ago, to the dawn of the Common Era, the trees became a staple crop in the Kingdom of Judea, even garnering several shout-outs in the Old Testament. Judean palm trees would come to serve as one of the kingdom's chief symbols of good fortune; King David named his daughter, Tamar, after the plant's name in Hebrew. By the time the Roman Empire sought to usurp control of the kingdom in 70 AD, broad forests of these trees flourished as a staple crop to the Judean economy -- a fact that made them a prime resource for the invading army to destroy. Sadly, around the year 500 AD, the once plentiful palm had been completely wiped out, driven to extinction for the sake of conquest. Desert Plant Derives Up To 90% Of Water-Intake From Gypsum Rock. Flowers growing among stumps.
Play the Rings of a Tree Trunk Like a Record. Lake Tekapo in New Zealand. Random photo Submit your photo Stumble Thru landscape photography.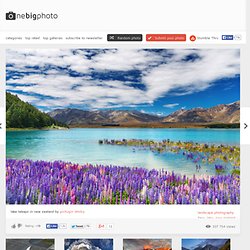 Misty Forest. The Saguaro Cactus and its visitors. In May, Saguaro Cacti form crowns of flower buds on the ends of arms and the main stem.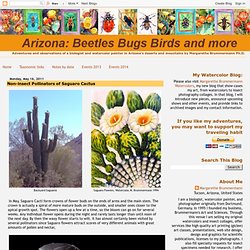 The crown is actually a spiral of more mature buds on the outside, and smaller ones closer to the apical growth spot. The flowers open up a few at a time, so the bloom can go on for several weeks. Any individual flower opens during the night and rarely lasts longer than until noon of the next day. 15 Famous Living Trees. There are probably hundreds of famous living trees in the world.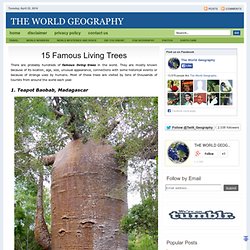 They are mostly known because of its location, age, size, unusual appearance, connections with some historical events or because of strange uses by humans. Most of these trees are visited by tens of thousands of tourists from around the world each year. 1. Teapot Baobab, Madagascar. Green World  Cactus Flower. Money Trees. As perhaps a companion piece to last week's skull nickels, here's yet another thing I had no idea existed.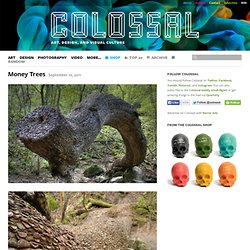 Apparently in several wooded areas around the UK, passersby have been stopping for decades (if not centuries), meticulously hammering small denomination coins intro trees. Most of the trees seem to be in and around Cumbria and Portmeirion, and I didn't find a single example of a tree like this located outside the UK. According to this recent article by the BBC, the practice might date back to the early 1700s in Scotland where ill people stuck florins into trees with the idea that the tree would take away their sickness. The practice seems akin to love padlocks or Americans collaborative effort of sticking their nasty ass gum all over everything. (photos courtesy shaun whiteman, drew, ken werwerka, rachel bibby, paul morriss, ministry, donald mcdougal, heartbeeps, via lustik and hrtbps) Language of Flowers.
The language of flowers, sometimes called floriography, is a means of cryptological communication through the use or arrangement of flowers.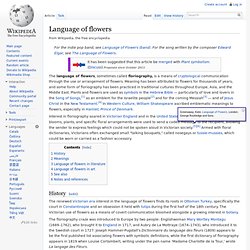 Meaning has been attributed to flowers for thousands of years, and some form of floriography has been practiced in traditional cultures throughout Europe, Asia, and the Middle East. Plants and flowers are used as symbols in the Hebrew Bible — particularly of love and lovers in the Song of Songs,[1] as an emblem for the Israelite people[2] and for the coming Messiah[3] — and of Jesus Christ in the New Testament.[4] In Western Culture, William Shakespeare ascribed emblematic meanings to flowers, especially in Hamlet, Prince of Denmark. Interest in floriography soared in Victorian England and in the United States during the 19th century. Trees and lower vegetation in Flagstaff, AZ.
Thursday, August 5, 2010 Home » Design » Photography » Nature Fine Art X-Ray Flower Photography Nature Fine Art X-Ray Flower Photography Stargazer lilies.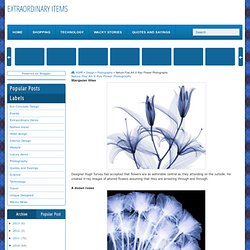 Poppy Pictures  Snowy Trees. Gympie Gympie: Once stung, never forgotten. MARINA HURLEY'S DEDICATION TO science was sorely tested during the three years she spent in Queensland's Atherton Tableland studying stinging trees. The entomologist and ecologist's first encounter with the Gympie-Gympie stinging tree produced a sneezing fit and left her eyes and nose running for hours. Even protective particle masks and welding gloves could not spare her several subsequent stings – one requiring hospitalisation – but that was nothing compared with the severe allergy she developed. Pollenators, a plant's go-betweens.
Daisies and Lavender in Bulgaria. Cocora valley, Colombia. "sunrise through nature`s eyes" Random photo Submit your photo Stumble Thru nature photography Tags: Flowers blown apart. Planting A Pineapple. Rain Storm over Tulip Field. "Falling Garden" Mangrove Trees. Wald. The Tunnel Of Trees. Floral still life photography. Lavender Arbor. Katinka Matson. Exploding Flowers. Badlands in Bloom. Colorful Flower Feild. The 15 Most Beautiful Flowers In The World.
---