recipe
Get flash to fully experience Pearltrees
Yep, I couldn't resist!
Katie said... these recipes are rocking my socks off... all of them are on my to-do list. thanks for making me the absolutely worst student in the world, as all my time will be devoted to cooking and eating. thanks for sharing, so pumped! Katie November 22, 2011 at 12:00 PM all these recipes are rocking me socks off... they look so delicious and are all on my to-do list. thanks for your indirect contributes to my failing education (due to lack of interest and baking procrastination). thanks for sharing! Katie
In the oven or on the stovetop, pita is an easy bread to make at home. Whether we're talking falafel or deli ham, pockets of pita bread are one of my top choices for sandwiches. So portable! So neatly contained! So easy to eat! The pitas you make at home are worlds apart from the stuff you buy in stores, and watching them puff to glorious heights in your oven or on your stovetop is culinary magic at its best.
One of the best grilled appetizers is bacon wrapped jalapeno peppers. This recipe is so easy to make and it only consist of 3 ingredients; fresh jalapenos peppers, cream cheese, and bacon. The jalapeno peppers are first sliced in half then seeded, stuffed with cream cheese, wrapped with bacon and grilled.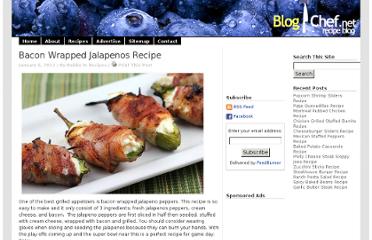 Last week was a busy week filled with a field trip to the zoo sandwiched by 3 twelve hour shifts. By Friday I was extremely happy for the weekend to arrive. Although Pat worked late, we still barbecued dinner and relaxed with a few adult beverages after tucking in our girls.
Maternity leave has been the best time of my life.
Tomorrow is my birthday, and though I've reached the stage where birthdays don't excite me anymore I thought I would do a fun cake for this week since I didn't have anything else planned. I wanted to do a crazy cake that was 100% just for me, just all the things I loved and have wanted to put into a birthday cake.