MySQL
Port25.technet.com/videos/research/excelopendbprimer.pdf. Python - MySQL Database Access. The Python standard for database interfaces is the Python DB-API.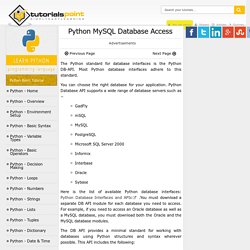 Most Python database interfaces adhere to this standard. You can choose the right database for your application. Python Database API supports a wide range of database servers: Getting Started :: MySQL Connectivity With Python :: Dev Shed. In the words of its author, MySQLdb is "a thread-compatible interface to the popular MySQL database server that provides the Python database API.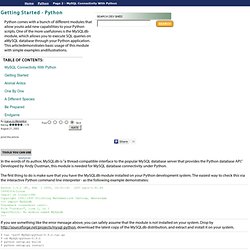 " Developed by Andy Dustman, this module is needed for MySQL database connectivity under Python. The first thing to do is make sure that you have the MySQLdb module installed on your Python development system. The easiest way to check this via the interactive Python command line interpreter - as the following example demonstrates: Select a Mirror to Start Downloading - mysql-connector-odbc-5.1.6-win32.msi. Exporting data from MS Access 2003 to MySQL | Packt Publishing Technical & IT Book Store. Exclusive offer: get 50% off this eBook here Choosing an Open Source CMS: Beginner's Guide — Save 50% Find the best CMS and start working with it to create web sites, blogs, communities, e-commerce sites, and intranets by Dr.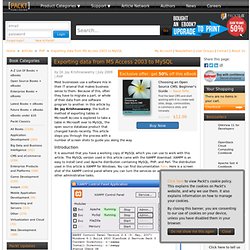 Jay Krishnaswamy | July 2009 | PHP. MySQL for Python - Browse Files.
---