Web sites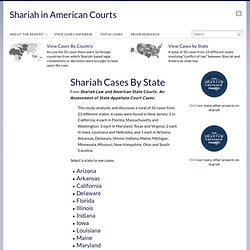 Shariah Cases By State | Shariah in American Courts
From Shariah Law and American State Courts: An Assessment of State Appellate Court Cases: This study analyzes and discusses a total of 50 cases from 23 different states: 6 cases were found in New Jersey; 5 in California; 4 each in Florida, Massachusetts and Washington; 3 each in Maryland, Texas and Virginia; 2 each in Iowa, Louisiana and Nebraska; and 1 each in Arizona, Arkansas, Delaware, Illinois, Indiana, Maine, Michigan, Minnesota, Missouri, New Hampshire, Ohio and South Carolina. Select a state to see cases.
The Lawfare Project
On April 29th in Dearborn, Michigan, history will be made. The Jessica Mokdad Human Rights Conference on Honor Killings will be held at the Hyatt Hotel in Dearborn. Hosting the Conference and also speaking are AFDI/SIOA executive director Pamela Geller, publisher of the acclaimed AtlasShrugs.com blog, executive director of AFDI and SIOA, and author of Stop the Islamization of America: A Practical Guide to the Resistance, and AFDI/SIOA associate director Robert Spencer, the bestselling author and director of Jihad Watch. Dearborn law enforcement is on the receiving end of a lawsuit alleging a cover up of honor killings. The lawsuit challenges the official cooperation by the city of Dearborn, Mich., which has one of the largest populations of Muslims in the U.S., with Islamic interests: that under the recognized "Shariah" law in the city, there have been "honor killing" murders that have been "covered up."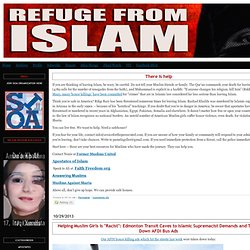 Leave Islam
Mapping Shari'a
Bare Naked Islam
Creeping Sharia
Apostates of Islam - We left Islam
*Anti-CAIR* Defending America from the Council on American-Islamic Relations
Answering Islam, A Christian-Muslim Dialog and Apologetic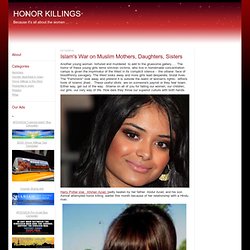 HONOR KILLINGS
Salman Rushdie, Ayaan Hirsi Ali, Wafa Sultan, Geert Wilders ........ these truth tellers live under 24-hour guard because of Islamic death threats against them, which they received because they spoke the truth about Islam. Rifqa Bary's crime of apostasy is far worse. Her testimony is far more egregious.
Infidels Are Cool — American Politics | World News | Anti-Jihad
Christians Under Attack
Infidel Bloggers Alliance