Global protests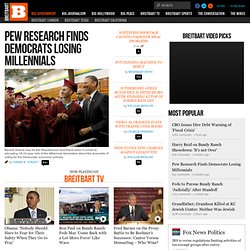 A downtrodden Governor Chris Christie apologized to the people of New Jersey today in his first press conference since the revelation of emails proving his staff's involvement in creating traffic problems on the nation's most trafficked bridge as political retribution. The emails' authors have been fired, and Christie will visit Fort Lee, NJ today. by Frances Martel 1550 Now Playing On Breitbart TV
The much-hyped bipartisan Ryan-Murray budget "deal" struck late last year increases the national debt $6.4 trillion over the next ten years. It does nothing to change the trajectory of our growing debt at a time when it is among the greatest national security threats facing our nation. The "deal" also increases near term federal spending with a promise of future cuts (dubious) while raising taxes on airline passengers. Worse, it features a cut in pension benefits to current military members and veterans who earned those pensions in measures of blood and sweat.
PRINCETON, NJ -- Less than half of Americans express an opinion about either the Occupy Wall Street movement's goals or the way it has conducted its protests. Those with an opinion are more likely to approve than disapprove. The results are based on an Oct. 15-16 USA Today/Gallup poll.
Most Americans Uncertain About "Occupy Wall Street" Goals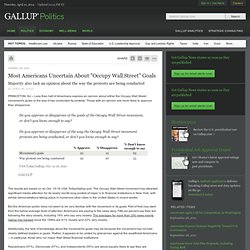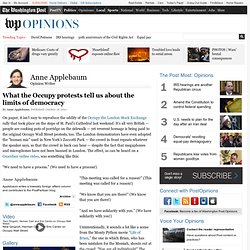 What the Occupy protests tell us about the limits of democracy
"This meeting was called for a reason!" (This meeting was called for a reason!) "We know that you are there!" (We know that you are there!)
Anne Applebaum » Blog Archive » Who Elected the Anti-Capitalist Convergence?
I admit that up until recently I've had trouble taking seriously the violent protesters and tear-gas throwers who nowadays show up whenever a meeting of one of our great globalizing, multilateral institutions takes place. Mostly, I am highly suspicious of the fact that they only seem to appear in large numbers when the multilateral meeting in question is taking place somewhere cool. Angry protesters showed up at the WTO meeting in Seattle, home of Starbucks. Why were there none at a subsequent WTO meeting in Frankfurt?