Attacks on minors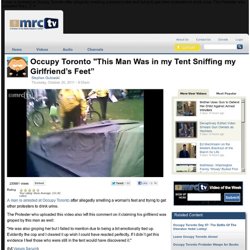 Occupy Toronto "This Man Was in my Tent Sniffing my Girlfriend's Feet"
A man is arrested at Occupy Toronto after allegedly smelling a woman's feet and trying to get other protesters to drink urine. The Protester who uploaded this video also left this comment on it claiming his girlfriend was groped by this man as well: "He was also groping her but I failed to mention due to being a bit emotionally tied up. Evidently the cop and I cleared it up wish I could have reacted perfectly. If I didn`t get this evidence I feel those who were still in the tent would have discovered it."
A downtrodden Governor Chris Christie apologized to the people of New Jersey today in his first press conference since the revelation of emails proving his staff's involvement in creating traffic problems on the nation's most trafficked bridge as political retribution. The emails' authors have been fired, and Christie will visit Fort Lee, NJ today. by Frances Martel 1550 Now Playing On Breitbart TV Though Pope Francis has referred to same-sex marriage as "a move of the father of lies who wishes to confuse and deceive the children of God," a nun who is president of a Seattle-area Catholic high school has said that an openly-engaged lesbian drama coach is "welcome" to continue working at the school. by Dr.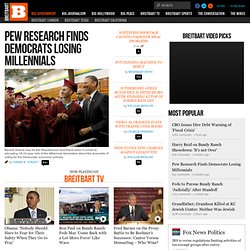 Man arrested for child sex assault at Occupy Dallas camp
by STEVE STOLER Posted on November 1, 2011 at 5:13 PM Updated Wednesday, Nov 2 at 10:37 AM DALLAS — Dallas police have arrested a man who allegedly sexually assaulted a minor at the Occupy Dallas campsite downtown.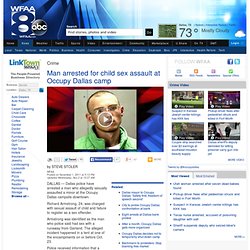 SEATTLE -- A man accused of exposing himself to children at least five times across Seattle was arrested early Tuesday morning. Seattle police say he was taken into custody at his Kenmore residence around 1 a.m. Officers had been given a composite sketch of the suspect and detectives learned he had been at Westlake Park taking part in the Occupy Seattle protests.
Man accused of exposing self to children arrested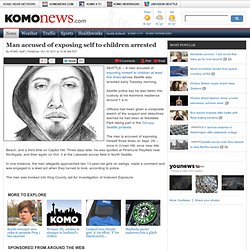 New Hampshire woman, Justina Jensen, tried to pimp  out teen she met at Occupy protest: police