Attacks on minors
Occupy Toronto "This Man Was in my Tent Sniffing my Girlfriend's Feet" A man is arrested at Occupy Toronto after allegedly smelling a woman's feet and trying to get other protesters to drink urine.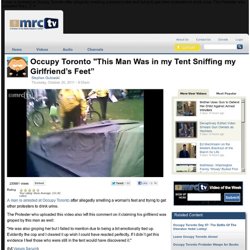 The Protester who uploaded this video also left this comment on it claiming his girlfriend was groped by this man as well: "He was also groping her but I failed to mention due to being a bit emotionally tied up. Evidently the cop and I cleared it up wish I could have reacted perfectly. If I didn`t get this evidence I feel those who were still in the tent would have discovered it. " » Redefining 'Occupy': Do Indecent Exposure, Rape, and Theft Fit in the #OWS Movement? - Big Government. Now Playing On Breitbart TV Featured Contributors The shootings at a Jewish community center in suburban Kansas City have now been officially deemed a hate crime, officials said on Monday. by Warner Todd Huston 14 Apr 2014 4 A shortage of whitefish in the Great Lakes region resulting partly from the winter deep freeze is coming at an inconvenient time for Jewish families: the Passover holiday, when demand is high because it's a key ingredient in a traditional recipe. from AP 14 Apr 2014 4.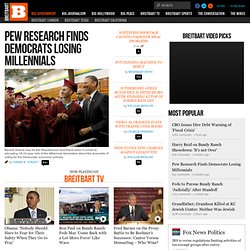 Man arrested for child sex assault at Occupy Dallas camp. By STEVE STOLER Posted on November 1, 2011 at 5:13 PM Updated Wednesday, Nov 2 at 10:37 AM DALLAS — Dallas police have arrested a man who allegedly sexually assaulted a minor at the Occupy Dallas campsite downtown.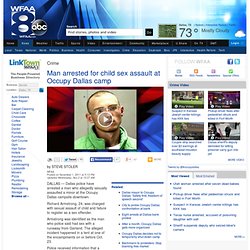 Man accused of exposing self to children arrested. SEATTLE -- A man accused of exposing himself to children at least five times across Seattle was arrested early Tuesday morning.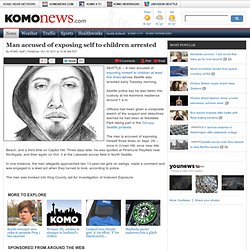 Seattle police say he was taken into custody at his Kenmore residence around 1 a.m. Officers had been given a composite sketch of the suspect and detectives learned he had been at Westlake Park taking part in the Occupy Seattle protests. New Hampshire woman, Justina Jensen, tried to pimp  out teen she met at Occupy protest: police 
---