Craft
About Supergraph — Supergraph : Contemporary Graphic Art Fair 2014 Melbourne. Supergraph is Australia's Contemporary Graphic Art Fair that celebrates design, print and illustration.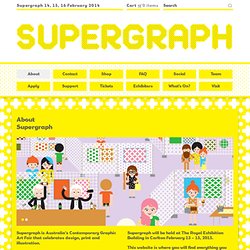 More than just an art fair Supergraph is a three day fiesta of graphic art and design. The fair features leading graphic artists alongside our brightest emerging talent ensuring that there are original and limited edition artworks available for every taste and every budget starting at just $30. And, with creative workshops, artist led masterclasses, family-fun events and an opening night party Supergraph is where you can be inspired. Needle Felted Hat Forms - Available in Small, Medium & Large - Brim or NoBrim. Millinery Wire. OLFA Rotary Circle Cutter. Making the Final Loop to Create the Ocean Plait Knot for a Miniature or Full Size Nautical Rug. To make the final loop which is the basis for the ocean plait knot or nautical rug, take the short end of the rope back across the first loop you formed and make a slightly larger second loop across the base of the first loop, leaving the short end of the rope going across the top of this loop and off to the left side of the knot.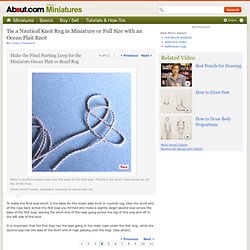 It is important that the first loop has the lead going to the main rope under the first loop, while the second loop has the lead of the short end of rope passing over the loop. (See photo) Knots and Knotting. Crocheted Rag Rug Patterns. By master rugmaker, Diana Blake Gray We get a lot of questions from people who have purchased rug patterns (from other folks) and wonder why they can't get them to work.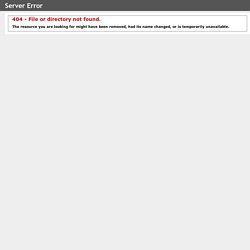 So here is a primer on how crocheted rag rug patterns developed and how they work. There are basically two sorts of patterns for making crocheted rugs. The first type is a back-and-forth construction. (Begin with a base chain the desired length, chain 1, insert the hook in the 2nd chain from the hook and make a single crochet. A tiskit, A tasket, two little green paper baskets. Fall makes me want to bake!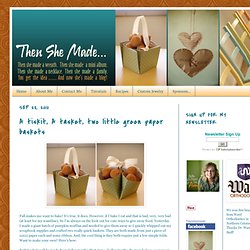 It's true, it does. However, if I bake I eat and that is bad, very, very bad (at least for my waistline). So I'm always on the look out for cute ways to give away food. Yesterday I made a giant batch of pumpkin muffins and needed to give them away so I quickly whipped out my scrapbook supplies and crafted two really quick baskets. They are both made from just 1 piece of 12x12 paper each and some ribbon. Loom Knitting Video. Knitting Looms. Knitting looms are simple weaving tools made of wood or plastic.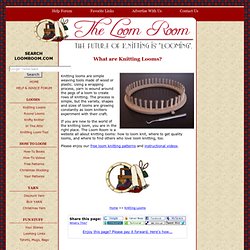 Using a wrapping process, yarn is wound around the pegs of a loom to create rows of knitting. The process is simple, but the variety, shapes and sizes of looms are growing constantly as loom knitters experiment with their craft. Make your own pom poms. Pom Poms require a little bit of patience, but its quite satisfying when you finally get to cut them and produce your pom pom.
You can make them whatever size you like, but I would suggest starting with a small pom pom so it doesn't take forever. You will need: CardboardCompass, or two circular items you can trace around.WoolScissorsMethodStep one in making pom poms is to create two donut shaped pieces of cardboard. Using your compass or larger of your two circular items, trace out two circles on your cardboard.
---