Tesla/Electricity
How To Build A Spark Gap Tesla Coil (SGTC)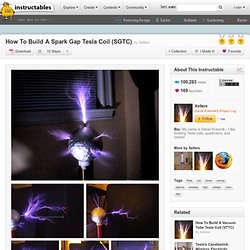 Although I don't want to spend too much time talking about exactly how a Tesla Coil works, I think that a rudimentary description is worthwhile given the amount of misinformation that exists on Instructables and elsewhere on the web. Essentially, a Tesla Coil is a type of alternating current transformer that operates almost like any other (transformers are found in many electrical and electronic devices and are used to step up or step down the voltage of an alternating current signal). However, it relies on the principle of electrical resonance in order to massively increase the voltage of the alternating current signal.
How to Build your own Tesla Coil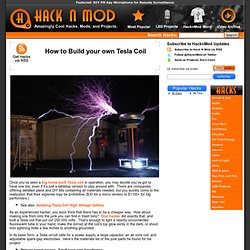 Once you've seen a big home-built Tesla coil in operation, you may decide you've got to have one too, even if it's just a tabletop version to play around with.
Make your own Plasma Globe
T-SHIRTS! Hey, some people (not me) are selling Tesla t-shirts: CS Coil Tesla's Hair Tesla Co (purple plates) Cafe Press Classroom Tesla Coil $200 , or a Handheld Tesla coil, $149.95 , also a Micro Tesla Coil $4.95
Nikola Tesla Page, Tesla Coil (Bill Beaty's Homepage)