Tesla/Electricity
How To Build A Spark Gap Tesla Coil (SGTC)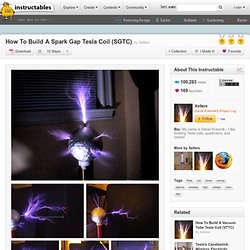 Shoot foot-long bolts of lighting through the air, light fluorescent tubes without wires, and power your other high voltage experiments with the aid of this tabletop-sized Tesla coil! Once the parts have arrived, it comes together in about a weekend, and for less than $200 even for those without a big bin of spare parts. I built this coil for fun over a few weekends during 10th grade, juggling eigenvalue problems and European history for drilling and soldering high voltage components.
How to Build your own Tesla Coil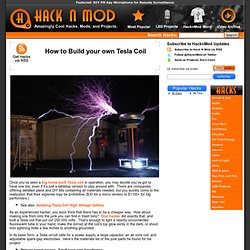 Once you've seen a big home-built Tesla coil in operation, you may decide you've got to have one too, even if it's just a tabletop version to play around with.
Make your own Plasma Globe
T-SHIRTS! Hey, some people (not me) are selling Tesla t-shirts: CS Coil Tesla's Hair Tesla Co (purple plates) Cafe Press Classroom Tesla Coil $200, or a Handheld Tesla coil, $149.95, also a Micro Tesla Coil $4.95
Nikola Tesla Page, Tesla Coil (Bill Beaty's Homepage)