Technology
Get flash to fully experience Pearltrees
Basic Technology of Quartz Crystal Resonators Quartz crystal resonators (often called "crystals") are widely used in frequency control applications because of their unequalled combination of high Q, stability, small size and low cost. Many different substances have been investigated as possible resonator materials, but for many years quartz resonators have been preferred in satisfying needs for precise frequency control. Compared to other resonators, for example, LC circuits, mechanical resonators such as tuning forks, and piezoelectric ceramic resonators based or other single-crystal materials, the quartz resonator has a unique combination of properties. First, the material properties of single-crystal quartz are extremely stable with time, temperature, and other environmental changes, as well as highly repeatable from one specimen to another.
Home > Crystal Products > Quartz Crystals > Technical Data > Crystal Data Before beginning a design or purchase of a crystal there are system parameters, which must be considered. Below are questions, which need to be determined by your system. These parameters will determine the crystal specifications. On what crystal frequency do you wish to operate? How much can the frequency be off at room temperature (+25°C)?
June 24, 2010 — As cell phones and computers continue to shrink, many companies are seeking better ways to store hundreds of gigabytes of data in small, low-power devices. A special type of liquid crystal, similar to those used in computer displays and televisions, offers a solution. Unlike CDs and DVDs, which store information only on their surface, lasers can encode data throughout a liquid crystal. Known as holographic storage, the technique makes it possible to pack much more information in a tiny space.
Apr. 12, 2011 — In a development that holds intriguing possibilities for the future of industrial catalysis, as well as for such promising clean green energy technologies as artificial photosynthesis, researchers with the U.S. Department of Energy (DOE)'s Lawrence Berkeley National Laboratory (Berkeley Lab) have created bilayered nanocrystals of a metal-metal oxide that are the first to feature multiple catalytic sites on nanocrystal interfaces. These multiple catalytic sites allow for multiple, sequential catalytic reactions to be carried out selectively and in tandem.
Like many pieces of modern medical equipment, X-ray machines are as bulky and energy dependent as they are vital. Even "portable" X-ray machines remain too heavy to carry across rough terrain, and too energy hungry to run off batteries. That's why Radius Health's portable, low energy X-ray machine may revolutionize medicine in disaster zones, on the front lines, and at patients homes. By using pyroelectric crystals as an X-ray source, Radius Health has created a machine small enough to fit in a suitcase, light enough to deploy anywhere, and energy efficient enough to run on a laptop battery.
The first invisibility cloak that works on visible objects Calcite It's all in the crystals. Rob Lavinsky, iRocks.com via Wikimedia Metamaterials have long been thought the key to creating the working, visible spectrum "invisibility cloak" promised us by sci-fi, but it might be time for metamaterials to move over. Two independent labs—one at the University of Birmingham in the UK, the other at MIT —have used naturally forming calcite crystals to render visible objects (as in large enough to see with the naked eye) invisible, something metamaterials haven't come close to doing. Metamaterials have achieved a measure of invisibility, but not in any practical sense; they can bend certain wavelengths of light to conceal an object at the microscopic level, but so far they have not been able to work well at the macro scale or in the visible spectrum.
The Quantum Crystal A crystal doped with rare earth ions can store and retrieve entangled photons, essentially creating a quantum memory device. Wolfgang Tittel/University of Calgary Quantum communication offers myriad advantages over conventional fiber optic networking, but manipulating electrons or photons to behave in the proper fashion has long kept quantum networking a "theoretical" pursuit. But University of Calgary researchers working with German colleagues at the University of Paderborn have pushed quantum networks a big step closer to reality by demonstrating that specially doped crystals can store and retrieve information encoded in entangled photons. In other words, they've created a form of quantum memory . Like fiber optic networks, information traveling through quantum networks via entangled particles needs somewhere to live – something akin to computer memory – in order for complex computations to take place or sophisticated networks to be created.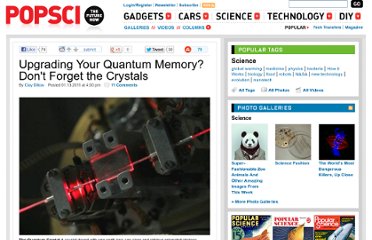 Apr. 21, 2010 — Scientists are reporting discovery of what may be the "ancestral Eve" crystal that billions of years ago gave life on Earth its curious and exclusive preference for so-called left-handed amino acids. Those building blocks of proteins come in two forms -- left- and right-handed -- that mirror each other like a pair of hands. Their study, which may help resolve one of the most perplexing mysteries about the origin of life, is in ACS' Crystal Growth & Design , a bi-monthly journal. Tu Lee and Yu Kun Lin point out that conditions on the primordial Earth held an equal chance of forming the same amounts of left-handed and right-handed amino acids. Nevertheless, when the first forms of life emerged more than 3 billion years ago, all the amino acids in the proteins had the left-handed configuration. That pattern continued right up to modern plants and animals.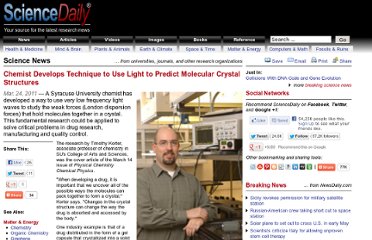 Mar. 24, 2011 — A Syracuse University chemist has developed a way to use very low frequency light waves to study the weak forces (London dispersion forces) that hold molecules together in a crystal. This fundamental research could be applied to solve critical problems in drug research, manufacturing and quality control. The research by Timothy Korter, associate professor of chemistry in SU's College of Arts and Sciences, was the cover article of the March 14 issue of Physical Chemistry Chemical Physics . "When developing a drug, it is important that we uncover all of the possible ways the molecules can pack together to form a crystal," Korter says.
July 17, 2010 — Chemists from New York University and Russia's St. Petersburg State University have created crystals that can twist and untwist, pointing to a much more varied process of crystal growth than previously thought. Their work, which appears in the latest issue of the Journal of the American Chemical Society , may explain some of the properties of high-polymers, which are used in clothing and liquid crystal displays, among other consumer products. Crystal growth has traditionally been viewed as a collection of individual atoms, molecules, or small clusters adding to a larger block that remains in a fixed translational relationship to the rest. But the NYU and St.
A quartz crystal microbalance (QCM) measures a mass per unit area by measuring the change in frequency of a quartz crystal resonator. The resonance is disturbed by the addition or removal of a small mass due to oxide growth/decay or film deposition at the surface of the acoustic resonator. The QCM can be used under vacuum, in gas phase ("gas sensor", first use described by King [ 1 ] ) and more recently in liquid environments. It is useful for monitoring the rate of deposition in thin film deposition systems under vacuum.
Quartz crystal resonator (left) and quartz crystal oscillator (right) A crystal oscillator is an electronic oscillator circuit that uses the mechanical resonance of a vibrating crystal of piezoelectric material to create an electrical signal with a very precise frequency . [ 1 ] [ 2 ] [ 3 ] This frequency is commonly used to keep track of time (as in quartz wristwatches ), to provide a stable clock signal for digital integrated circuits , and to stabilize frequencies for radio transmitters and receivers . The most common type of piezoelectric resonator used is the quartz crystal, so oscillator circuits incorporating them became known as crystal oscillators, [ 1 ] but other piezoelectric materials including polycrystalline ceramics are used in similar circuits. Quartz crystals are manufactured for frequencies from a few tens of kilohertz to tens of megahertz.