Humanistic
Humanistic psychology. Humanistic psychology is a psychological perspective which rose to prominence in the mid-20th century in response to Sigmund Freud's psychoanalytic theory and B.F.
Skinner's Behaviorism.[1] With its roots running from Socrates through the Renaissance, this approach emphasizes an individual's inherent drive towards self-actualization and creativity. It typically holds that people are inherently good. Free will. Though it is a commonly-held intuition that we have free will,[3] it has been widely debated throughout history not only whether that is true, but even how to define the concept of free will.[4] How exactly must the will be free, what exactly must the will be free from, in order for us to have free will?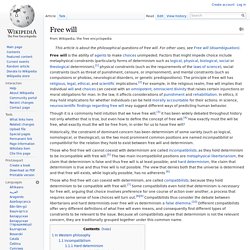 Those who define free will otherwise, without reference to determinism, are called compatibilists, because they hold determinism to be compatible with free will. Carl Rogers. Carl Ransom Rogers (January 8, 1902 – February 4, 1987) was an influential American psychologist and among the founders of the humanistic approach (or client-centered approach) to psychology.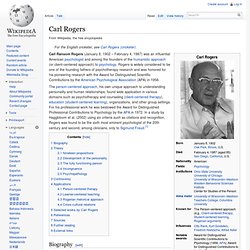 Rogers is widely considered to be one of the founding fathers of psychotherapy research and was honored for his pioneering research with the Award for Distinguished Scientific Contributions by the American Psychological Association (APA) in 1956. The person-centered approach, his own unique approach to understanding personality and human relationships, found wide application in various domains such as psychotherapy and counseling (client-centered therapy), education (student-centered learning), organizations, and other group settings. For his professional work he was bestowed the Award for Distinguished Professional Contributions to Psychology by the APA in 1972. Abraham Maslow. Abraham Harold Maslow (April 1, 1908 – June 8, 1970) was an American psychologist who was best known for creating Maslow's hierarchy of needs, a theory of psychological health predicated on fulfilling innate human needs in priority, culminating in self-actualization.[2] Maslow was a psychology professor at Brandeis University, Brooklyn College, New School for Social Research and Columbia University.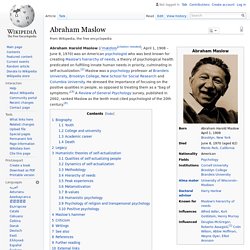 He stressed the importance of focusing on the positive qualities in people, as opposed to treating them as a "bag of symptoms. "[3] Biography[edit] Youth[edit]
---