Creativity & Wonder
95290.original.jpg (JPEG Image, 400x268 pixels)
Wednesday, March 30th, 2011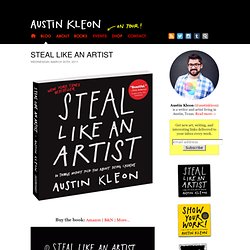 10 More Terrifying and Mysterious Creatures
PonderAbout.com
fun fun fun fun - clikr
He-Who-Works1.jpg (JPEG Image, 444x497 pixels)
Being creative and realizing our talents involves a lot of self-awareness and respecting who we really are, including our unconscious depths. In an interview about her film "Flightplan," Jodie Foster commented, "When you're a dramatic actor you look for films that hit you in the gut, in this unconscious place that really moves you, and then you can't help but make the movie because it's something that you fear and you want to know more about it." She added, "I think that every film that I do, even though it might not relate to me autobiographically, has some very personal pull in there and there are questions that I ask myself that I can't really resolve any other way."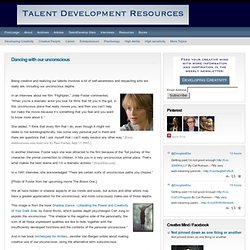 Talent Development Resources : creativity and personal growth
Today's article takes a look at how to help maximize creative thought by carefully structuring the environment around you. Everything from the design of your office to the specific hours of the day that you choose to work can play a key role in how effective you are when it comes time to actually get things done. The essence of creativity plays a very important role in art and design.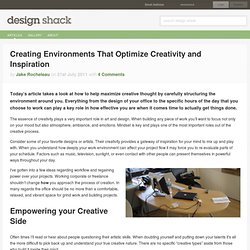 Creating Environments That Optimize Creativity and Inspiration
"It's not where you take things from- it's where you take them to." | The Designer Drug
rinzen-unknown.gif (GIF Image, 600x400 pixels)
brandnu-davidogilvy.jpg (JPEG Image, 600x1019 pixels) - Scaled (72%)
gordonreid-paulrand.jpg (JPEG Image, 600x849 pixels) - Scaled (86%)
mwm-picasso.jpg (JPEG Image, 600x600 pixels)
nickbujnak-alberteinstein.jpg (JPEG Image, 600x764 pixels) - Scaled (96%)
moxycreative-picasso.jpg (JPEG Image, 600x800 pixels) - Scaled (92%)
justinmaller-blocparty.jpg (JPEG Image, 600x900 pixels) - Scaled (82%)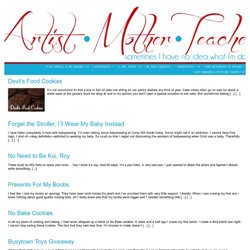 Dear Josh, Ten years ago today we exchanged vows and started our life together as husband and wife.
moxycreative-leonardo.jpg (JPEG Image, 600x777 pixels) - Scaled (94%)
img-thing.jpg (JPEG Image, 300x300 pixels)
HIPPIE CRACK
I've seen a lot of design­ers take on a daily project of some sort lately. I think it's a great idea — some­thing to keep your cre­ativ­ity flow­ing, espe­cially dur­ing down­time. And I've par­tic­u­larly enjoyed watch­ing the progress Mark Weaver has made with his Make Something Cool Every Day project. I'm not sure what the think­ing behind these pieces are, but I'm really drawn to his lay­er­ing of pho­tog­ra­phy, illus­tra­tion, color and type. You can see every­thing he's com­pleted so far on Flickr or Bēhance .
Make Something Cool Every Day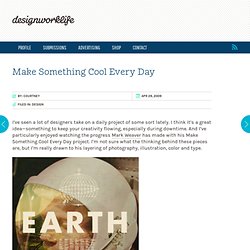 bad-artists-great-artists.jpg (JPEG Image, 640x575 pixels)
By Jennie Walters Posted 04.01.2011 at 4:23 pm Da Vinci Robot's Plane Swedish Seattle via YouTube The da Vinci robot, renowned for its prostate surgery skill, can also fly planes. Well, paper ones anyway. With Dr.
Video: Da Vinci Surgical Robot Takes A Break to Make, Fly Paper Airplanes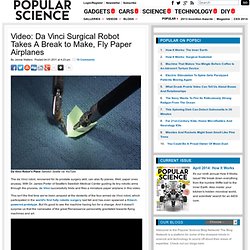 The nine muses—Clio, Thalia, Erato, Euterpe, Polyhymnia, Calliope, Terpsichore, Urania, Melpomene—on a Roman sarcophagus (2nd century AD, from the Louvre ) The Muses ( Ancient Greek : Μοῦσαι , moũsai : [ 1 ] perhaps from the o-grade of the Proto-Indo-European root * men- "think" [ 2 ] ) in Greek mythology , poetry , and literature , are the goddesses of the inspiration of literature , science and the arts . They were considered the source of the knowledge, related orally for centuries in the ancient culture that was contained in poetic lyrics and myths. [ edit ] Origins Muse reading a scroll, perhaps Clio (Attic red-figure lekythos , Boeotia c. 435–425 BC)
Muse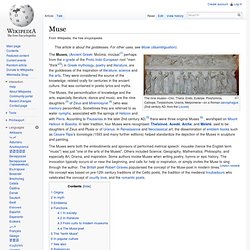 One year in 40 seconds on Vimeo
unnamed pearl
EDITORS NOTE: Although the TRIZ Journal does not endorse Tao as a religious belief system it does consider this particular paper to be an interesting perspective on the subject. Andre de Zanger and Judith Morgan Creativity Institute - 1664 3rd Avenue New York, NY 10128 (212) 289-8856 e-mail: creativityinstitute@juno.com The Dialectic Paradox or The Resolution of Opposites The philosophy of the "Tao" or the "Way", was set down in approximately 600 B.C. by Lao Tzu in 81 poems, entitled "The Tao Teh Ching".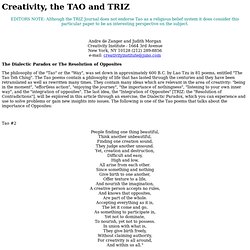 Character (arts)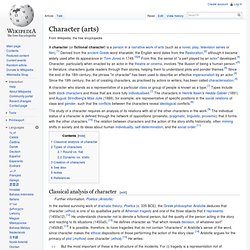 A character is a person in a narrative work of arts (such as a novel , play , television show/series, or film ). [ 1 ] Derived from the ancient Greek word kharaktêr , the English word dates from the Restoration , [ 2 ] although it became widely used after its appearance in Tom Jones in 1749. [ 3 ] [ 4 ] From this, the sense of "a part played by an actor " developed. [ 4 ] Character, particularly when enacted by an actor in the theatre or cinema , involves "the illusion of being a human person." [ 5 ] In literature, characters guide readers through their stories, helping them to understand plots and ponder themes. [ 6 ] Since the end of the 18th century, the phrase "in character" has been used to describe an effective impersonation by an actor. [ 4 ] Since the 19th century, the art of creating characters, as practised by actors or writers, has been called characterisation . [ 4 ]
5