Alchemy
Aqua vitae / ˌ eɪ k w ə ˈ v aɪ t iː / ( Latin for "water of life") or aqua vita is an archaic name for a concentrated aqueous solution of ethanol . The term was in wide use during the Middle Ages , although its origin is undoubtedly much earlier, having been used by Saint Patrick and his fellow monks to refer to both the alcohol and the waters of baptism. This Latin term appears in a wide array of dialectical forms throughout all lands and people conquered by ancient Rome. Generally, the term is a generic name for all types of distillates, and eventually came to refer specifically to distillates of alcoholic beverages and liquors . [ 1 ]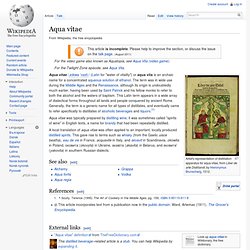 Aqua vitae
Spagyric
Spagyric ( pron.: / s p ə ˈ dʒ ɪr ɨ k / ) is a name given to the production of herbal medicines using alchemical procedures. These procedures involve fermentation , distillation and the extraction of mineral components from the ash of the plant . These processes were in use in medieval alchemy generally for the separation and purification of metals from ores (see Calcination ), and salts from brines and other aqueous solutions . [ edit ] Etymology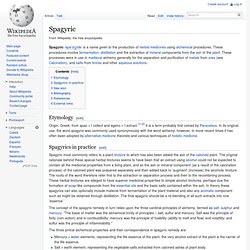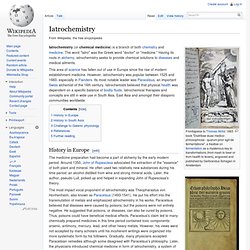 Iatrochemistry
Iatrochemistry (or chemiatry ) is a branch of both chemistry and medicine . Having its roots in alchemy , iatrochemistry seeks to provide chemical solutions to diseases and medical ailments. This area of science has fallen out of use since the rise of modern medical practices. However, iatrochemistry was popular between 1525 and 1660, especially in Flanders . Its most notable leader was Paracelsus , an important Swiss alchemist of the 16th century. Iatrochemists believed that physical health was dependent on a specific balance of bodily fluids .
Allopathic medicine
Allopathic medicine is an expression commonly used by homeopaths and proponents of other forms of alternative medicine to refer to mainstream medical use of pharmacologically active agents or physical interventions to treat or suppress symptoms or pathophysiologic processes of diseases or conditions. [ 1 ] The expression was coined in 1810 by the creator of homeopathy, Samuel Hahnemann (1755–1843). Never accepted as a mainstream scientific term, it was adopted by alternative medicine advocates to refer pejoratively to mainstream medicine. [ 2 ] In such circles, the expression "allopathic medicine" is still used to refer to "the broad category of medical practice that is sometimes called Western medicine, biomedicine , evidence-based medicine , or modern medicine". [ 3 ] [ edit ] Etymology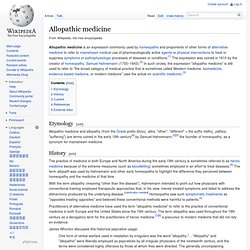 A cortical homunculus is a pictorial representation of the anatomical divisions of the primary motor cortex and the primary somatosensory cortex , [ 1 ] i.e., the portion of the human brain directly responsible for the movement and exchange of sensory and motor information of the body. The cortical homunculus is a visual representation of the concept of "the body within the brain" that one's hand or face exists as much as a series of nerve structures or a "neuron concept" as it does a physical form. This concept relates to many neuro-biological phenomena including phantom limb and body integrity identity disorder . [ edit ] Types There are two types of homunculus: sensory and motor. Each one shows a representation of how much of its respective cortex innervates certain body parts.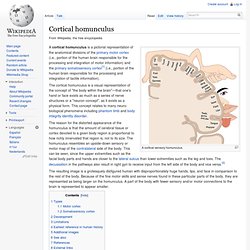 Cortical homunculus
Mandrake is the common name for members of the plant genus Mandragora , particularly the species Mandragora officinarum , belonging to the nightshades family (Solanaceae). Because mandrake contains deliriant hallucinogenic tropane alkaloids such as atropine , scopolamine , apoatropine , hyoscyamine and the roots sometimes contain bifurcations causing them to resemble human figures, their roots have long been used in magic rituals, today also in contemporary pagan traditions such as Wicca and Odinism . [ edit ] Description The parsnip-shaped root is often branched. This root gives off at the surface of the ground a rosette of ovate-oblong to ovate, wrinkled, crisp, sinuate-dentate to entire leaves, 5 to 40 centimetres (2.0 to 16 in) long, somewhat resembling those of the tobacco-plant.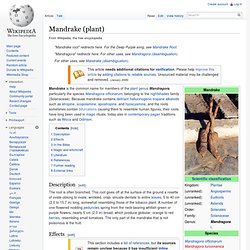 Mandrake (plant)
Chinese alchemy is a part of the larger tradition of Taoist body-spirit cultivation that developed from the traditional Chinese understanding of medicine and the body. According to original texts such as the Cantong qi , the body is understood as the focus of cosmological processes summarized in the five agents, or wu xing , the observation and cultivation of which leads the practitioner into greater alignment with the operation of the Tao , the great cosmological principle of everything. Therefore the traditional view in China is that alchemy focuses mainly on the purification of one's spirit and body in the hopes of gaining immortality through the practice of Qigong and/or consumption and use of various concoctions known as alchemical medicines or elixirs , each of which having different purposes.
Chinese alchemy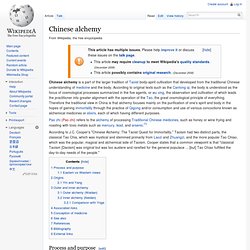 Rasayana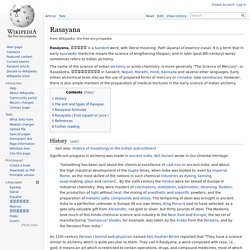 Rasāyana, रसायन is a Sanskrit word, with literal meaning: Path ( āyana ) of essence ( rasa ). It is a term that in early ayurvedic medicine means the science of macrobiotics or lengthening lifespan, and in later (post 8th-century) works sometimes refers to Indian alchemy. The name of the science of Indian alchemy or proto-chemistry, is more generally "The Science of Mercury", or Rasaśāstra, रसशास्त्र in Sanskrit, Nepali , Marathi , Hindi , Kannada and several other languages.
Hermes Trismegistus ( Ancient Greek : Ἑρμῆς ὁ Τρισμέγιστος , "thrice-greatest Hermes"; Latin : Mercurius ter Maximus ) is the purported author of the Hermetic Corpus , a series of sacred texts that are the basis of Hermeticism . [ edit ] Origin and identity He may be a representation of the syncretic combination of the Greek god Hermes and the Egyptian god Thoth . [ 1 ] In Hellenistic Egypt, the Greeks recognised the congruence of their god Hermes with Thoth . [ 2 ] Subsequently the two gods were worshipped as one in what had been the Temple of Thoth in Khemnu , which the Greeks called Hermopolis . [ citation needed ] Both Thoth and Hermes were gods of writing and of magic in their respective cultures. Thus, the Greek god of interpretive communication was combined with the Egyptian god of wisdom as a patron of astrology and alchemy. In addition, both gods were psychopomps ; guiding souls to the afterlife.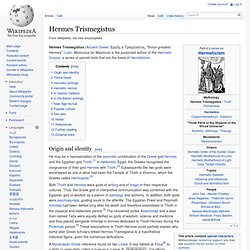 The Hermetica are Egyptian - Greek wisdom texts from the 2nd and 3rd centuries CE, [ 1 ] mostly presented as dialogues in which a teacher, generally identified with Hermes Trismegistus or "thrice-greatest Hermes ", enlightens a disciple. The texts discuss the nature of the divine, mind, nature and the cosmos: some touch upon alchemy , astrology and related concepts. [ edit ] Scope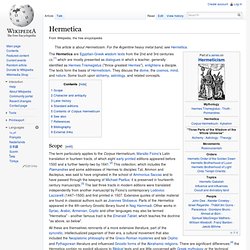 Aqua regia
Freshly prepared aqua regia to remove metal salt deposits. Freshly prepared aqua regia is colorless, but it turns orange within seconds. Here, fresh aqua regia has been added to these NMR tubes to remove all traces of organic material. Aqua regia ( lit. "royal water"), aqua regis ( lit.
Philosopher's stone
The philosopher's stone ( Latin : lapis philosophorum ) is a legendary alchemical substance said to be capable of turning base metals ( lead , for example) into gold ( chrysopoeia ) or silver . It was also sometimes believed to be an elixir of life , useful for rejuvenation and possibly for achieving immortality . For many centuries, it was the most sought-after goal in Western alchemy . The philosopher's stone was the central symbol of the mystical terminology of alchemy, symbolizing perfection at its finest, enlightenment , and heavenly bliss. Efforts to discover the philosopher's stone were known as the Magnum Opus ("Great Work"). [ 1 ]
Numerology is any study of the purported divine, mystical or other special relationship between a number and some coinciding observed (or perceived) events. It has many systems and traditions and beliefs . Numerology and numerological divination by systems such as isopsephy were popular among early mathematicians , such as Pythagoras , but are no longer considered part of mathematics and are regarded as pseudomathematics or pseudoscience by modern scientists . [ 1 ] [ 2 ] [ 3 ] Today, numerology is often associated with the paranormal , alongside astrology and similar divinatory arts. [ 4 ] Despite the long history of numerological ideas, the word "numerology" is not recorded in English before c.1907. [ 5 ] The term numerologist is also used derogatorily for those perceived to place excess faith in numerical patterns (and draw scientifically unsound inferences from them), even if those people do not practice traditional numerology.
Numerology
The Essentials of Buddha Dhamma in Meditative Practice
Anicca, Dukkha, Anatta — Impermanence, suffering and Egolessness — are the three essential characteristics of things in the Teaching of the Buddha. If you know Anicca correctly, you will know Dukkha as its corollary and Anatta as ultimate truth. It takes time to understand the three together.
Many philosophies and worldviews have a set of classical elements believed to reflect the simplest essential parts and principles of which anything consists or upon which the constitution and fundamental powers of anything are based. Most frequently, classical elements refer to ancient beliefs inspired by natural observation of the phases of matter ; with the classical elements: earth is equivalent to solid, water is equivalent to liquid, air is eqivalent to gas and fire is equivalent to plasma. Historians trace the evolution of modern theory pertaining to the chemical elements , as well as chemical compounds and mixtures of natural substances to medieval , and Greek models. Many concepts once thought to be analogous, such as the Chinese Wu Xing , are now understood more figuratively.
Sulfur
Corpuscularianism
Salt (chemistry)
Alchemy 3, Gold, The Philosopher's Stone, The Elixir
Mercury (element)
Quicksilver: a history of the use ... - Richard M. Swiderski