Patterns
Directory of Free, Online Crochet Patterns by Category. Crochet Patterns. Crochet patterns and supplies to create hand-stitched clothing, accessories and more for your family and home!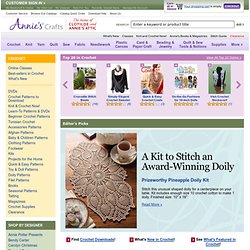 Browse one of the greatest collections of crochet patterns available on the web! If you love to crochet clothing, accessories, home decor and more, you've come to the right place. Annie's is home to the largest assortment of new crochet patterns anywhere. Free Crochet Clothing Patterns. Free Crochet Patterns.
General patterns. Sizes. Flowers. Cardigans. Blankets. Baby shoes.
---