Crafty
How To Make Scratch Off Save The Date Cards For Your Wedding. So it's time for another installment of BUY or DIY?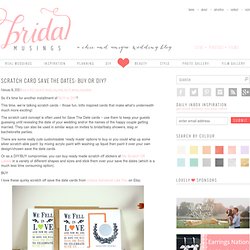 This time, we're talking scratch cards ~ those fun, lotto inspired cards that make what's underneath much more exciting! The scratch card concept is often used for Save The Date cards ~ use them to keep your guests guessing until revealing the date of your wedding and/or the names of the happy couple getting married. Clothing, accessories. DIY - Calendari setmanal. Últimament he anat una mica malament de memòria, se m'ha passat més d'una cosa i he acabat fent tard o saltant-m'ho directament...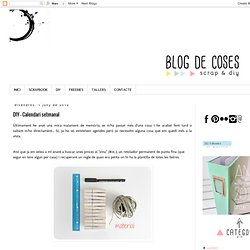 Sí, ja ho sé, existeixen agendes però jo necessito alguna cosa que em quedi més a la vista. Així que ja em veieu a mi anant a buscar unes pinces al "xinu" (80c.), un retolador permanent de punta fina (que segur en tens algun per casa) i recuperant un regle de quan era petita on hi ha la plantilla de totes les lletres. Així que res, amb 15 minuts les tenia llestes i col·locades. He anat pintant les primeres lletres dels dies de la setmana a la punta de la pinça amb el retolador permanent.
Picasso Painters.com. CWTS reveal - the book clutch + how-to. Chocolate Dipped Panda Gummy Bears. I've been wanting to make these chocolate covered gummy bears for my cousin Panda for a while now.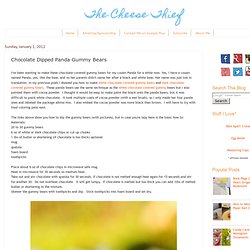 Yes, I have a cousin named Panda, yes, like the bear, and no her parents didn't name her after a black and white bear. Her name was just lost in translation. In my previous posts I showed you how to make white chocolate covered gummy bears and dark chocolate covered gummy bears. Tie a Perfect Bow. Henry happened. Light Up the Night. Deodorant Cream by soapwallakitchen.
As seen in the July 2012 issue of Elle magazine, Aug 2011 NY Times Style Magazine, Feb 2011 ReadyMade, and Sept + Oct 2010 VegNews This all-natural yet powerful deodorant cream utilizes superfine vegetable powders, clays, and lavender, peppermint and tea tree essential oils to absorb moisture, inhibit bacteria, and ensure a long-lasting and highly effective experience.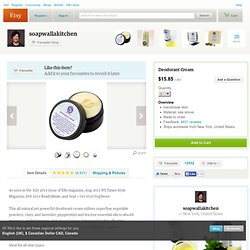 The frosting-like consistency ensures effortless manual application and quick absorption. Ideal for all skin types. 2 oz. volume (6 oz. weight). Soapwalla's Deodorant Cream is free from harmful chemicals, petroleum, or aluminum compounds found in commercial antiperspirants , is vegan, and is never ever tested on animals. Faux capiz shell chandelier. Ok, guys!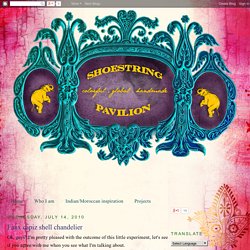 I'm pretty pleased with the outcome of this little experiment, let's see if you agree with me when you see what I'm talking about. Take a gander at this beauty I just put up in the kids' room, starting off the beachy/underwater theme that will be in there (trying my hand at a classier version of a kid's room, SpongeBob will still fit in but he won't be the main theme).
---