Breakfast
Blueberry Hemp Snack Bars. April 29, 2012 at 11:57 am I am learning a lot about myself, not to mention how to "deal with" and manage people from running our yogurt store and starting a new business.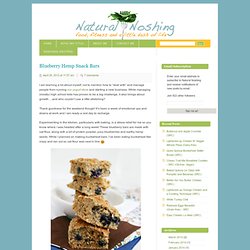 While managing (mostly) high school kids has proven to be a big challenge, it also brings about growth….and who couldn't use a little stretching? Thank goodness for the weekend though! It's been a week of emotional ups and downs at work and I am ready a rest day to recharge. Experimenting in the kitchen, particularly with baking, is a stress relief for me so you know where I was headed after a long week! Healthy Breakfast Bread Custard. Healthy, warm, filling...creamy, sweet, delicious. protein, calcium and fiber that tastes like dessert for breakfast... or is it breakfast for dessert?...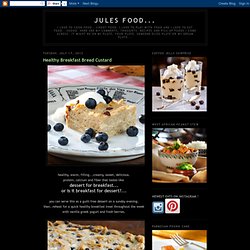 You can serve this as a guilt-free dessert on a sunday evening. (Vegan) Blueberry "Muffin Top" « Welcome To Nutritiously Sweet! I love blueberry muffins.
I'm obsessed with chocolate but for some reason my favorite muffin has never been a chocolate chip or double chocolate one. I always went for the blueberry muffins. Second favorite?
Granola, cereal
Maple Peanut Butter "Muffin Top" « Welcome To Nutritiously Sweet! Happy 200th post to me, Nutritiously Sweet!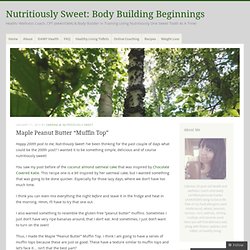 I've been thinking for the past couple of days what could be the 200th post? I wanted it to be something simple, delicious and of course nutritiously sweet! You saw my post before of the coconut almond oatmeal cake that was inspired by Chocolate Covered Katie. This recipe one is a bit inspired by her oatmeal cake, but I wanted something that was going to be done quicker. Apple Pecan Instant Buckwheat Bake. As soon as I saw this recipe on Natural Noshing, I immediately knew what I was going to have for dinner that night.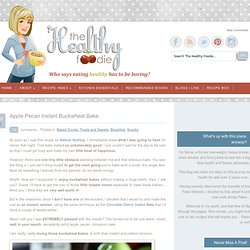 That bake looked so unbelievably good, I just couldn't wait for the day to be over so that I could get busy and make my own little bowl of happiness. However, there was one tiny little obstacle standing between me and that delicious bake. Vanilla strawberry & vanilla peach risotto. I don't know about you, but i love vanilla. it's warm and comforting. and perfectly sweet. i also love a good risotto - so why not put them together??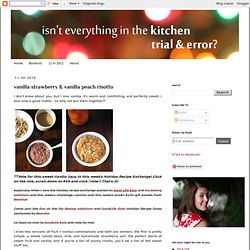 ***Vote for this sweet risotto here in this week's Holiday Recipe Exchange! Click on the link, scroll down to #34 and click "vote"! That's it! Especially when i saw the holiday recipe exchange posted on Good Life Eats and my baking addiction and this week's challenge: vanilla! And this week's prize? Instant Chocolate Cherry Buckwheat Bake. This has got to be one of the most decadent breakfasts I have ever eaten.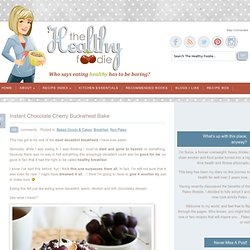 Seriously, while I was eating it, I was thinking I must've died and gone to heaven or something, because there was no way in hell something this amazingly decadent could also be good for me, so good in fact that it had the right to be called healthy breakfast. I know I've said this before, but I think this one surpasses them all. In fact, I'm still not sure that it was even for real. I might have dreamed it all… I think I'm going to have to give it another try just to make sure. Quick bake revisited. First things first.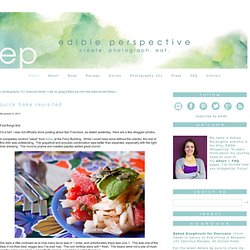 I'm a liar! I was not officially done posting about San Francisco, as stated yesterday. Here are a few straggler photos. A completely random "salad" from Mijita, at the Ferry Building. While I could have done without the cilantro, the rest of this dish was outstanding. Raw Buckwheat Breakfast Porridge.
Saturday night, Eric and I were on our nightly walk and we passed by our neighbours sitting outside enjoying a pitcher of Sangria.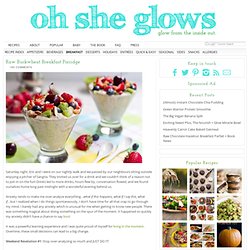 They invited us over for a drink and we couldn't think of a reason not to join in on the fun! Drinks led to more drinks, hours flew by, conversation flowed, and we found ourselves home long past midnight with a wonderful evening behind us. Anxiety tends to make me over-analyze everything…what if this happens, what if I say this, what if…but I realized when I do things spontaneously, I don't have time for all that crap to go through my mind. I barely had any anxiety which is unusual for me when getting to know new people. There was something magical about doing something on the spur of the moment.
---