Software
69 Coolest Web Apps Of 2009 @ SmashingApps. Don't Forget to participate in a contest where you can win an amazing e-Commerce template from TemplateMonster.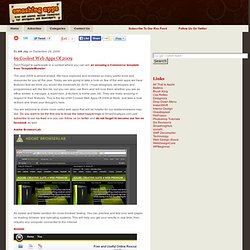 The year 2009 is almost ended. We have explored and reviewed so many useful tools and resources for you all the year. Today, we are going to take a look on few of the web apps we have featured that we think you would like bookmark for 2010. I hope designers, developers and programmers will like this list, but you can also use them and will love them whether you are an office worker, a manager, a supervisor, a student, a home user, etc.
They are really amazing in respect to their features. Ninite Easy PC Setup and Multiple App Installer - Great For Win7 Upgrades. 8 Steps to running your business on (mostly) free apps « FoundRead. If you spend, or plan to spend, substantial dollars on Web services or software support for your startup, you'll want to read this post.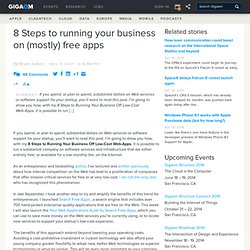 I'm going to show you how, with my 8 Steps to Running Your Business Off Low-Cost Web-Apps, it is possible to run a substantial company on software services and infrastructure that are either entirely free, or available for a low monthly fee, on the Internet. As an entrepreneur and bestselling author, I've lectured and written previously about how intense competition on the Web has lead to a proliferation of companies that offer mission-critical services for free or at very low-cost.
I am not the only one who has recognized this phenomenon. In late September, I took another step to try and amplify the benefits of this trend for entrepreneurs: I launched Search Free Apps , a search engine that includes over 700 hand-picked enterprise-quality applications that are free on the Web.
---