Selfimprovement
Organization. 25 Killer Actions to Boost Your Self-Confidence | Zen Habits. Once we believe in ourselves, we can risk curiosity, wonder, spontaneous delight, or any experience that reveals the human spirit. – E.E.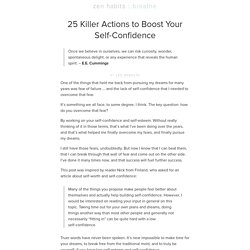 Cummings Post written by Leo Babauta. Follow me on Twitter. One of the things that held me back from pursuing my dreams for many years was fear of failure … and the lack of self-confidence that I needed to overcome that fear. It's something we all face, to some degree, I think. 25 Ways to Simplify Your Life with Kids | Zen Habits. "Babies are always more trouble than you thought – and more wonderful." - Charles Osgood Anyone who has kids knows that any life with kids is going to be complicated, at least to some degree.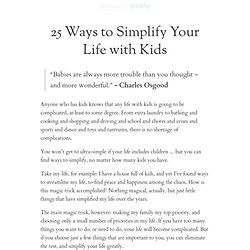 From extra laundry to bathing and cooking and shopping and driving and school and chores and crises and sports and dance and toys and tantrums, there is no shortage of complications. What You'll Wish You'd Known. January 2005 (I wrote this talk for a high school.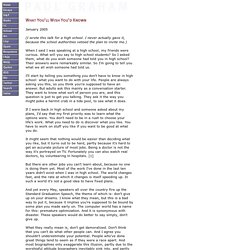 I never actually gave it, because the school authorities vetoed the plan to invite me.) When I said I was speaking at a high school, my friends were curious. What will you say to high school students? So I asked them, what do you wish someone had told you in high school? How to Win Friends and Influence People by Dale Carnegie.
---