Self Improvement
How to Actually Execute Your To-Do List: or, Why Writing It Down Doesn't Actually Get It Done | zen habits. Post written by Leo Babauta.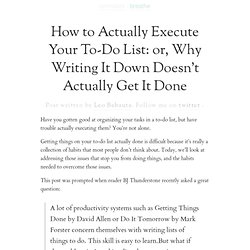 Follow me on twitter . Have you gotten good at organizing your tasks in a to-do list, but have trouble actually executing them? You're not alone. Getting things on your to-do list actually done is difficult because it's really a collection of habits that most people don't think about. Wize. People Know. Handle Chores, House Cleaning and Errands with Simple Systems | zen habits. Post written by Leo Babauta.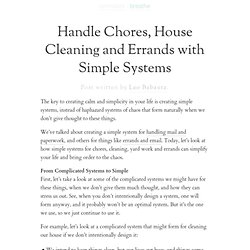 The key to creating calm and simplicity in your life is creating simple systems, instead of haphazard systems of chaos that form naturally when we don't give thought to these things. We've talked about creating a simple system for handling mail and paperwork, and others for things like errands and email. Today, let's look at how simple systems for chores, cleaning, yard work and errands can simplify your life and bring order to the chaos. From Complicated Systems to Simple First, let's take a look at some of the complicated systems we might have for these things, when we don't give them much thought, and how they can stress us out. See, when you don't intentionally design a system, one will form anyway, and it probably won't be an optimal system.
Eight Essential Tips to Overcoming Shyness and Making a Good Impression | zen habits | simple productivity. Editor's note: This is a guest post from Cyan Ta'eed, editor of FreelanceSwitch.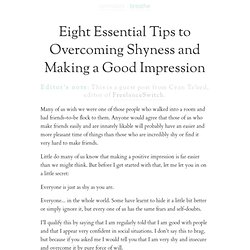 Many of us wish we were one of those people who walked into a room and had friends-to-be flock to them. Anyone would agree that those of us who make friends easily and are innately likable will probably have an easier and more pleasant time of things than those who are incredibly shy or find it very hard to make friends. Little do many of us know that making a positive impression is far easier than we might think.
But before I get started with that, let me let you in on a little secret: Everyone is just as shy as you are. 5 Ways to Calm Down Quickly - Feeling Overwhelmed? Calm Down Quickly - Stress Relief and Feeling Calm - Ways to Calm Down When Overwhelmed. Question: What are some ways I can calm down quickly when I'm feeling overwhelmed?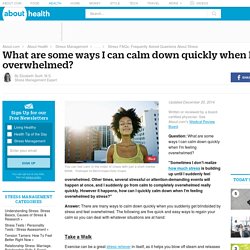 "Sometimes I don't realize how much stress is building up until I suddenly feel overwhelmed. Other times, several stressful or attention-demanding events will happen at once, and I suddenly go from calm to completely overwhelmed really quickly. However it happens, how can I quickly calm down when I'm feeling overwhelmed by stress? " Answer: There are many ways to calm down quickly when you suddenly get blindsided by stress and feel overwhelmed.
Connected Mode: 10 Ways to Stay Productive with Online Work | zen habits. Every Monday is Productivity & Organization Day at Zen Habits.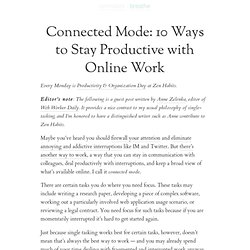 Editor's note: The following is a guest post written by Anne Zelenka, editor of Web Worker Daily. It provides a nice contrast to my usual philosophy of single-tasking, and I'm honored to have a distinguished writer such as Anne contribute to Zen Habits. Maybe you've heard you should firewall your attention and eliminate annoying and addictive interruptions like IM and Twitter. But there's another way to work, a way that you can stay in communication with colleagues, deal productively with interruptions, and keep a broad view of what's available online. I call it connected mode. Meaning of Life Depot. How to Learn Without Memorizing | Think Simple Now » How to Learn Without Memorizing.
Photo by Edwin Stemp Rote memorization is an inefficient way to learn.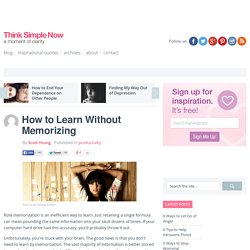 Just retaining a single formula can mean pounding the same information into your skull dozens of times. If your computer hard drive had this accuracy, you'd probably throw it out. Unfortunately, you're stuck with your brain. The good news is that you don't need to learn by memorization. Wake Up: A Guide to Living Your Life Consciously | Zen Habits. A life lived of choice is a life of conscious action.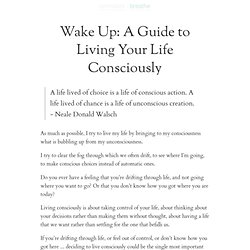 A life lived of chance is a life of unconscious creation. - Neale Donald Walsch As much as possible, I try to live my life by bringing to my consciousness what is bubbling up from my unconsciousness. I try to clear the fog through which we often drift, to see where I'm going, to make conscious choices instead of automatic ones. Do you ever have a feeling that you're drifting through life, and not going where you want to go? Or that you don't know how you got where you are today? The Massive List of Genius - People With the Highest IQ - One Mans Blog.
33.8K Flares Google+ 27 Twitter 109 Facebook 1.6K Reddit 11 StumbleUpon 32.1K Pin It Share 4 4 LinkedIn 9 inShare9 33.8K Flares × The other day I sat down to watch The Princess Bride for about the 10,000th time.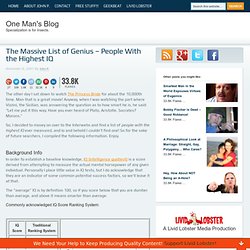 The Four Noble Truths. Top 4 Ways to Overcome Depression. Treating Depression Without Drugs – Natural Cures First, they fail to correct the behaviors that contribute to depression, or even show direction towards behavioral modifications, so the disorder recurs.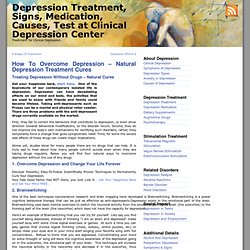 Second, they do not improve the body's own mechanisms for rectifying such disorders; rather, they temporarily force a change that gives symptomatic relief. Third, for some the severe side effects of these drugs can create major implications. Conglomeration of Interesting Sites. Peaceful Simplicity: How to Live a Life of Contentment | zen habits. Post written by Leo Babauta.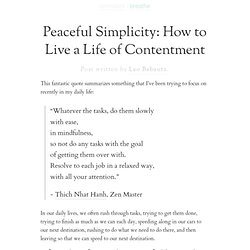 This fantastic quote summarizes something that I've been trying to focus on recently in my daily life: "Whatever the tasks, do them slowly with ease, in mindfulness, so not do any tasks with the goal of getting them over with. Be lucky - it's an easy skill to learn. Tips to Establish a Morning & Evening Routine (with an August Challenge) | zen habits.
Post written by Leo Babauta. I've written before about how morning and evening routines can create some sense of sanity and calm in your life. These are two habits that you can start today that will make a big improvement in your day. Now, because of different things that have come up in my life, I've fallen a bit out of my routines. I've also been changing them over the last few months as my needs have changed.
---