Computers
Get flash to fully experience Pearltrees
Like the old Speed Test better? You can still use it by clicking here Your internet service provider is -. Your ISP has an average rating of 2.2353 based on 17 user rating(s). Read what others have to say or Rate your ISP. **The results shown are for the last 14 days only
Adobe Acrobat is expensive, but that doesn't mean you have to live a life without portable documents. What many people don't realize is that PDF is a Federal Information Processing Standard , which means the specifications behind the format are widely published. Numerous developers take advantage of this fact and create programs that offer effective alternatives to Acrobat. Check out our list of these programs and take advantage of these tools that are full of some of the best PDF features and functions. Downloadable/Online PDF Creators
Google is a great search engine, but it's also more than that. Google has tons of hidden features, some of which are quite fun and most of which are extremely useful— if you know about them. How do you discover all these hidden features within the Google site? Read on to learn more. When you can't be troubled to reach over and pick up the handheld calculator sitting on your desk, you can use Google as a high-tech web-based calculator. All you have to do is enter your equation or formula into the standard Google search box, and then click the Google Search button.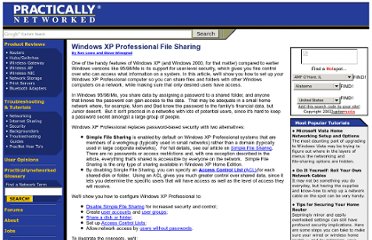 Windows XP Professional File Sharing One of the handy features of Windows XP (and Windows 2000, for that matter) compared to earlier Windows versions like 95/98/Me is its support for user-level security, which gives you fine control over who can access what information on a system. In this article, we'll show you how to set up your Windows XP Professional computer so you can share files and folders with other Windows computers on a network, while making sure that only desired users have access. In Windows 95/98/Me, you share data by assigning a password to a shared folder, and anyone that knows the password can gain access to the data. That may be adequate in a small home network where, for example, Mom and Dad know the password to the family's financial data, but Junior doesn't. But it isn't practical in a networks with lots of potential users, since it's hard to keep a password secret amongst a large group of people.
Folder Guard ® is a powerful computer security program that you can use to control access to files, folders, and other Windows resources, such as Control Panel, Start Menu, and so on. You can use Folder Guard to lock your personal files and folders with passwords , to stop other users from peeking into your records. You can even completely hide your private folders from virtually all applications, and such folders would remain invisible until you enter a valid password.