Outils 4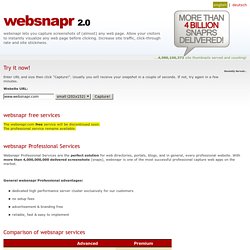 WebSnapr - Website Thumbnails For Your Site
Try it now! Enter URL and size then click "Capture!". Usually you will receive your snapshot in a couple of seconds.
FlickrViewer allows you to view a Flickr photo set in SimpleViewer. SimpleViewer is a popular flash photo viewing tool, so FlickrViewer allows you to load photos from one of your flickr photo sets into this. You can keep up with FlickrViewer news here. FlickrViewer is written in PHP and distributed under the GPL.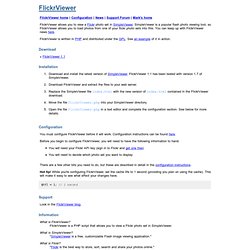 FlickrViewer Download
Slideshare
Construction de site chez son hebergeur
Comment obtenir des réponses ? Les espaces d'entraide entre utilisateurs et utilisatrices de SPIP sont nombreux et très actifs. Chacun est donc invité à faire son possible pour ne pas les surcharger inutilement : les personnes qui interviennent le font à titre bénévole et ne répondront pas à des demandes trop pressantes ou déplacées. Avant tout, commencez par bien consulter la présente documentation, notamment les FAQ qui y figurent ; beaucoup de questions y sont abordées.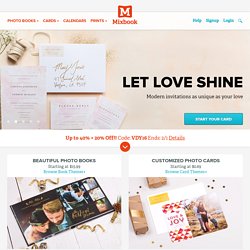 Scrapblog
Welcome to Scrapblog, your guide to online scrapbooking . Here you'll find the best tips & tricks as well as ideas, inspiration and all kinds of information. It's everything you ever wanted to know about online scrapbooking – and more! Collect photos, newspaper clippings, menus, recipes, souvenirs, poems, journaling, artwork and more to commemorate a period of time or a significant event for the simple purpose of chronicling memories.
Widgetbox › Directory of web widgets for WordPress, TypePad, MyS
Weebly - Website Creation Made Easy
" It's a way our clients can get to know us and see our culture without physically visiting the store. I couldn't believe I got the site up and running over one weekend." " I have been an entrepreneur for many, years, but suddenly my art licensing is really coming together and I need to have a simple, bold statement about my art.
toute l'actualite du Web 2.0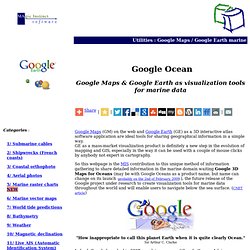 Google Maps (GM) on the web and Google Earth (GE) as a 3D interactive atlas software application are ideal tools for sharing geographical information in a simple way. GE as a mass-market visualization product is definitely a new step in the evolution of mapping and GIS, especially in the way it can be used with a couple of mouse clicks by anybody not expert in cartography. So this webpage is the MIS contribution to this unique method of information gathering to share detailed information in the marine domain waiting Google 3D Maps for Oceans (may be with Google Oceans as a product name, but name can change on its launch -probably on the 2nd of February, 2009-), the future release of the Google project under research to create visualization tools for marine data throughout the world and will enable users to navigate below the sea surface. (CNET article)
Google Ocean : marine data for Google Maps / Google Earth
Google Earth Hacks Forums - User Control Panel
Swarm
fontpro.com Font Pro - is a free fonts database with awesome typeface testing tool. It provides more than 20,000 free fonts and web fonts. Font Pro has made the process of searching fonts, previewing fonts, collecting fonts, to discovering new font combinations super easy and awesome. This tool can save hours of design time every week. Go2 Web20.net - The complete Web 2.0 directory.
Windows Live French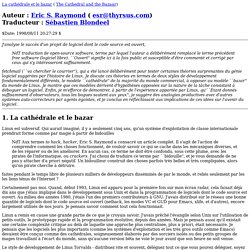 La cathédrale et le bazar ( The Cathedral and the Bazaar) Auteur : Eric S. Raymond ( esr@thyrsus.com) Traducteur : Sébastien Blondeel $Date: 1998/08/11 20:27:29 $ J'analyse le succès d'un projet de logiciel dont le code source est ouvert,
http://www.linux-france.org/article/these/cathedrale-bazar/cathe
RSS 2 PDF - Free Online RSS, Atom or OPML to PDF Generator Web 2.0
© LuvlII Le charme du Piercing nombril n'a d'égal que la beauté de celle qui le porte. Caché bien au chaud sous un pull, dissimulé sous un tee-shirt, il apparaît au détour d'un mouvement, d'un geste qui se veut provocant mais qui n'est qu'élégance. Nul besoin de faire la danse du ventre pour le faire remarquer. Lorsqu'il brille au soleil sur une plage, à la lueur des bougies dans une chambre décorée en alcôve amoureuse, il se transforme en véritable bijou de rêve. C'est qu'un piercing nombril est toujours surprenant à découvrir et très séduisant.
La clé USB emportant des logiciels libres et que vous pouvez associer à n'importe quel ordinateur sous windowss'est beaucpoup enrichie depuis son inevntion l'an passé par Framasoft. Voici une présentation issue d'un article de jean Luc Raymond sur Societiq et une liste des logiciels que vous pouvez maintenant transporter avec vous sur une clé USB. Framakey : une clé USB avec logiciels libres et gratuits préinstallés pour transporter avec soi ses documents, fichiers et logiciels Les nouvelles clés USB dites "U3″ permettent d'utiliser des logiciels ou des documents sur PC (Windows 2000 ou XP) sans installation préalable. Une alternative efficace et bien conçue existe avec Framakey, une compilation de logiciels libres et gratuits préinstallés pour Windows (bureautique, graphisme et PAO, multimédia, jeux, internet et des utilitaires) qui peuvent être installés directement sur Internet sur une clé USB classique en téléchargeant le contenu de Framakey sur un ordinateur.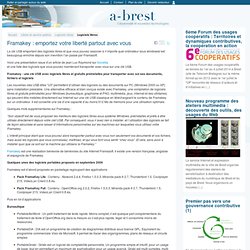 @ Brest - Framakey : emportez votre liberté partout avec vous
AllPeers : Share exactly what you want with exactly who you want
An indispensable tool for the global newsjunkie! / MappedUp.com
Everyfeed.com
ZoomClouds
Votre recherche sur In-Extenso.org :
Welcome to Writely
Mon Webwag
Le Cercle des Aliciens & des Freenautes est un Site et Forum d'entraide dédié aux Abonnés Alice et Free. Il regroupe une importante communauté d'abonnés Alicebox, Freebox et FreeMobile qui unissent leurs efforts pour s'entraider et communiquer sur le quotidien de leur connexion ADSL avec Alice-Free SAS. Le site C-Alice est totalement indépendant des instances d'Alice-Free S.A.S, bien qu'œuvrant en partenariat avec eux. (participations à des réunions de travail, aux Conventions annuelles...)
Le Cercle Des Aliciens heberge par http://www.kiloufrag.com
Accueil - Ubuntu-fr.org
Hébergement et Solutions Internet - OVH
quikmaps.com - cartes personnelle
GEoportail
maginéa FRANCE
est une boutique en ligne qui vous propose un large choix de produits dans tous les univers liés à la maison (salle de bain, chambre enfant) et de la décoration. Ce magasin pour la maison vous propose ainsi tout ce qui se fait de mieux en électroménager, en décoration originale (miroir, assiette, meuble tv, meubles de salon) ainsi que tous les outils nécessaires pour faire du bricolage dans les meilleures conditions. Vous trouverez également tout le nécessaire pour entretenir et agrémenter votre jardin (mobilier de jardin, salon de jardin). Enfin, vous pourrez acheter tout ce qu'il vous manque pour aménager la chambre de bébé (pele mele photo) ou de votre enfant grâce à notre univers puériculture et également concocter un nid douillet pour vos animaux.
web 2
piotr
Simply Google
Blogr
Petites annonces gratuites - Roscoff 29680 par Yakaz
FavIcon from Pics -- how to create a favicon.ico for your websit
Want to blur and defocus background in photos? Download Google Camera app, a new standalone Android app that enhances the power of your Android smartphone. This smart background blur photo technique is a craze and it seems everyone wants to use it.
Quick Online Tips
Roscoff - Recherche sur Ask.com France
bmog blogger
ajaxWrite - AJAX for Everyone
Geocaching - The Official Global GPS Cache Hunt Site
Skip to Navigation Skip to Content Geocaching is the real-world treasure hunt that's happening right now, all around you. There are 2,368,962 active geocaches and over 6 million geocachers worldwide. Learn more about geocaching and how you can join the adventure. How to Go Geocaching: Search for Nearby Geocaches
Roscoff sur la carte Google
Web Toolkit - Build AJAX apps in the Java language
Map 24 solute Developer Network -> Home
Test éligibilité ADSL et dégroupage de votre ligne
"Strike up your Google Maps" Creation Tool - Mart Web