5.6. Innovation
Get flash to fully experience Pearltrees
L'Agence nationale de la recherche Une structure de financement sur projets au service de la recherche L'Agence nationale de la recherche a pour mission de financer et de promouvoir le développement des recherches fondamentales et appliquées, l'innovation et le transfert technologique, ainsi que le partenariat entre le secteur public et le secteur privé. Cette page est introuvable, soit elle n'existe plus sur notre site, soit elle a été déplacée
TEDxBroadway January 28th, 2012 TEDxBroadway returned for its second event, with a whole new cast of luminaries from on and off the famous New York stage. Audiences watched as social media expert Randi Zuckerberg, Disney Theatrical Group President Thomas Schumacher, actor George Takei, Wall Street Journal theater critic Terry Teachout, and many others came together to share ideas on how to make Broadway -- the area and the industry -- the best it can be. Learn more about this event » Image via PatchWork PR TEDxAIMS January 20th, 2012 Held at The African Institute for Mathematical Sciences (AIMS), TEDxAIMS explored ways to navigate the ideas of the future, starting with ones coming to rise in their hometown of Cape Town.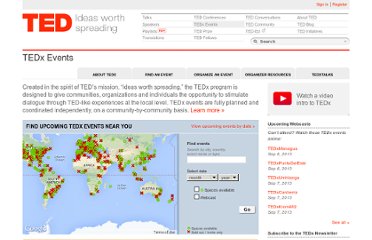 Premier fonds d'investissement et de valorisation des brevets en Europe, créé en mars 2010, le fonds France Brevets est doté de 100 millions d'euros, à parité entre la Caisse des Dépôts et l'Etat dans le cadre du Programme d'Investissement d'Avenir. France Brevets a pour mission d'aider la recherche privée et publique à mieux valoriser ses portefeuilles de brevets, dans une dimension internationale.
ParisTech Review. Dans une postface récente à L'Innovation ordinaire , vous écrivez que la nouveauté, pour « prendre », ne doit pas être en surplomb par rapport aux pratiques sociales. Mais l'innovation ne consiste-t-elle pas précisément à se dégager de ces pratiques ?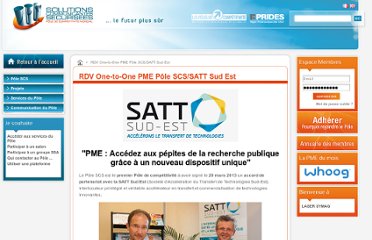 Le Pôle SCS est le premier Pôle de compétitivité à avoir signé le 20 mars 2013 un accord de partenariat avec la SATT Sud Est ( Société d'Accélération du Transfert de Technologies Sud-Est ), interlocuteur privilégié et véritable accélérateur en transfert et commercialisation de technologies innovantes .