3.3.4. Strategy advisory
Promontory Financial Group
Tiburon Strategic Advisors - Research Based Strategy Consulting to Financial Institutions
Predictive Analysis | Intelligent Analysis | Strategic Market Research | Strategy Analytics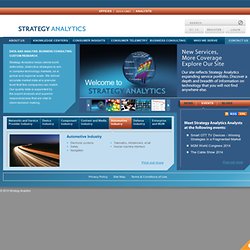 Our website uses some unobtrusive cookies to store information on your computer. Some cookies on our site are essential, and the site won't work as expected without them. These cookies are set when you login or register with our site. We also use some non-essential cookies to anonymously track visitors or enhance your experience of our site. If you're not happy with this, we won't set these cookies but some features of our site may be unavailable.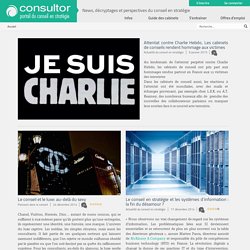 Consultor, portail du conseil en stratégie
Sur la carte parisienne du conseil en stratégie, il y a trois enclaves indépendantes, des principautés bâties par des condottières, qui ont eu des destins très parallèles : Mars & Co, Estin & Co et Corporate Value Associates (CVA). CVA a beau ne pas porter, contrairement aux deux autres, le nom de son fondateur, Paul-André Rabate, il n'en est pas moins imprégné de sa personnalité. Aujourd'hui, après des années difficiles, le rachat des parts de ses coactionnaires et un déménagement du bureau parisien, CVA est plus que jamais Rabate & Co.
Water Street Partners | A Joint Venture Advisory Firm
Kea & Partners - Accueil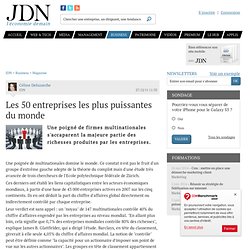 Les 50 entreprises les plus puissantes du monde - Journal du Net Economie
Une poigné de firmes multinationales s'accaparent la majeure partie des richesses produites par les entreprises. Une poignée de multinationales domine le monde. Ce constat n'est pas le fruit d'un groupe d'extrême gauche adepte de la théorie du complot mais d'une étude très avancée de trois chercheurs de l'Ecole polytechnique fédérale de Zürich.
Sullivan's global team of industry experts, consultants, market analysts, and research executives offer business consulting, market analysis, market research
Market Intelligence | Market Research Firm | Market Research & Industry Reports & Analysis - iSuppli®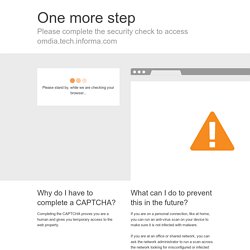 iSuppli, now part of IHS Electronics & Media, is the leading market research firm focussed on the electronics value chain, helping clients improve performance by providing them with the facts, market research analysis and advice they require to succeed in the marketplace. The market intelligence offerings, which help clients stay current on electronics industry trends, range from electronic component research to device specific application market forecasts; from teardown analysis to consumer electronics; and from display materials & systems research to automotive and telematics markets. As part of the IHS Electronics & Media, iSuppli joins with over 1200 data transformation analysts and researchers, over 350 sector analysts and industry experts with access to tens of millions of data points.
dernières publications d'Accenture France
weave - Cabinet Conseil en Stratégie Opérationnelle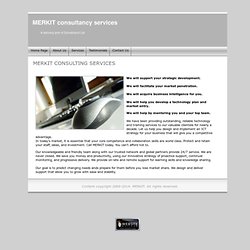 We will support your strategic development. We will facilitate your market penetration. We will acquire business intelligence for you.
MERKIT - ICT consultancy services
Simon Anholt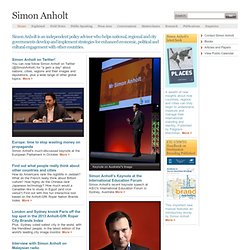 Keynote on Australia"s Image Simon Anholt's Keynote at the International Education Forum Simon Anholt's recent keynote speech at AIEC's International Education Forum in Sydney, Australia More > Simon Anholt Simon Anholt awarded 2009 Nobels Colloquia Prize for Economics
Celent | A member of the Oliver Wyman Group
Home | Strategy Consultants
About Us
With offices in 50+ cities across 25 countries, Oliver Wyman is a leading global management consulting firm that combines deep industry knowledge with specialized expertise in strategy, operations, risk management, and organization transformation. The firm's 3,000 professionals help clients optimize their businesses, improve their operations and risk profile, and accelerate their organizational performance to seize the most attractive opportunities. Close Oliver Wyman's thought leadership is evident in our agenda-setting books, white papers, research reports, and articles in the business press. To that end, the Oliver Wyman Institute connects the firm with prominent leaders of the academic community for joint research on frontier issues. The firm's capabilities and intellectual capital are enhanced by our deep industry expertise, geographic range, analytical rigor, and hands-on, collaborative approach.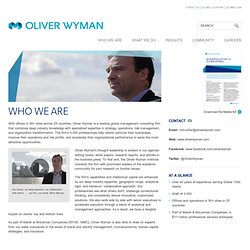 Accueil | Our expertise
Bain & Company est le cabinet de conseil vers lequel les dirigeants du monde entier se tournent lorsqu'ils cherchent un partenaire aussi mobilisé qu'eux-mêmes pour atteindre des résultats durables. Ensemble nous dépassons les limites pour créer la valeur, nous vous guidons sur les voies pour y parvenir, et nous dynamisons vos équipes pour assurer le succès. Notre passion : proposer le meilleur à nos clients, à nos équipes et à nos partenaires quel que soit l'environnement.
Paris - Bain & Company
McKinsey & Company | Home Page
Etudes | Day One