3.3.4. Strategy advisory
Tiburon Strategic Advisors - Research Based Strategy Consulting to Financial Institutions
Water Street Partners | A Joint Venture Advisory Firm
Kea & Partners - Accueil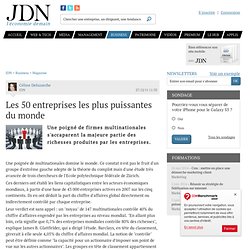 Les 50 entreprises les plus puissantes du monde - Journal du Net Economie
Une poigné de firmes multinationales s'accaparent la majeure partie des richesses produites par les entreprises. Une poignée de multinationales domine le monde. Ce constat n'est pas le fruit d'un groupe d'extrême gauche adepte de la théorie du complot mais d'une étude très avancée de trois chercheurs de l'Ecole polytechnique fédérale de Zürich.
Market Intelligence | Market Research Firm | Market Research & Industry Reports & Analysis - iSuppli®
dernières publications d'Accenture France
Une équipe de management qui s'engage. La création de Cylad Consulting en 2007 résulte de la rencontre entrepreneuriale entre deux consultants passés par les plus grands cabinets de conseil en stratégie et en management : Paul Archer et Sébastien Chaussoy. En 2010, alors que le cabinet connaît une très forte croissance, les deux fondateurs sont rejoints par Olivier Paget, qui partage la même vision du métier du conseil, les mêmes valeurs et la ferme volonté de s'investir pleinement sur les missions. En 2012, un quatrième directeur associé, Patrick Sage, rejoint l'équipe afin de développer les activités "Lean & Business Transformation". Séduit par leur projet, Jacques Tassel, ancien Président d'AT Kearney France et Vice-Président d'AT Kearney Europe, leur apporte sa solide expérience du conseil en stratégie et management en tant que Senior Advisor. Paul Archer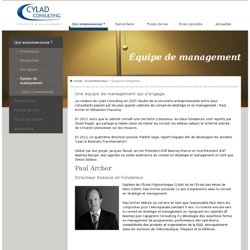 Équipe de management | Cylad Consulting
weave - Cabinet Conseil en Stratégie Opérationnelle
MERKIT - ICT consultancy services
Celent | A member of the Oliver Wyman Group
Home | Strategy Consultants
About Us
With offices in 50+ cities across 25 countries, Oliver Wyman is a leading global management consulting firm that combines deep industry knowledge with specialized expertise in strategy, operations, risk management, and organization transformation. The firm's 3,000 professionals help clients optimize their businesses, improve their operations and risk profile, and accelerate their organizational performance to seize the most attractive opportunities. Close Oliver Wyman's thought leadership is evident in our agenda-setting books, white papers, research reports, and articles in the business press. To that end, the Oliver Wyman Institute connects the firm with prominent leaders of the academic community for joint research on frontier issues. The firm's capabilities and intellectual capital are enhanced by our deep industry expertise, geographic range, analytical rigor, and hands-on, collaborative approach.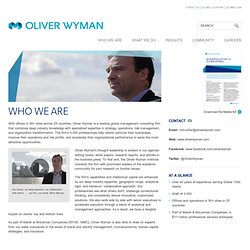 Accueil | Our expertise
Paris - Bain & Company
Etudes | Day One