Twitter
Twitter : Raccourcis clavier du #NewTwitter
Twitter dévoilait le mois dernier la nouvelle version de son interface, le #NewTwitter. L'apparence a grandement été revue et de nombreuses fonctionnalités sont apparues, dont notamment les raccourcis clavier. Evolution prévisible au final compte tenu du nombre d'internautes utilisant le site officiel (plus de 90%) et non un quelconque client Twitter ou encore les SMS.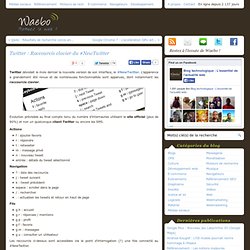 Personnaliser son twitter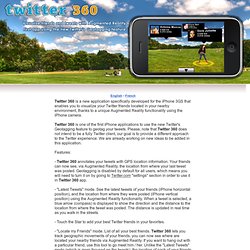 Twitter 360 Augmented Reality for the iPhone 3GS
Twitter 360 is a new application specifically developed for the iPhone 3GS that enables you to visualize your Twitter friends located in your nearby environment, thanks to a unique Augmented Reality functionality using the iPhone camera. Twitter 360 is one of the first iPhone applications to use the new Twitter's Geotagging feature to geotag your tweets. Please, note that Twitter 360 does not intend to be a fully Twitter client, our goal is to provide a different approach to the Twitter experience. We are already working on new ideas to be added in this application. Features: - Twitter 360 annotates your tweets with GPS location information.
Twitter et l'identité numérique
Twitter: le phénomène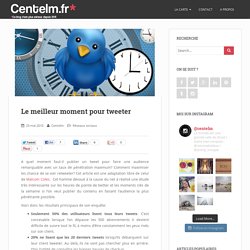 A quel moment faut-il publier un tweet pour faire une audience remarquable avec un taux de pénétration maximum? Comment maximiser les chance de se voir retweeter? Cet article est une adaptation libre de celui de Malcom Coles. Cet homme dévoué à la cause du net à réalisé une étude très intéressante sur les heures de pointe de twitter et les moments clés de la semaine si l'on veut publier du contenu en faisant l'audience la plus pénétrante possible. Voici donc les résultats principaux de son enquête: Seulement 50% des utilisateurs lisent tous leurs tweets.
Barre d'espace - Le meilleur moment pour tweeter
Someone in the newsroom this morning asked, "hey, what's MT mean on Twitter." That got us thinking it might be useful to compile a list of common Twitter abbreviations. Here is what we've come up with so far. It's hardly exhaustive, so please add abbreviations we should include in the comments.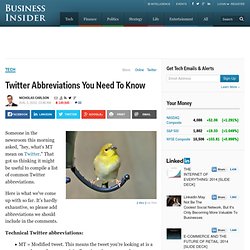 Twitter est dans la place