Outils
Draw Graffiti on Twitter!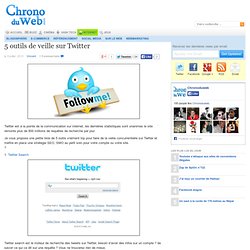 Twitter est à la pointe de la communication sur internet, les dernières statistiques sont unanimes le site remonte plus de 800 millions de requêtes de recherche par jour. Je vous propose une petite liste de 5 outils vraiment top pour faire de la veille concurrentielle sur Twitter et mettre en place une stratégie SEO, SMO au petit soin pour votre compte ou votre site. ? 1. Twitter Search Twitter search est le moteur de recherche des tweets sur Twitter, besoin d'avoir des infos sur un compte ?
5 outils de veille sur Twitter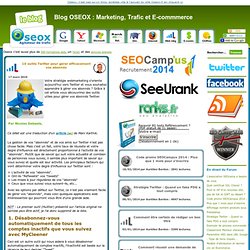 10 outils Twitter pour gérer efficacement vos abonnés 17 mars 2010 Votre stratégie webmarketing s'oriente aujourd'hui vers Twitter et vous souhaitez apprendre à gérer vos abonnés ? Grâce à cet article vous découvrirez des outils utiles pour gérer vos abonnés Twitter.
L'article de David Reinhardt propose douze services permettant de visualiser ses données Twitter, selon différents angles. C'est là qu'on voit que Twitter, c'est un peu plus que des messages de 140 caractères. Merci Arnaud pour la trouvaille ! J'ai ajouté quelques outils à la fin de l'article. 1.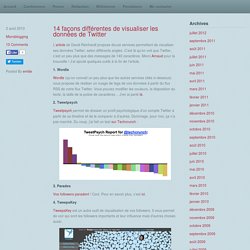 The Ultimate List: 100+ Twitter Statistics
Thibaut Lacroix (Thibaut_L) Twitter stats
You're Tweeting, But Is Anyone Listening? | Fauxlowers.com
Your session expired due to inactivity. ShareThis Twuffer allows the Twitter user to compose a list of future tweets, and schedule their release. @GradyBritton designed Twuffer for anyone who has a need to schedule pre-written, post-dated tweets.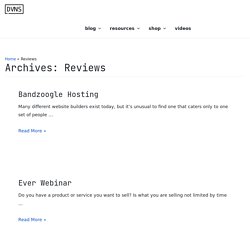 What's the size of your Twitter e-Penis?
ThermoTweet Application Twitter - Vos meilleurs Tweets, Tweetez