Nature
Yu Yamauchi
Camille Seaman
Sky Series by Eric Cahan
Grand Canyon Panorama | Flickr : partage de photos !
Grand Canyon Sunset Haze | Flickr : partage de photos !
Dan Holdsworth
Adam Taylor
Bernhard Lang : photographe | Beware Mag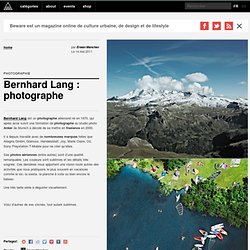 Bernhard Lang est un photographe allemand né en 1970, qui après avoir suivit une formation de photographe au studio photo Anker de Munich a décidé de se mettre en freelance en 2000. Il a depuis travaillé avec de nombreuses marques telles que Allegria GmbH, Glamour, Handelsblatt, Joy, Marie Claire, O2, Sony Playstation T-Mobile pour ne citer qu'elles. Ses photos aériennes (entre autres) sont d'une qualité remarquable. Les couleurs sont sublimes et les détails très soignés. Ces dernières nous apportent une vision toute autres des activités que nous pratiquons le plus souvent en vacances comme le ski, la sieste, la planche à voile ou bien encore le bateau. Une très belle série à déguster visuellement.
Alexandre Deschaumes : Photographe | Beware Mag
Taking in the World
Landscape Photography
Irene Suchocki : Photographe | Beware Mag
Beware Mag | Cody Cobb : photographe
Amazing places around the globe
Gregorius Suhartoyo
Winter in Hell | Fubiz?
Le travail de Chris McCaw porte sur la trace photographique que laisse le soleil. La façon dont il s'imprime sur ses œuvres est tout à fait particulière, en effet il brûle le papier photographique sur sa trajectoire de manière concentrée. Les temps de pause qu'utilise Chris McCaw sont longs, allant de 2 à 8 heures. Le soleil apparait sur les photos comme une trainée blanche qui suit son déplacement dans le ciel, faisant plus ou moins apparaitre les autres éléments du paysage. Toujours dans cette volonté de faire apparaitre le soleil de différentes manières Chris McCaw a tenté d'autres processus en utilisant des papiers noirs et blancs ou encore du papier recouvert de gélatine, qui cuit avec le soleil et offre alors des teintes rouges-orangées.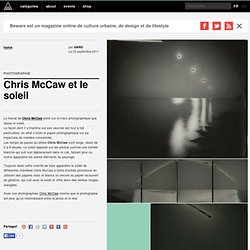 Beware Mag | Chris McCaw et le soleil
Yves Schiepek : Photographe | Beware Mag | Beware Mag
Dmitry Savin : photographe | Beware Mag | Beware Mag
L'hiver | Beware Mag | Beware Mag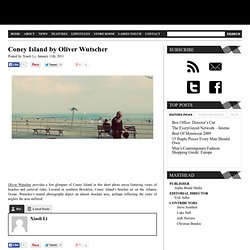 Coney Island by Oliver Wutscher | Definitive Touch - Men's Contemporary Style.
Posted by Xiaoli Li, January 11th, 2011 <div class="greet_block wpgb_cornered"><div class="greet_text"><div class="greet_image"><a href="http://definitivetouch.com/feed/rss/" rel="nofollow"><img src="http://5xr0qow57ecula29.zippykid.netdna-cdn.com/wp-content/plugins/wp-greet-box/images/rss_icon.png" alt="WP Greet Box icon"/></a></div>Hello there! If you are new here, you might want to <a href="http://definitivetouch.com/feed/rss/" rel="nofollow"><strong>subscribe to the RSS feed</strong></a> for updates on this topic.<div style="clear:both"></div><div class="greet_block_powered_by">Powered by <a href="http://omninoggin.com/projects/wordpress-plugins/wp-greet-box-wordpress-plugin/" title="WP Greet Box WordPress Plugin" style="text-decoration:none;">WP Greet Box</a><a href="http://omninoggin.com/" title="WordPress Plugin" style="text-decoration:none;">WordPress Plugin</a></div><div style="clear:both"></div></div></div>
image_t6.jpg (Image JPEG, 640x444 pixels)
External Photo Inspiration – Great Nature Pictures By Maxime Courty | Cromoart
Lake Tahoe
221161.jpg (Image JPEG, 567x850 pixels) - Redimensionnée (73%)
Stratus Clouds Picture – Greenland Photo