Facebook
Social Media Research. Journalists - Getting Started. The Future of Journalism. Slideshare. What Facebook's New Features Mean for Journalists. Most of the changes that Facebook announced at its f8 conference have gone into effect (even though we're still waiting for Timeline).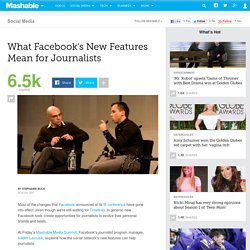 In general, new Facebook tools create opportunities for journalists to evolve their personal brands and beats. At Friday's Mashable Media Summit, Facebook's journalist program manager, Vadim Lavrusik, explains how the social network's new features can help journalists. "Profiles and subscribe are going to be the most useful for journalists that are posting as themselves," says Lavrusik. He suggests these users review their profile settings if they plan to start using Facebook publicly. Journalisten gebruiken sociale media « Sterre schrijft dit.
Facebook. Jeroen 's-Gravendijk (@JsGravendijk) sur Twitter.
---