Politics
McCaskill So 'God-Damn Mad' About Wartime Contracting Abuses
Susan Crabtree While channeling President Harry Truman and fuming about wartime contracting waste and abuse, Sen. Claire McCaskill (D-MO) dropped a "god-damn" just for emphasis at a Senate hearing Wednesday. Sen.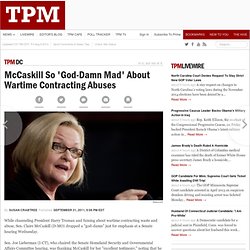 UN faces historic test over Palestine
The Solid Ground movement
Romney: I'd Like To Repeal Wall Street Reform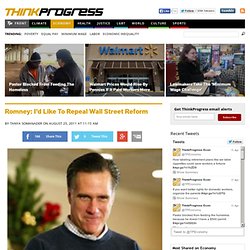 With the constant stream of Wall Street donations flowing into his campaign coffers, it was only a matter of time before GOP presidential candidate Mitt Romney called to repeal Wall Street's number one enemy — the 2010 Dodd-Frank financial reform law. Though Congress enacted the law to provide vital consumer protections and to prevent Wall Street from spurring another financial crisis, Republicans have continually attempted to cripple the law piecemeal , either by attacking the Consumer Financial Protection Bureau or weakening derivatives regulation . But Romney decided yesterday that a repeal of the law was necessary because, in part, the law's length is too "overwhelming": "The extent of regulation in the banking industry has become extraordinarily burdensome following Dodd-Frank," Romney told a roundtable of 18 businessmen at The Common Man Restaurant. "I'd like to repeal Dodd Frank, recognizing that some revisions make sense," Romney said. [...]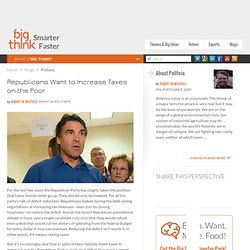 Republicans Want to Increase Taxes on the Poor | Politeia
For the last two years the Republican Party has largely taken the position that taxes should never go up. They should only be lowered. For all the party's talk of deficit reduction, Republicans balked during the debt ceiling negotiations at increasing tax revenues—even just by closing loopholes—to reduce the deficit. And at the recent Republican presidential debate in Iowa, every single candidate indicated that they would refuse even a deal that would cut ten dollars of spending from the federal budget for every dollar in new tax revenues.
Obama Goes All Out For Dirty Banker Deal | Rolling Stone Politics | Taibblog | Matt Taibbi on Politics and the Economy
Finally, PolitiFact calls out GOP candidate on climate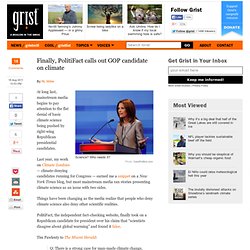 Science? Who needs it? Photo: IowaPolitics.com At long last, mainstream media begins to pay attention to the flat denial of basic climate science being pushed by right-wing Republican presidential candidates. Last year, my work on Climate Zombies — climate-denying candidates running for Congress — earned me a snippet on a New York Times blog, but most mainstream media ran stories presenting climate science as an issue with two sides. Things have been changing as the media realize that people who deny climate science also deny other scientific realities. PolitiFact, the independent fact-checking website, finally took on a Republican candidate for president over his claim that "scientists disagree about global warming" and found it false .
Here we show that human-induced increases in greenhouse gases have contributed to the observed intensification of heavy precipitation events found over approximately two-thirds of data-covered parts of Northern Hemisphere land areas . These results are based on a comparison of observed and multi-model simulated changes in extreme precipitation over the latter half of the twentieth century analysed with an optimal fingerprinting technique. Changes in extreme precipitation projected by models, and thus the impacts of future changes in extreme precipitation, may be underestimated because models seem to underestimate the observed increase in heavy precipitation with warming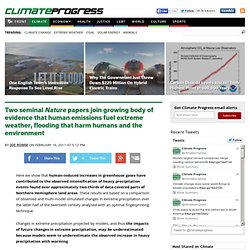 Two seminal Nature papers join growing body of evidence that human emissions fuel extreme weather, flooding that harm humans and the environment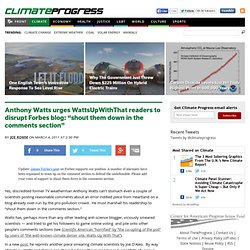 Yes, discredited former TV weatherman Anthony Watts can't stomach even a couple of scientists posting reasonable comments about an error-riddled piece from Heartland on a blog already over-run by the pro-pollution crowd.
Anthony Watts urges WattsUpWithThat readers to disrupt Forbes blog: "shout them down in the comments section"
One of the hallmarks of tipping points is that you don't know when you're in one. There's growing agreement that peak oil, for example, happened between 2004 and 2008. Still, you're never sure about such inflection points until well after the fact. This week, though, sure feels like the tipping point on public opinion on climate, and so I'm going to stick a fork in it right here, folks. Climate opinion just tipped.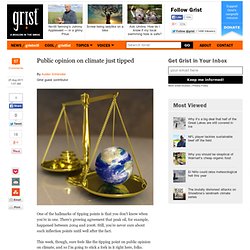 Public opinion on climate just tipped
Behold The 'Hybrid PAC': All The Benefits Of A Regular PAC With The 'Super' Bonuses
Ryan J. Reilly Until now, there's been two kinds of political action committees. There's your classic PAC, capable of making contributions to federal candidates, but which only runs on donations from individual donors capped at $5,000. Than there are "super" PACs, fueled by unlimited donations from corporations and capable of making independent expenditures, but unable to donate directly to candidates. Now, thanks to a lawsuit against the Federal Election Commission, you can have the best of both worlds with what the campaign finance world has already dubbed a "hybrid PAC."