aMuu
Map Coasters - Introduction - MarthaStewart.com. Sky. Free fonts for both commercial and noncommercial use. How to Make Friendship Bracelets - in 7 Easy Steps. Paper Flower Key Holder / Mark Montano.
Difficulty Rating: Beginner Tags If you need a quick 'just because' gift for someone, this is it!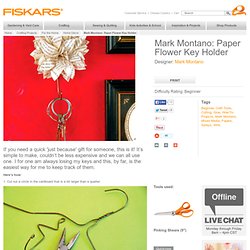 It's simple to make, couldn't be less expensive and we can all use one. I for one am always losing my keys and this, by far, is the easiest way for me to keep track of them. Here's how: Generate Your Own Fonts Online. Print Template The first thing to do is print the template.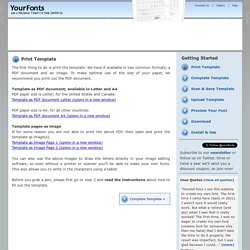 We have it available in two common formats; a PDF document and an image. To make optimal use of the size of your paper, we recommend you print out the PDF document. Template as PDF document; available in Letter and A4. Bitmap, pixel, screen fonts, small fonts, userbar. DIY Solar Lamp: Make Your Own Eco-Friendly Sun Jars. The principle is simple and seductively clever: solar lights that store energy during the day and release light at night.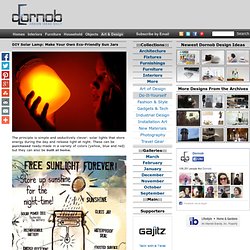 These can be purchased ready-made in a variety of colors (yellow, blue and red) but they can also be built at home. A simple, less-technical approach involves buying a conventional solar-powered yard lamp and then essentially harvesting it for key pieces to put in a jar. This is simply a way of taking an existing solar lamp design and appropriating its parts to make something more attractive for display around a house or home.
A more electronically-savvy individual can take the more complex route and built a solar lamp from the ground up using small solar panels – though the aesthetic result may not be as impressive. V and Co how to: jersey knit bracelet. I don't know what it is about this time of year that makes me just want to have my bare feet in the sand, be watching the sun setting into the ocean, and breathing in the warm salty air of the beach...as i get older, more and more i find myself missing that place i used to go to almost every.single.day. as a teen.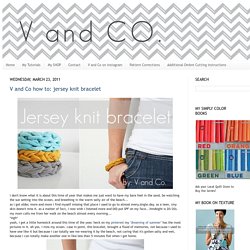 (my skin doesn't miss it. as a matter of fact, i now wish i listened more and DID put SPF on my face...hindsight is 20/20). my mom calls me from her walk on the beach almost every morning... *sigh*yeah, i get a little homesick around this time of the year. heck on my pinterest my "dreaming of summer" has the most pictures in it. ah yes. i miss my ocean. case in point. this bracelet, brought a flood of memories, not because i used to have one like it but because i can totally see me wearing it by the beach, not caring that it's gotten salty and wet, because i can totally make another one in like less than 5 minutes flat when i get home. EASY. Page corner bookmarks | I Could Make That. This project comes to you at the request of Twitterer @GCcapitalM.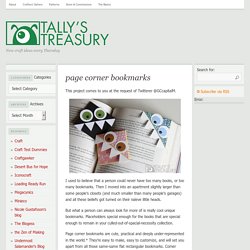 I used to believe that a person could never have too many books, or too many bookmarks. Then I moved into an apartment slightly larger than some people's closets (and much smaller than many people's garages) and all these beliefs got turned on their naïeve little heads. But what a person can always look for more of is really cool unique bookmarks. Placeholders special enough for the books that are special enough to remain in your culled-out-of-spacial-necessity collection. Most favorited all-time. D.I.Y. Design It Yourself. Craft DIY Projects, Patterns, How-tos, Fashion, Recipes @ Craftzine.com - Felting, Sewing, Knitting, Crocheting, Home & More.
Future | Timeline | Technology | Predictions | Events | 2010 | 2012 | 2015 | 2020 | 2050 | 2100 | 21st century | 22nd century | 23rd century. British forces withdraw from Afghanistan The British Armed Forces have played a major role in the Afghanistan War, second only to the U.S. in terms of troop numbers.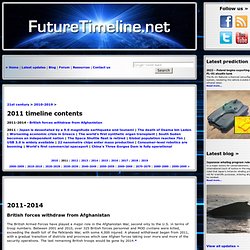 Between 2001 and 2010, over 325 British forces personnel and MOD civilians were killed, exceeding the death toll of the Falklands War, with some 4,000 injured. A phased withdrawal began from 2011, with a gradual transition of districts and provinces which saw Afghan forces taking over more and more of the security operations. The last remaining British troops would be gone by 2014. Memorize Now - Home. Search results for "charles bukowski" (showing 1-20 of 531 quotes) RainyMood.com: Rain makes everything better. Draw a Stickman. Games for the Brain. Neuroscience of Music - How Music Enhances Learning - Neuroplasticity.
Neuroscience research into the neuroscience of music shows that musicians' brains may be primed to distinguish meaningful sensory information from noise.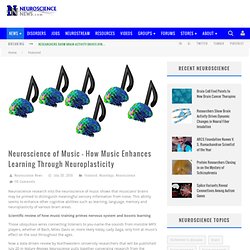 This ability seems to enhance other cognitive abilities such as learning, language, memory and neuroplasticity of various brain areas. Scientific review of how music training primes nervous system and boosts learning Those ubiquitous wires connecting listeners to you-name-the-sounds from invisible MP3 players, whether of Bach, Miles Davis or, more likely today, Lady Gaga, only hint at music's effect on the soul throughout the ages. Easy origami.
---