WindowsServer
A-Z List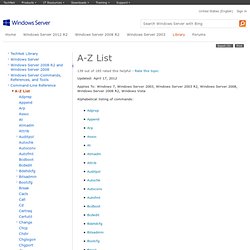 Microsoft (R) Windows (R) Resource Checker Version 6.0 Copyright (c) 2006 Microsoft Corporation. All rights reserved.Scans the integrity of all protected system files and replaces incorrect versions with correct Microsoft versions. SFC [/SCANNOW] [/VERIFYONLY] [/SCANFILE=<file>] [/VERIFYFILE=<file>][/OFFWINDIR=<offline windows directory> /OFFBOOTDIR=<offline boot directory>]
Windows PowerShell™ is a task-based command-line shell and scripting language designed especially for system administration. This reference topic for the information technology (IT) professional introduces the 76 Windows PowerShell cmdlets that you can use to manage and administer the Active Directory® directory service and Active Directory Domain Services (AD DS).
Active Directory Cmdlets in Windows PowerShell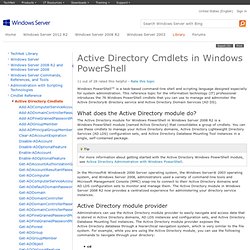 Active Directory Naming Standard
Active Directory naming standards supported include NetBIOS names are the account names required for legacy NT environments. Fully qualified domain name FQDN the path to a network object : wmaples.dallas.support.mycompay.com is my fqdn.
If you have ever worked in a company with a split DNS name space or one that has gone through a merger, you have probably dealt with the DNS suffix search list. This list allows a user to put "companyweburl" in their browser address and it actually resolve. This works because Windows will cycle through the DNS suffix search list appending each suffix to what was typed into the address bar until it finds a site.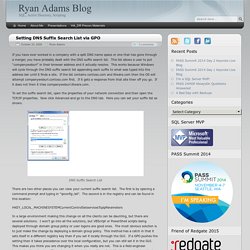 Setting DNS Suffix Search List via GPO
Active Directory Certificate Services Documentation for Windows Server 2008 R2 and Windows Server 2008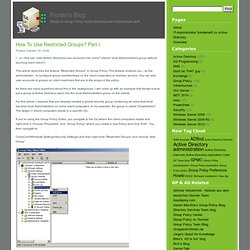 Florian's Blog » How to use Restricted Groups? Part I
( - or: How can I add [Active Directory] user accounts into some? clients' local Administrators group without touching each client?) This article describes the feature "Restricted Groups" in Group Policy.
Configuring Additional Active Directory Server Roles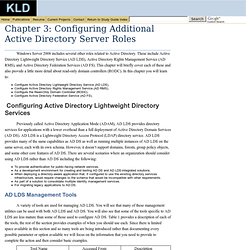 Chapter 3: Configuring Additional Active Directory Server Roles Windows Server 2008 includes several other roles related to Active Directory. These include Active Directory Lightweight Directory Service (AD LDS), Active Directory Rights Management Service (AD RMS), and Active Directory Federation Services (AD FS).
Awinish's Blog…