WindowsServer
A-Z List
Windows PowerShell™ is a task-based command-line shell and scripting language designed especially for system administration. This reference topic for the information technology (IT) professional introduces the 76 Windows PowerShell cmdlets that you can use to manage and administer the Active Directory® directory service and Active Directory Domain Services (AD DS). What does the Active Directory module do? The Active Directory module for Windows PowerShell in Windows Server 2008 R2 is a Windows PowerShell module (named Active Directory) that consolidates a group of cmdlets. You can use these cmdlets to manage your Active Directory domains, Active Directory Lightweight Directory Services (AD LDS) configuration sets, and Active Directory Database Mounting Tool instances in a single, self-contained package.
Active Directory Cmdlets in Windows PowerShell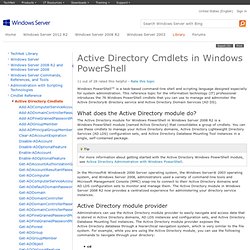 Active Directory Naming Standard
Active Directory naming standards supported include NetBIOS names are the account names required for legacy NT environments. Fully qualified domain name FQDN the path to a network object : wmaples.dallas.support.mycompay.com is my fqdn. DN Distinguished names every object in AD has a DN. DN follows X.500 naming conventions. The DN is made up of the nodes from the root domain down through the container hierarchy to the object. Using my FQDN name and putting it into ND form: DC=com, DC=mycompany, DC=support, OU=dallas, CN=Users CN=wmaples The distinguished name abbreviations are DC domain component OU organizational unit CN common name The listing order is always DC (however many), OU (however many), CN (however many).
If you have ever worked in a company with a split DNS name space or one that has gone through a merger, you have probably dealt with the DNS suffix search list. This list allows a user to put "companyweburl" in their browser address and it actually resolve. This works because Windows will cycle through the DNS suffix search list appending each suffix to what was typed into the address bar until it finds a site. If the list contains contoso.com and litware.com then the OS will attempt companyweburl.contoso.com first. If it gets a response from that site then off you go. If it does not then it tries companyweburl.litware.com.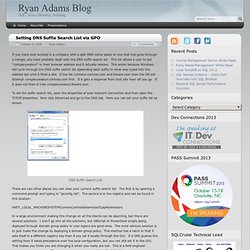 Setting DNS Suffix Search List via GPO
Active Directory Certificate Services Documentation for Windows Server 2008 R2 and Windows Server 2008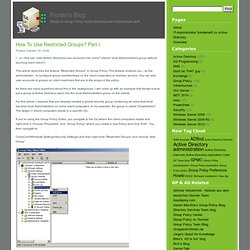 Florian's Blog » How to use Restricted Groups? Part I
( - or: How can I add [Active Directory] user accounts into some? clients' local Administrators group without touching each client?) This article describes the feature "Restricted Groups" in Group Policy.
Configuring Additional Active Directory Server Roles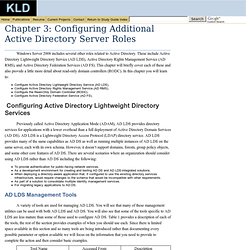 Chapter 3: Configuring Additional Active Directory Server Roles Windows Server 2008 includes several other roles related to Active Directory. These include Active Directory Lightweight Directory Service (AD LDS), Active Directory Rights Management Service (AD RMS), and Active Directory Federation Services (AD FS).
After quite long, I got some free time & decided to utilize to pen down an article, which talks about new feature Active Directory(AD) based activation introduced in Windows 8 & windows server 2012 & above. To minimize the problem of piracy, Microsoft has announced starting from windows Vista & above, office products etc, you need to activate it even though you are using Volume licensing. Volume licensing keys are basically used by corporates to activate n number of system using similar keys instead of requiring multiple keys. key management service (KMS) is the service which can be installed on the dedicated server or collocated with other server roles to allow activation of the volume license version windows (Vista, 7, 2008, R2 etc. )& office (2010, 2013 etc.)products within premise.
Awinish's Blog…