Social Media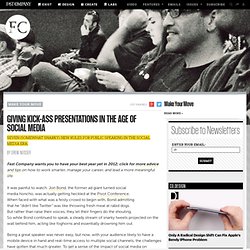 Giving Kick-Ass Presentations In The Age Of Social Media
Fast Company wants you to have your best year yet in 2012; click for more advice and tips on how to work smarter, manage your career, and lead a more meaningful life. It was painful to watch.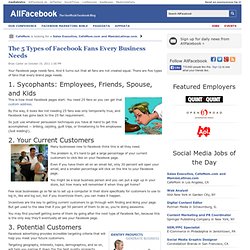 The 5 Types of Facebook Fans Every Business Needs
Your Facebook page needs fans. And it turns out that all fans are not created equal. There are five types of fans that every brand page needs. This is how most Facebook pages start.
7 Ways Universities Are Using Facebook as a Marketing Tool
Social media use by universities has become ubiquitous. When earlier this year, researchers from the University of Massachusetts at Dartmouth asked a representative sample of U.S. schools whether they use some social media, 100% of them said they did. Four years ago, just 61% of them said the same. Facebook is the most prevalent social media tool in higher education — 98% of the universities in the study said they had a presence there.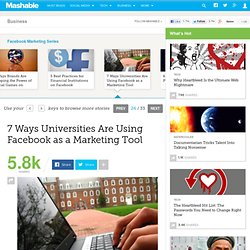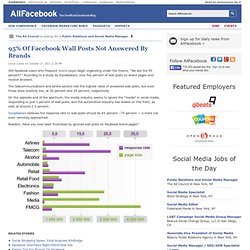 Will Facebook users who frequent brand pages begin organizing under the theme, "We are the 95 percent?" According to a study by Socialbakers, only five percent of wall posts on brand pages ever receive answers. The telecommunications and airline sectors had the highest rates of answered wall posts, but even those were woefully low, at 26 percent and 28 percent, respectively. On the opposite end of the spectrum, the media industry seems to ignore the "media" in social media, responding to just 1 percent of wall posts, and the automotive industry has stalled on this front, as well, at around 2.5 percent. Socialbakers believes the response rate to wall posts should be 65 percent –75 percent — a mark not even remotely approached.
95% Of Facebook Wall Posts Not Answered By Brands
Social media marketers feel that having a presence on social sites is more important than advertising there, but there are still challenges related to keeping a community running online. In July 2011, Microsoft Advertising and Advertiser Perceptions surveyed social media marketers in six countries around the world and found that 74% of them thought it was very important to have a presence on Facebook, but only 57% felt the same way about advertising there. On Twitter, presence also carried more weight, with 47% of respondents saying they thought it was very important.
Social Media Presence More Important Than Social Media Ads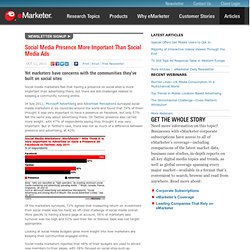 Moms Say: I Go to Facebook to Socialize, Not to Shop
HOW TO: Fill In Your Facebook Timeline
We are the 5th P: People Brian Solis
Part 4 in a series introducing my new book, The End of Business as Usual … It seems that adding the word "social" to any category escalates its importance. From the Social Customer to Social Commerce and from Social Business to Social CRM, the common thread that weaves everything together is people. It is people after all that are responsible for placing the social in social media.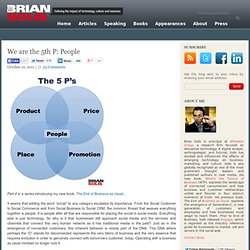 Facebook Moves Closer to Becoming a 'Mobile Company'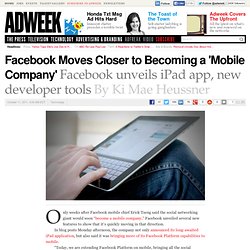 Only weeks after Facebook mobile chief Erick Tseng said the social networking giant would soon "become a mobile company," Facebook unveiled several new features to show that it's quickly moving in that direction. In blog posts Monday afternoon, the company not only announced its long-awaited iPad application , but also said it was bringing more of its Facebook Platform capabilities to mobile . "Today, we are extending Facebook Platform on mobile, bringing all the social channels that have helped apps and games reach hundreds of millions of users on the Web to mobile apps and websites," wrote Facebook engineer Luke Shepard in a post on the company's Developer Blog. Although their final form has yet to take shape, Shephard said the new features will make it easier for developers to reach the 350 million people who access Facebook monthly through mobile devices like the iPad, iPhone, and iPod touch.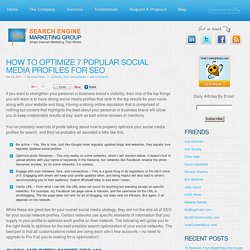 If you want to strengthen your personal or business brand's visibility, then one of the top things you will want is to have strong social media profiles that rank in the top results for your name along with your website and blog. Having a strong online reputation that is comprised of nothing but content that highlights the best about your personal or business brand will allow you to keep undesirable results at bay, such as bad online reviews or mentions. You've probably read lots of posts talking about how to properly optimize your social media profiles for search, and they've probably all sounded a little like this.
Years ago, usability expert Jakob Nielsen developed the "Community Participation Pyramid," which some observers now call the "90-9-1 Principle." It states: 90 percent of web users are lurkers — read or observe, but don't contribute; 9 percent of users contribute from time to time, but other priorities dominate their time; 1 percent of users participates heavily and account for most contributions. Jakob Nielsen's Community Participation Pyramid.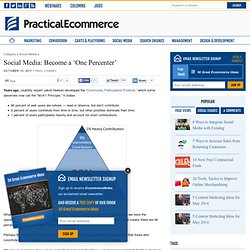 Social Media: Become a 'One Percenter'
Here are 25 easy ways you can get more social media followers: 1. Enable Social Sharing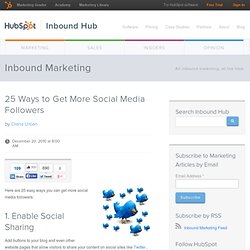 25 Ways to Get More Social Media Followers
HOW TO: Optimize Your LinkedIn Profile's New Skills Section
Sharlyn Lauby, SPHR, CPLP, is the HR Bartender , whose blog is a friendly place to discuss workplace issues. When not "bartending," Sharlyn is president of Internal Talent Management , which specializes in leadership training and human resources consulting. Keeping your social media profiles updated is a key component to your success. If you want potential opportunities to come your way via social media channels, then your profile has to be current. This is especially true if you are using social media as part of your strategy to get a new job.
While Twitter may not be as big as Facebook in terms of traffic, it has several advantages over Facebook. Not only is it easier to gain followers on Twitter, but you can engage with people before they become your friend on a personal profile or your fan on a business page. The following is a guide to help you setup your Twitter profile and implement a successful Twitter marketing strategy. It gives suggestions and tips for those who are new to Twitter or are just looking for some new ideas. Note: Although we refer to using automated techniques in this guide, by no means do we encourage you to spam on Twitter. Doing so will only subvert your own efforts.
Twitter Marketing Guide