Social
Pfizer: Social Media Playbook: Practical Guidance for Colleagues, presented by Kate Bird. Case Study Time: Gaga's 'Workshop' Gets Big Results from Digital Campaign - AgencySpy. Ready Reference Engagement Guide - Good Practice Participate. Consciousness. Social Media Graphics. - StumbleUpon. LEAK: For One Day Only, Google Will Let Anyone Pay $1,500 For Glass | Business Insider India: "Google is really trying to prove that everyday consumers will want to wear Glass when it eventually launches.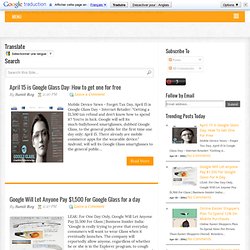 The company will reportedly allow anyone, regardless of whether he or she is in the Explorer program, to cough up $1,500 for a pair of its smart glasses as part of a one-day promotion, The Verge reports. The promotion could run as soon... Real Simple: Pinterest Drives More Traffic For Us Than Facebook. Pinterest is quietly generating revenue by modifying user submitted pins. Additional Update (2/15): Pinterest adds disclosure about how they (might) make money, my error about Skimlinks and a conversation with the Pinterest CEO.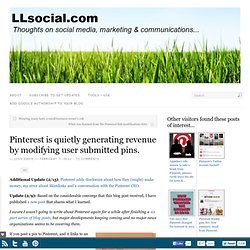 Update (2/9): Based on the considerable converge that this blog post received, I have published a new post that shares what I learned. I swore I wasn't going to write about Pinterest again for a while after finishing a six part series of blog posts, but major developments keeping coming and no major news organizations seems to be covering them. If you post a pin to Pinterest, and it links to an ecommerce site that happens to have an affiliate program, Pinterest modifies the link to add their own affiliate tracking code. If someone clicks through the picture from Pinterest and makes a purchase, Pinterest gets paid. They don't have any disclosure of this link modification on their site, and so far, while it has been written about, no major news outlet has picked up on the practice or its implications. Pinterest: How does Pinterest generate revenue. Pinterest Becomes the 3rd Largest Social Network in the U.S. Apr 09 Hello everyone, my name is Jarrett and I am a new intern at SEO, Inc. in Carlsbad, CA.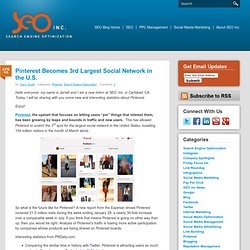 Today, I will be sharing with you some new and interesting statistics about Pinterest. Enjoy! Pinterest, the upstart that focuses on letting users "pin" things that interest them, has been growing by leaps and bounds in traffic and new users. Social Page Sharing. Sign Up Login Save & Share web pages forever.
Connect w/ Facebook Connect w/ Twitter What will you Bolt? All Topics.
---